On April 26th, 2022, GAC unveiled its latest model, the edgy-looking EMKOO SUV. EMKOO sits under the Trumchi brand, which sits under GAC.
According to the brand, a radical departure from all other models in the GAC stable but with hints from the Trumpchi-branded EMPOW, the EMKOO is a "glimpse into the future" of GAC models. GAC calls it "Hi-tech Industrial Aesthetics".
It looks heavy on sharp edges and creases and appears to have been designed entirely with a ruler. Geometric patterns at the front and precise light units front and rear give a concept car vibe.
It could even be mistaken for an EV though unfortunately, that won't be the case. The car will be called Yingku in China.
Eyes of Revelation
It's fair to say that the face of the EMKOO is probably the most distinctive ever to grace a GAC. Previous models have been robust, even attractive, but never quite as determined or eye-catching as this.
Angular, matrix-style headlamp units that light up in sequence on start-up characterize the front end. GAC's PR department calls them "Eyes of Revelation". That may seem a tad biblical, but they are exciting and give the EMKOO a modern face.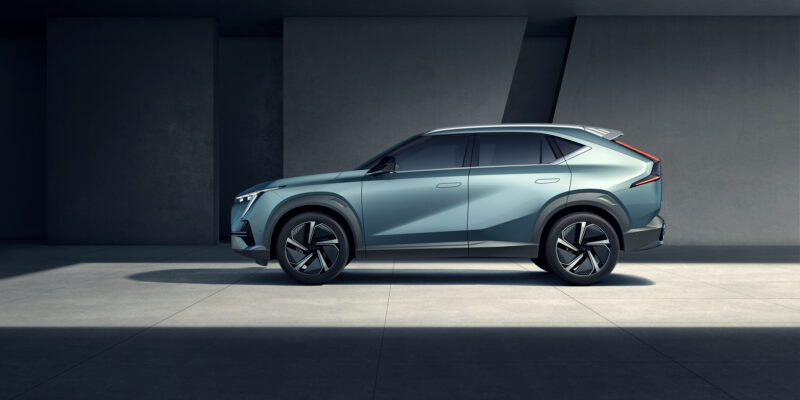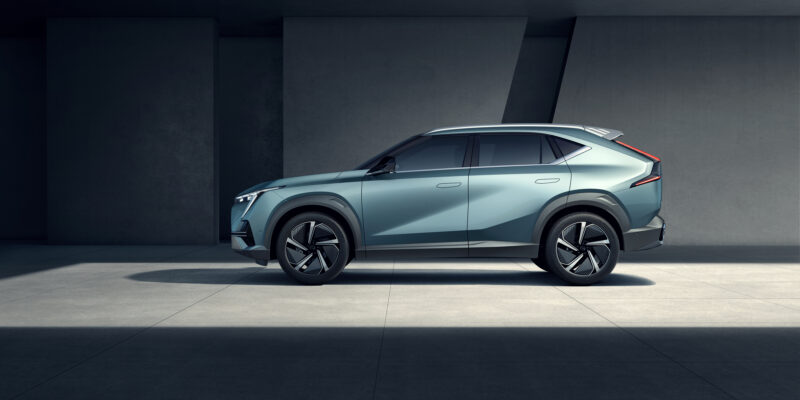 Slim running lights flank each unit in a fresh look from Wolverine's fist's tip.
This is also true of the chevron pattern grille, which looks more decorative than functional, although it has a purpose. Toned down from the outlandish Vision EMKOO Concept, it's still a unique approach to front-end styling.
The angular appearance continues down the side with a strong shoulder line and twin diagonal creases. These connect to other details on the car giving the EMKOO a cohesive yet aggressive stance.
Black A-pillars give a wraparound windscreen effect, while irregular-shaped plastic cladding around the arches enhances the rugged feel.
Flush door handles that activate with a simple touch and aerodynamic alloy wheels help to improve efficiency.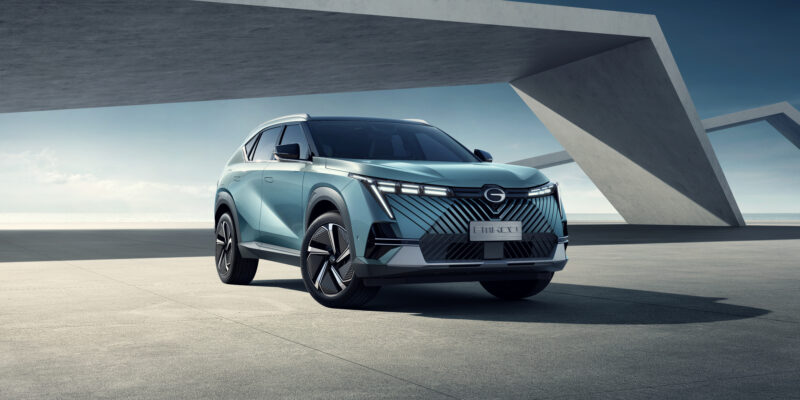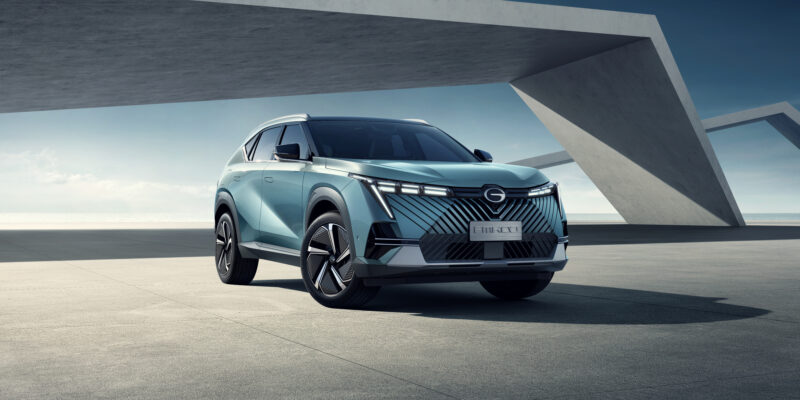 There's no word on dimensions yet, but the EMKOO would appear to be in Toyota RAV-4 territory to our eyes. That means roughly a 4.6-meter length, 1.85-meter width, and just under 1.7-meter height.
Looking Sharp
The three-quarter rear view of the EMKOO perhaps shows its edgy personality in the clearest light. Vertical tail lights run up the back window and diagonally down into the flanks. If you squint, it could even be a Volvo.
Across the top, a large metallic spoiler is split in the center by an intricate high-level brake light.
A deep cavity for the number plate sits underneath the GAC logo, while at the bottom, a two-tone bare plastic and silver-colored bumper house a meaty-looking twin exhaust on either side of a mock diffuser.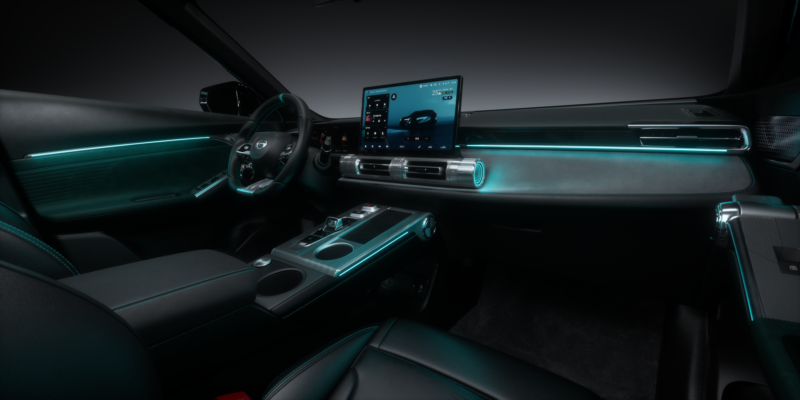 Heavy Metal Interior
Inside, the EMKOO gives off a sci-fi vibe with predominantly black and metal/silver features, accentuated by electric blue ambient lighting.
GAC wants to highlight the metal tube housing the air vents under the display screen, which they claim takes inspiration from traditional Chinese scrolls. At the same time, it's a romantic thought; something so traditional seems odd to bring up in what is quite an industrial, futuristic interior. We'll give it this, though, it looks good and has physical switchgear for the ventilation.
In reality, a large central monitor is the main event, and the driver gets a digital display too. The central tunnel features large cupholders, possibly a wireless charging pad, and a 'crystal' gear selector alongside other metallic trim.
Yamaha speakers should also make for a decent sound system, with additional speakers mounted in the front seat headrests to give an extra dimension of sound.
Finally, traditional door pulls are out, and pullback paddles similar to those on a BYD Yuan Plus are in.
Engines and Specs
In line with GAC's ambition to have 60% of their sales being hybrid models by 2030, the EMKOO will feature the second generation Mega Wave Hybrid System, complete with a 2.0-liter high-efficiency Atkinson-cycle engine offering limited full-electric running. The hybrid system was supplied by Toyota and is also used on GAC-Toyota cars. However, the 2.0 engine is GAC's own
It has a maximum thermal efficiency of 42.1% and uses a 350bar high-pressure direct injection system, among other technologies, while achieving an economy of up to 5.3-litres per 100km.
In addition, Mega Wave 1.5- and 2.0-litre TGDI petrol engines are on offer, with all engines using an E-CVT automatic gearbox. Sadly there's no news on a fully electric version just yet.
Reports say the EMKOO will come with 3 solid-state Lidar units, 12 HD cameras, 6 millimeter wave radars, and 12 ultrasonic radars on the tech front. However, we're unsure about the Lidar, judging by the images.
The EMKOO will also feature the ADiGO 4.0 super-sensing interactive smart cockpit, with brainpower coming from the Qualcomm 8155P car-grade cockpit chip.
Equally, we predict it will be a 5-seater, though some suggest a 7-seater may be on the cards too.
Deliveries should commence in October, with exports elsewhere coming in 2023.