The Dongfeng Warrior MS600 is probably the most buzzed-about Chinese vehicle at the moment. The MS600, previously known as the M20, is a full-size body-on-frame truck. It comes in many versions; including two chassis cab variants and an SUV. Earlier this week, Dongfeng officially launched the cab chassis variants, and today we take a better look at this somewhat bizarre vehicle. The SUV will be launched later, as we will make sure to cover that one too.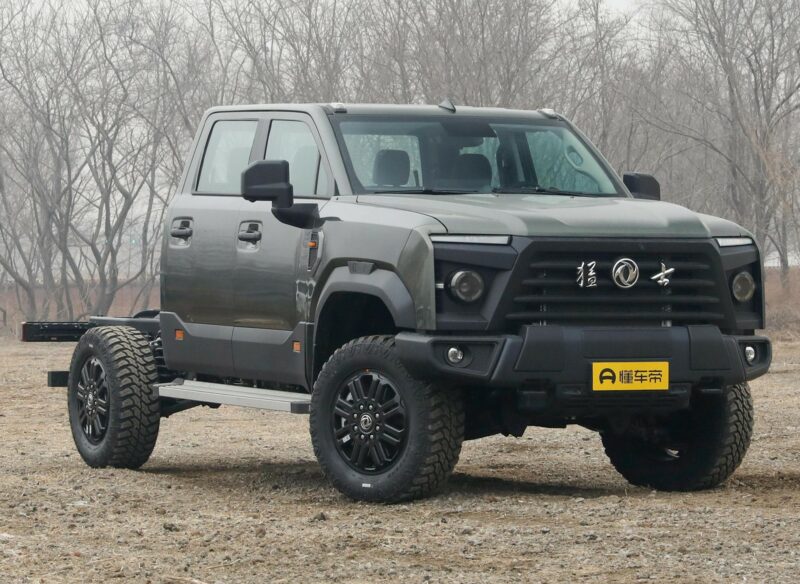 A chassis cab, also known as half truck, is a vehicle with just the cabin and the rear chassis rails. These are mainly sold to specialty car makers, who can turn these vehicles into all sorts of pickup trucks, cargo trucks, ambulances, camper vans, and vehicles for the army. They are rarely sold to private buyers, although there is no law against them.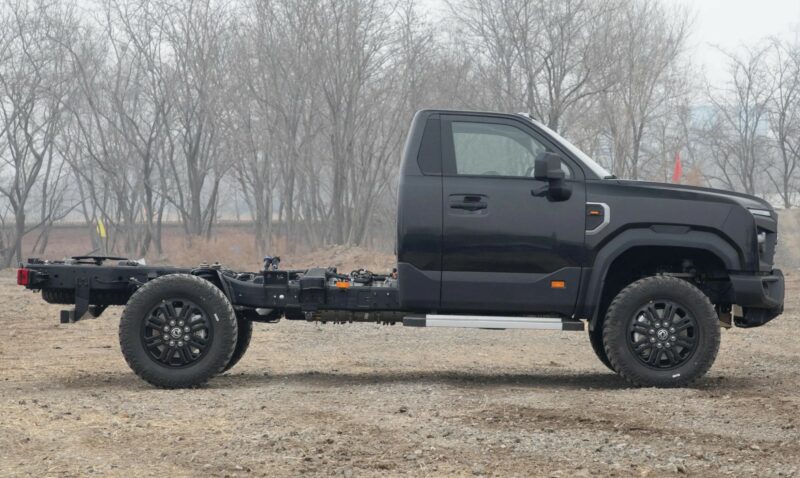 Dongfeng has launched four variants of the Warrior MS600 chassis cab: single cab short chassis, single cab long chassis, double cab short chassis, and double cab long chassis. The black car on the photos is a single cab long chassis, the green car a double cab long chassis.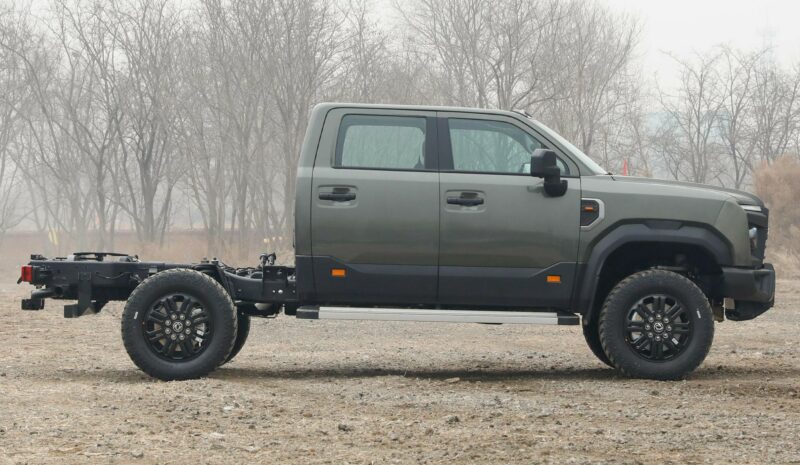 The Warrior MS600 is not a pretty car, as in beautiful, but it has a huge presence, even in this dusty desolated field. It is huge. The longest variant (double cab long chassis) measures 5970/2160/2155mm, the wheelbase is 3700mm, and curb weight is 3,915kg. Max load capacity is two tons.
The Warrior name (猛士) is used for a wide variety of off-road capable vehicles under Dongfeng Motor Corporation (DFM). The name goes back to the original Dongfeng EQ2050 'Chinese Hummer'. Most of the current Warrior cars are manufactured by various subsidiaries of DFM, some specializing in the more civilian oriented cars, others in vehicles for the armed forces.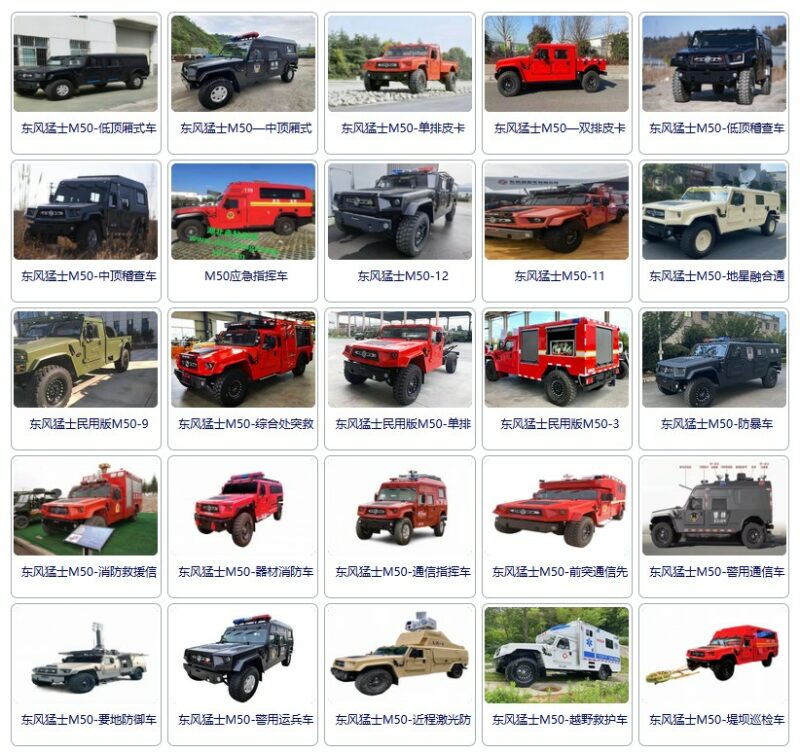 The most common Warrior is the M50, which exists in dozens of variants: civilian, government services, army, you name it. The Warrior M50 is powered by a 4.0 liter turbo-diesel engine, good for 200 hp and 600 Nm. The engine is mated to a six-speed manual, sending power to all four wheels. At the very same time, the Warrior name is also used for a new series of high-end electric 4×4 vehicles, with up to 1000 electric horses.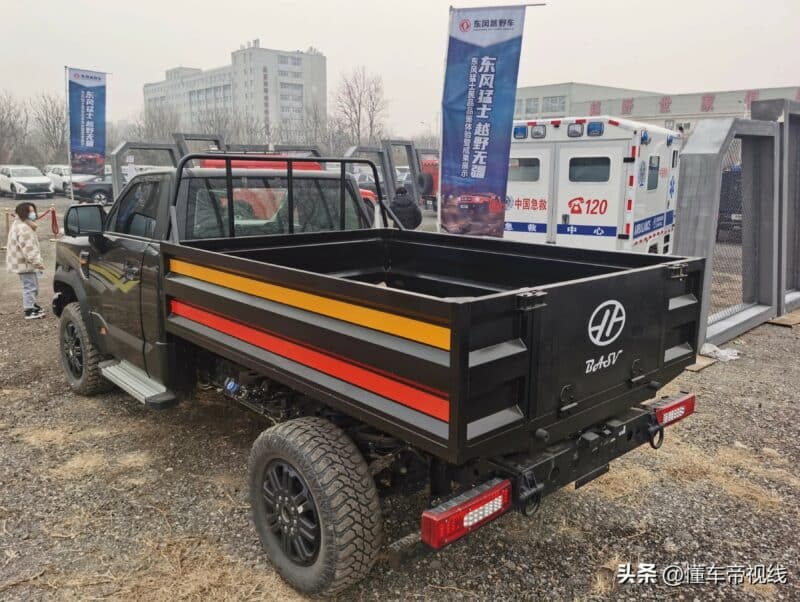 An example of a single cab version converted to a flatbed truck by a third-party specialty vehicle maker. The truck looks brilliant, especially with the added stickers.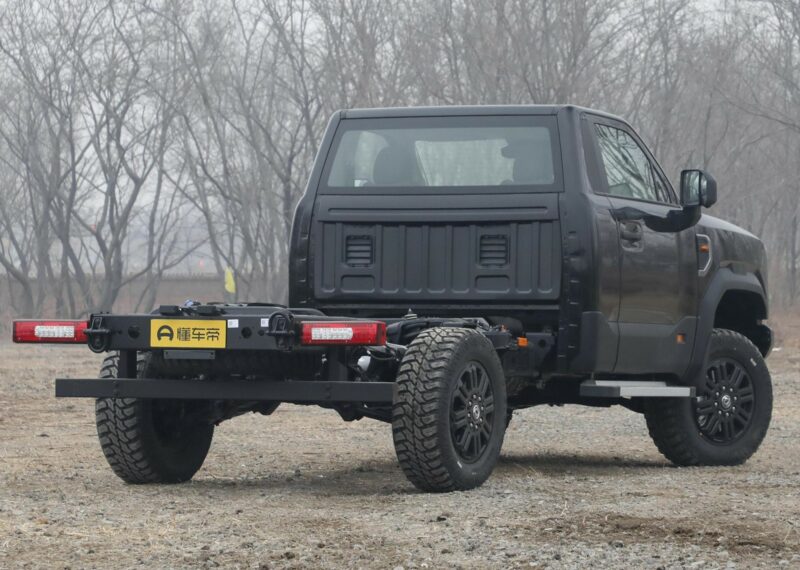 Dongfeng calls the MS600 chassis cab a "high-end off-road equipment platform". The military heritage is emphasized too, with Dongfeng saying: "The Warrior MS600 continues the military quality gene of Dongfeng Warrior." Dongfeng furthermore says that the MS600 has passed all required tests for military applications, so we can expect to see some army versions of the MS600 in the near future.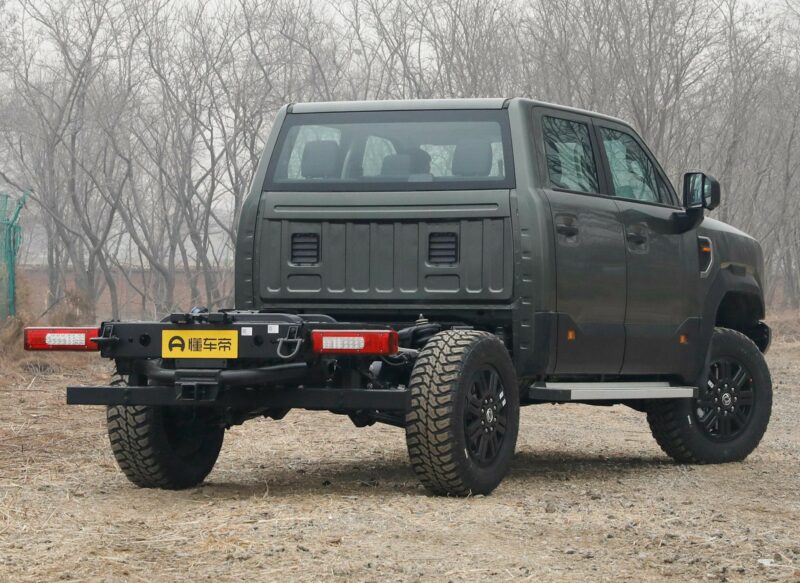 The MS600 uses a ladder chassis with independent suspension.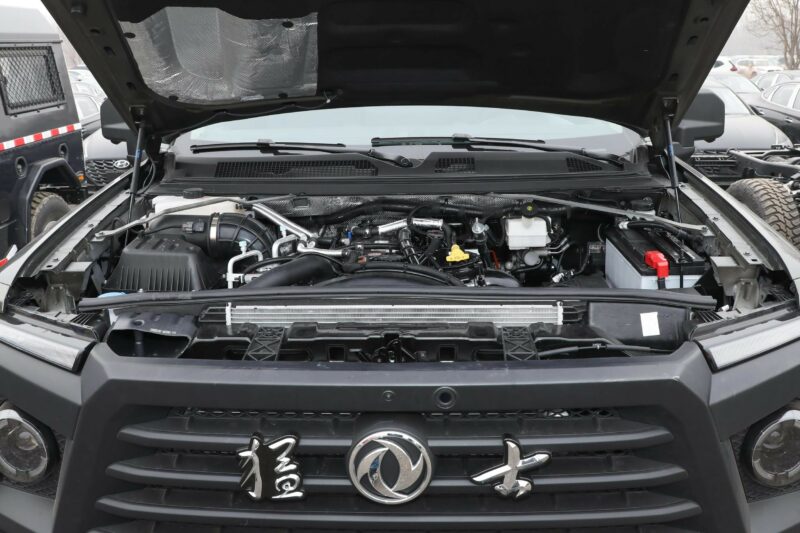 The Warrior M20 is powered by a massive engine: a Dongfeng-Cummins (东风康明斯) 'D6.7NS6B320' 6.7 liter six-in-line diesel, good for an output of 320 hp (232 kW) and 1200 Nm. Max torque is available from 1200 rpm. The engine is mated to a 6-speed automatic transmission.
Dongfeng-Cummins (DCEC) is a Chinese-American engine-making joint venture, established in 1986. They make a wide range of engines that are used in, among others: trucks, buses, ships, and many military vehicles including tanks. Dongfeng Motor is one of DCEC's main customers. All their heavy trucks use DCEC engines, and so does the entire ICE Warrior lineup.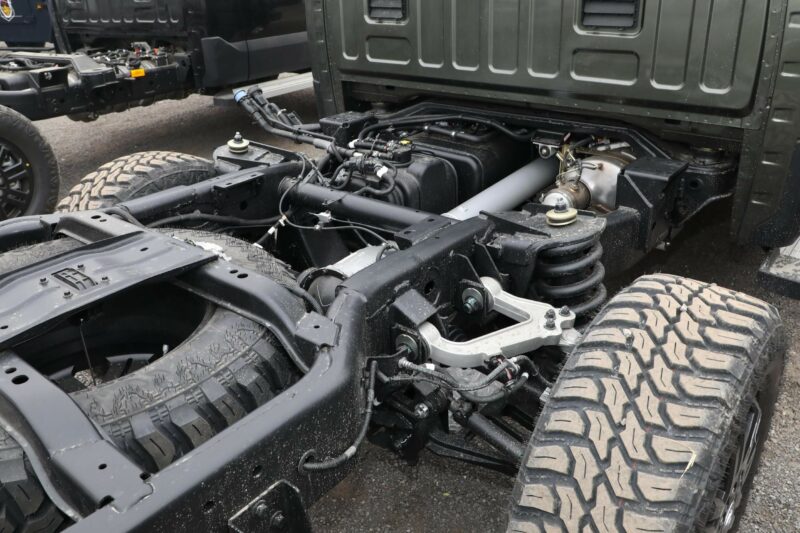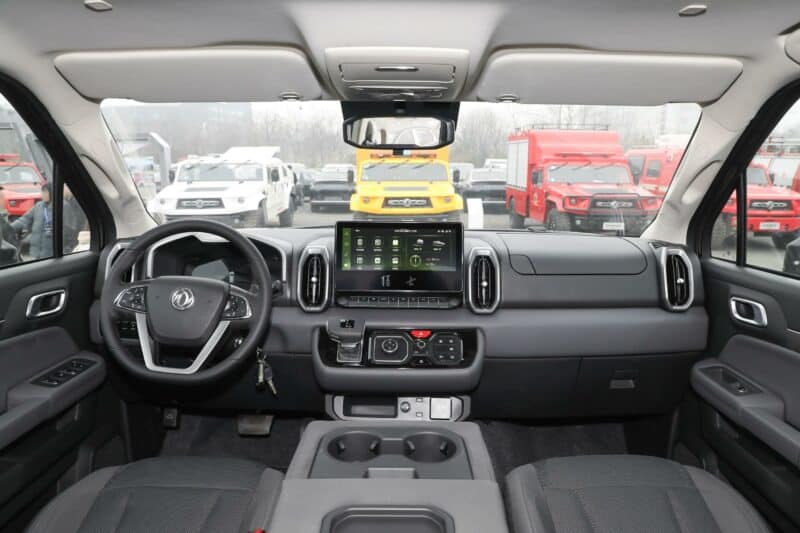 Note the lineup of Warrior M50's in the background. The interior is just as massive as the exterior, and very gray, with quite a lot of badass hard plastics. And check the old-school keys + keyhole ignition setup! The interior is 1.7 meters wide door-to-door. It has a digital instrument panel and a 12.8-inch central touch screen. Below the main screen is a line of buttons for the climate control.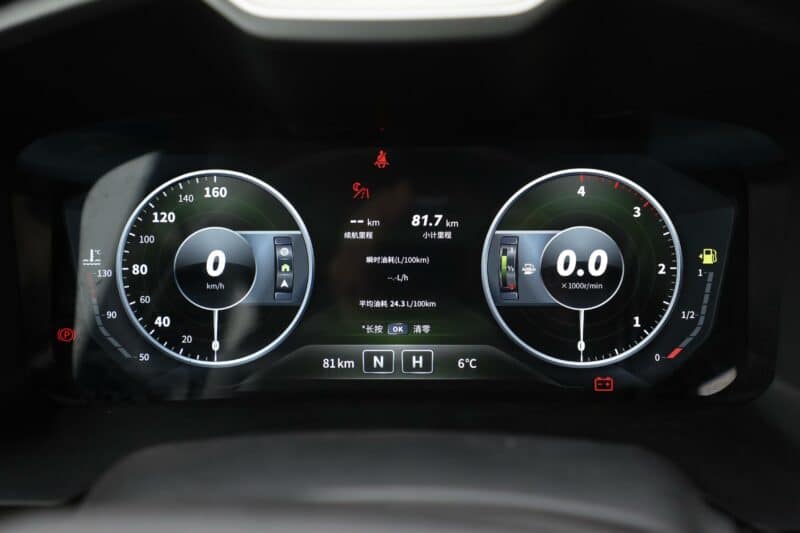 Speedometer tops out at 160 km/h. Rev counter at 4000 rpm. This diesel is made to run forever, and forever slow.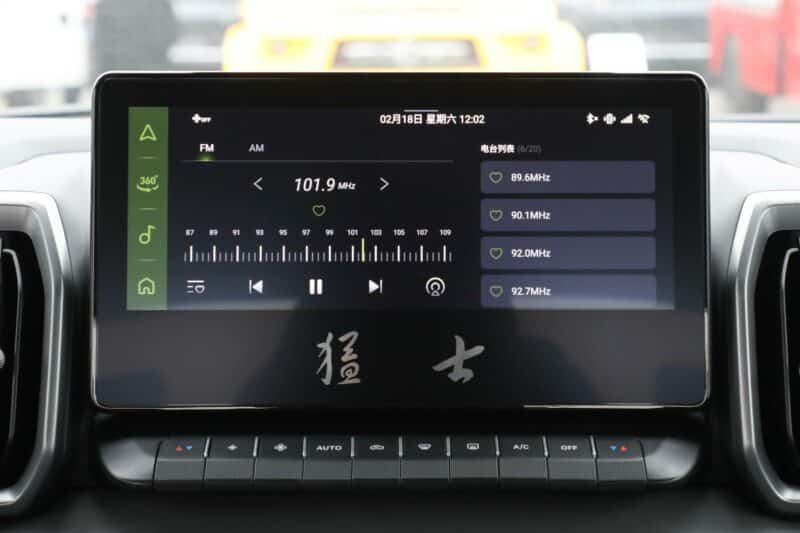 The graphics are okay. Good enough for the radio.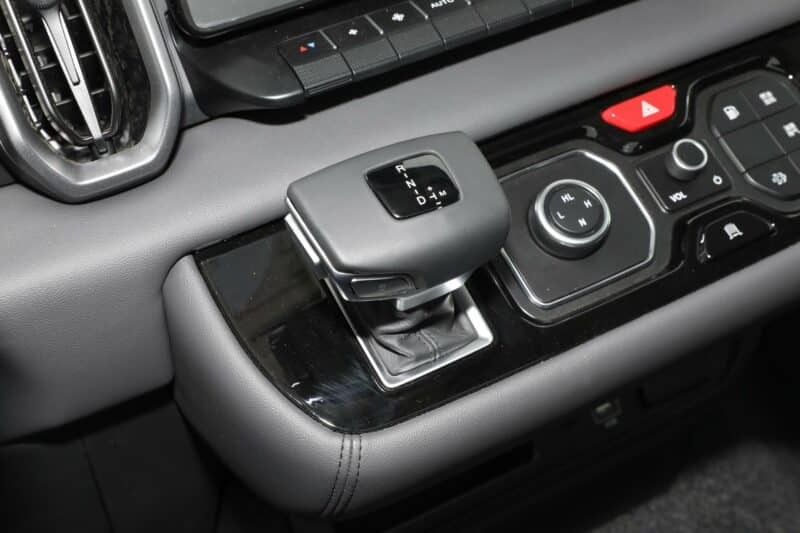 The gear lever in kind of tiny for a vehicle like the MS600. The four-wheel drive system features a 4 wheel transfer case with high- and low gearing. Dongfeng hasn't disclosed the exact details of the four-wheel drive system. I will update this article if we get more info.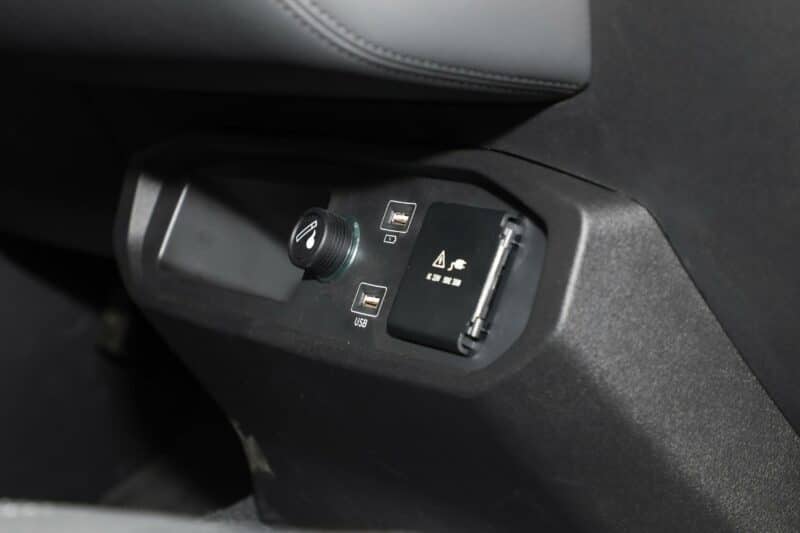 Those army fellows smoke a lot, so the MS600 has a real cigarette lighter. That's a rarity on new cars these days, even in China. It also has two USB ports and a 220V socket.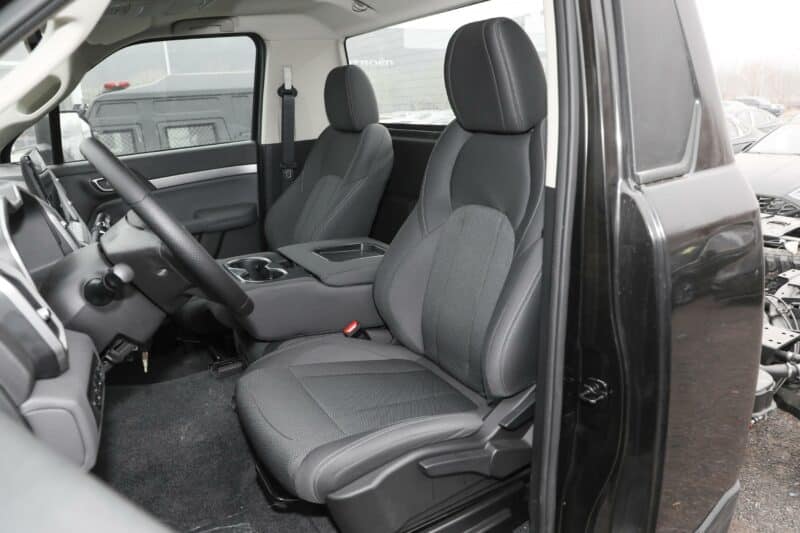 The handle to adjust the seat is huge. The center tunnel is wide with two cup holders, and it seems it can fold up to create a third seat in the middle, but I haven't seen any photos of it yet.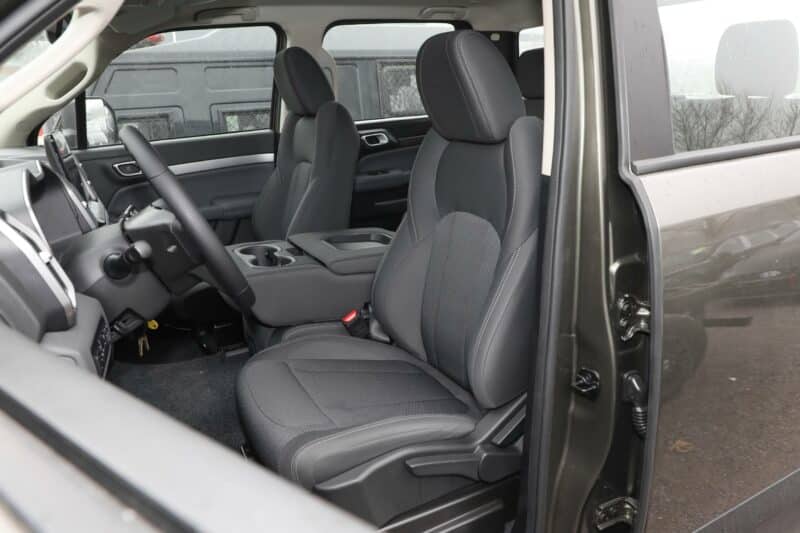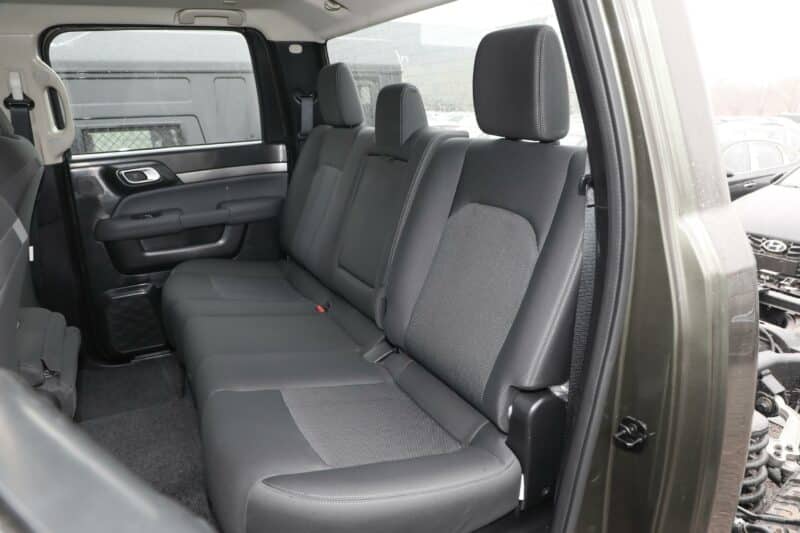 The second row is in the double cab variant. That's usable space for three adults.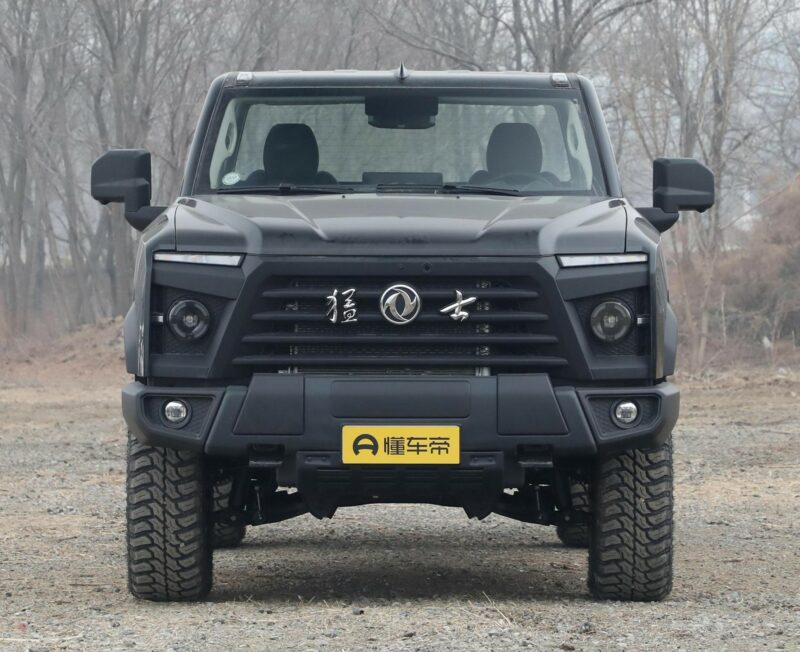 Let's talk money now. The base single-cab model sells for 466,000 RMB and the top double cab model sells for 638.800 RMB. That translates to 67,800 – 92,935 USD. That's a lot of money for a Dongfeng, but not a lot for a massive tank-like truck with a 6.7 liter motor under the hood.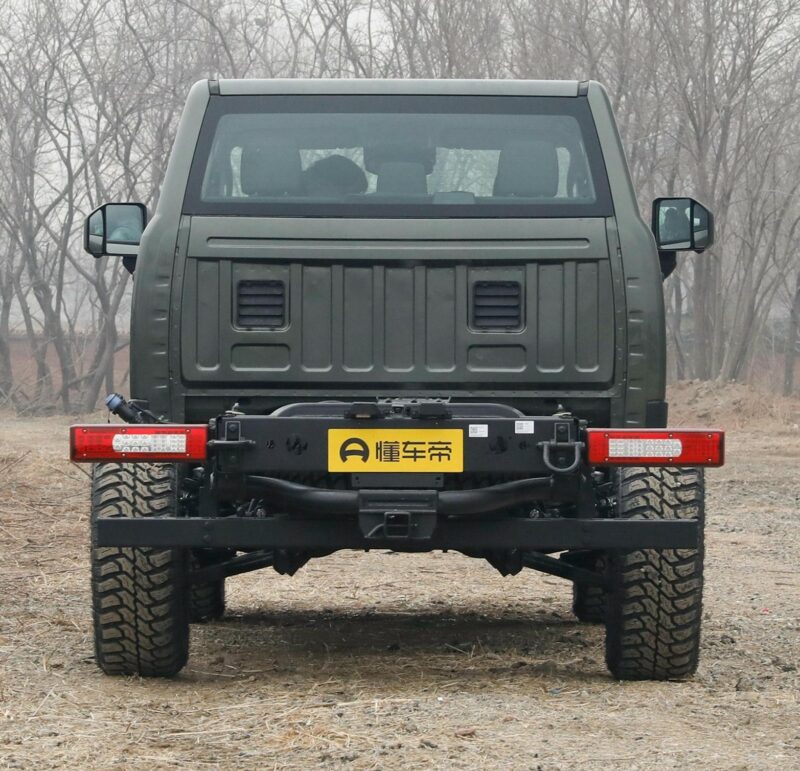 Ready for any road. More on the SUV version soon.
Via: Dongfeng, Dongchedi.