The Lynk & Co 08 midsize fastback SUV was officially unveiled in China. Its main features are Lynk E-Motive plug-in hybrid system, Flyme Auto in-car system from Meizu, and a new design language. Let's get to know the Lynk & Co 08 better.
Before we will get to some details about the Lynk & Co 08, we would like to remind you some basics about the Lynk & Co brand. It is a car company, founded by Geely and Volvo. Its cars stand on CMA and SPA platforms and have ICE, HEV and PHEV versions. The Lynk & Co model line currently comprises 6 vehicles. But only one of them sells globally (the Lynk & Co 01). Soon, one more model will join the Lynk & Co line. And it is the 08 fastback SUV.
Lynk & Co 08 officially unveiled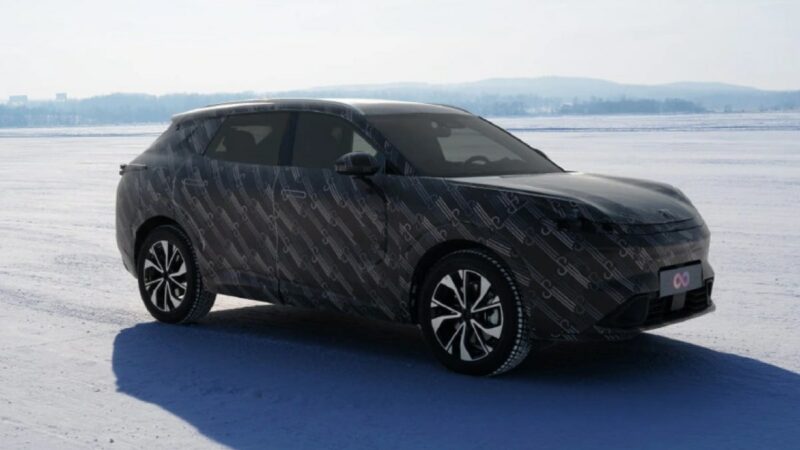 Previously, Lynk & Co shared some spy shots and teaser images of the 08. And today, this exciting SUV was officially revealed in China.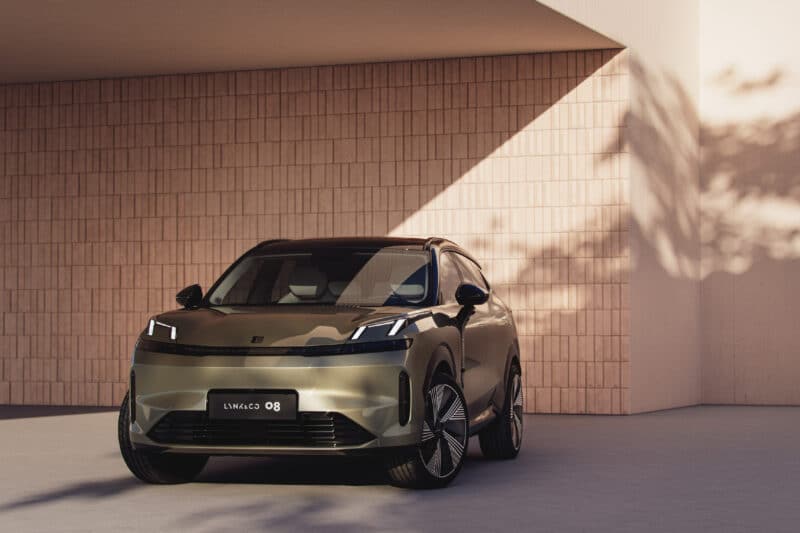 Let's start with the exterior design of the Lynk & Co 08. As we have mentioned in one of the previous articles, it was inspired by The Next Day concept car. It has the same running lights with a twin vertical strip atop of the bonnet. As these lights go up, they merge into a single element. Under the running lights, we can see the 08's high beams.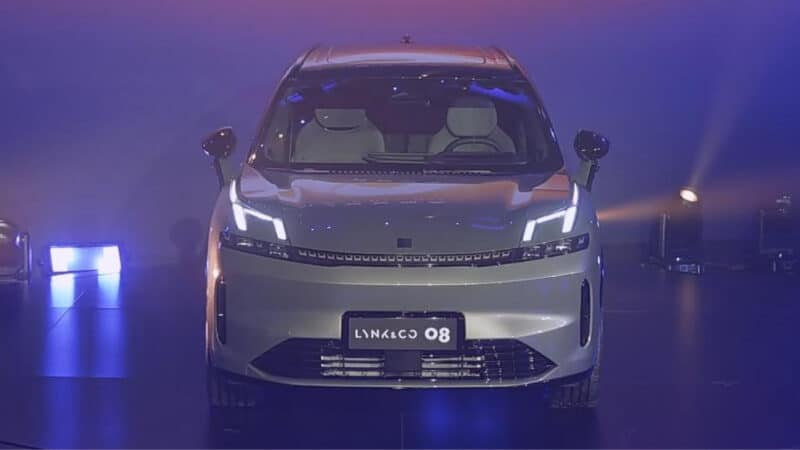 Worth mentioning that the main feature of  the Lynk & Co 08 is a closed grille. So it looks like an electric vehicle. But it still has an ICE under the hood. The thing is Lynk & Co uses Geely's plug-in hybrid system with a 3-speed DHT Pro transmition. According to Geely, it has an efficient cooling system that allows to reduce the grille area by 30%. So, it seems like the air intake in the lower part of the bumper will be able to effectively cool the ICE.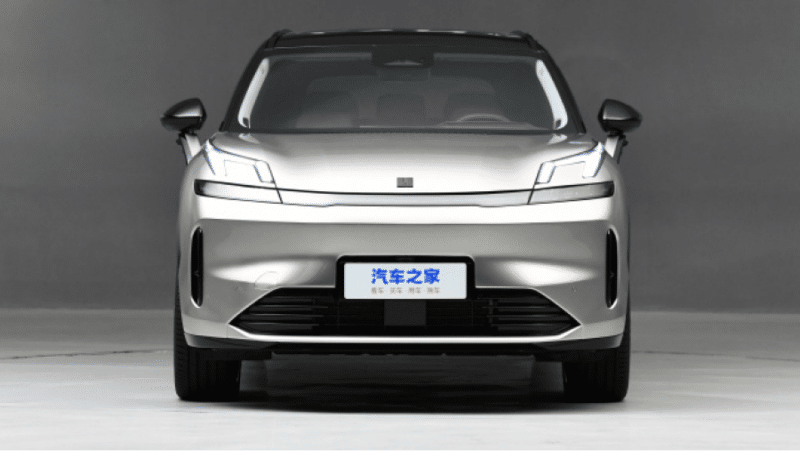 From the side, the Lynk & Co 08 has some nice features like a black roof, retractable door handles, a sporty roof spoiler and cool rims. But its overall bodyshape looks a bit bulky with glossy plastic trim elements and a thick D-pillar. And the relatively big rear overhang makes the 08's wheelbase look too short.
Lynk & Co 08 interior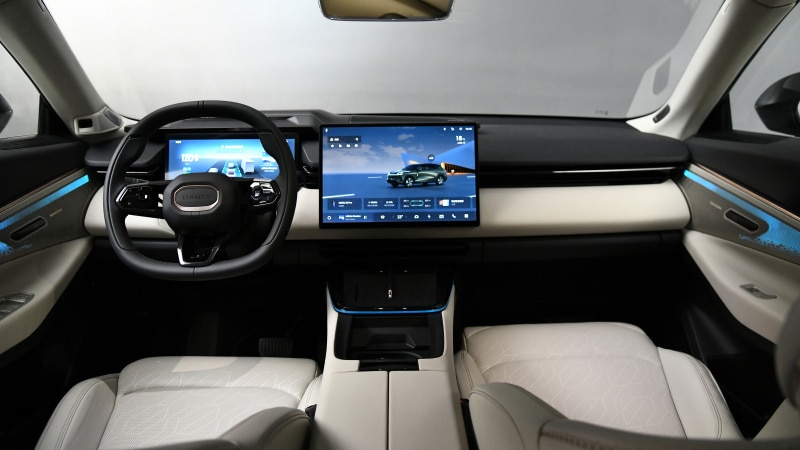 The exterior of the 08 is a bit controversial, but its interior looks just nice. First, we can highlight an oval-shaped steering wheel with a gear selector behind it. Its center tunnel also looks simple and clean, with a wireless phone charging pad and a hidden cup holders compartment. Moreover, its armrest sits on the same level with the center tunnel which is a nice touch.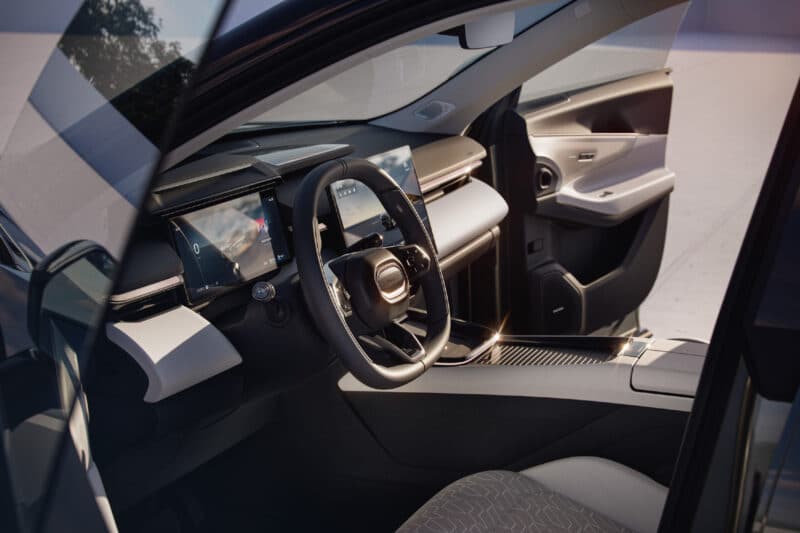 The center console of the Lynk & Co 08 got a huge 15.4-inch main screen and a 12.3-inch LCD instrument panel. But its main feature is a giant 92-inch AR-HUD. These screens work with the Flyme Auto in-car system from Meizu. It supports an advance connection with a smartphone and has deep customization posibility.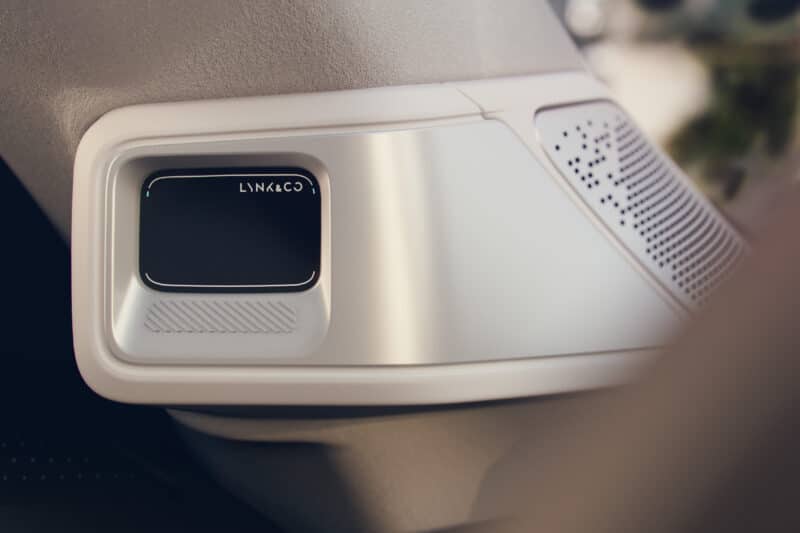 We can also highlight the Face-ID sensor on the A-pillar of the 08. Moreover, it has the Harman/Kardon acoustic system. As for the seats, they look comfy, but they surely aren't made for sporty rides. Worth mentioning that they are wrapped with fabric. Maybe, it is the same material as used in Volvo cars (Nordico).
Lynk & Co dimensions and powertrain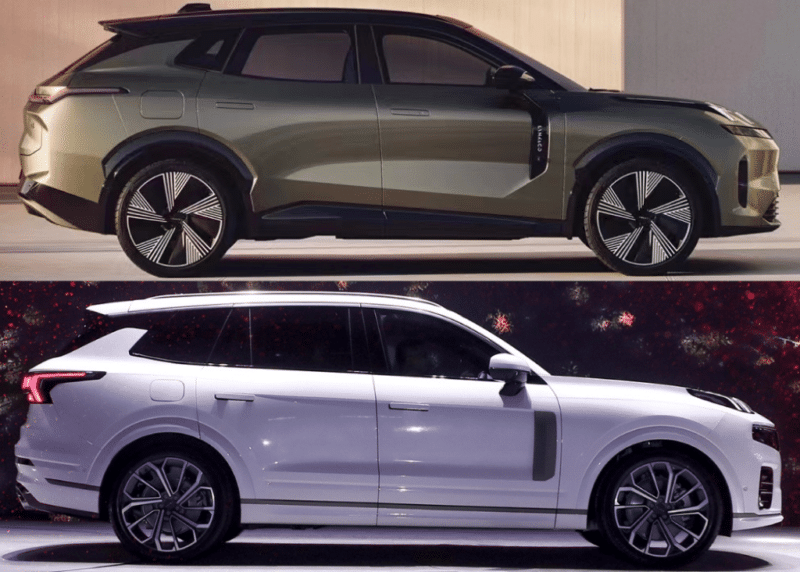 Now, let's speak about numbers. The Lynk & Co 08 is a mid-size SUV with dimensions of 4820/1915/1685 mm and a wheelbase of 2848 mm. For clarity, it is 222 mm shorter, 62 mm narrover, and 95 mm lower than the Lynk & Co 09, the brand's flagship car. In terms of size, the 08 is slightly bigger than BMW X4, Mercedes-Benz GLC, Volvo XC60, etc.
As for the powertrain, its exact specs weren't unveiled. But we do know that the Lynk & Co 08 will be equipped with the 1.5-liter ICE and a plug-in hybrid system. It seems that it can be borrowed from the Lynk & Co 01 EM-P. We will remind you that it has an ICE for 150 hp and an electric motor for 136 horses. Its total power output reaches 245 hp and 545 Nm. It also has a 17.2-kWh battery, good for 70 km of WLTC range. As for the fuel consumprion, it is 1.54 L/100 km (WLTC).
The Lynk & Co 08's price range is yet to be revealed. Anyway, it will hit the market soon, so stay tuned.