The Zeekr X electric hatchback from Geely was launched in China with a 66-kWh battery, up to 428 hp, and a starting price of 189,800 RMB (27,600 USD), much lower than analytics predicted. It will also enter the European market this year. Let's get to know this exciting vehicle better.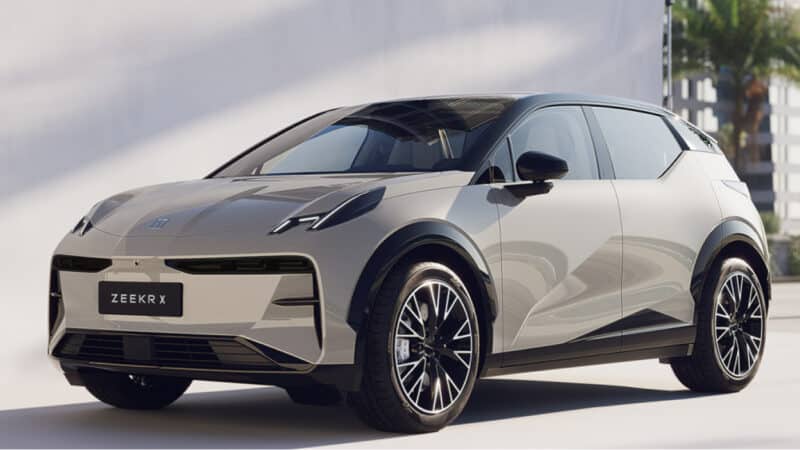 Some of our readers may not be familiar with Zeekr, so we will detail it a bit. It is a high-end brand under Geely that currently sells three vehicles: Zeekr 001 liftback, Zeekr 009 MPV and the new Zeekr X hatchback. All of these vehicles are underpinned by the SEA architecture. In 2022, Zeekr sold over 72,000 vehicles. This year, it wants to double its sales volume, launching in some European markets. And the Zeekr X will be the brand's spearhead there. Let's get to know it better.
Fact file: Zeekr X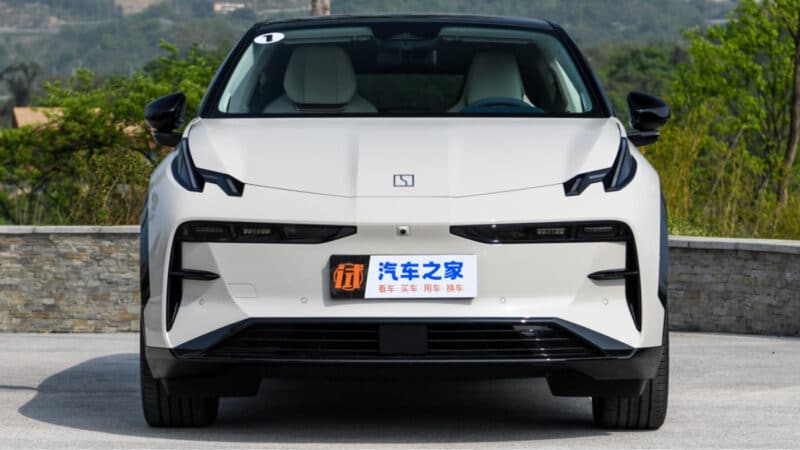 As mentioned, the Zeekr X is an electric hatchback. But Zeekr prefers to call it "SUV". However, we can't agree with this term. We can only call it "CUV" at best. It has nice proportions with a small ground clearance, a long wheelbase, slanted A-pillars, and some sharp lines that add sportiness to its appearance. As for the dimensions, they are 4450/1836/1572 mm with a wheelbase of 2750. For clarity, the X has the same wheelbase as the Smart #1, but it is 180 mm longer, 14 mm wider, and 64 mm lower than the #1.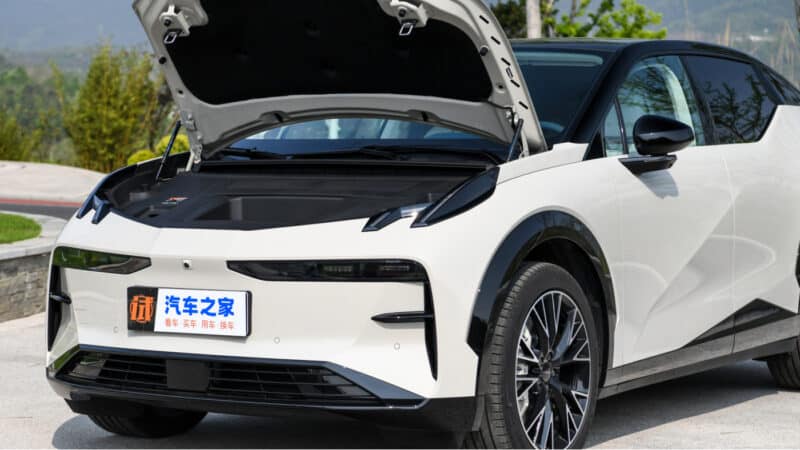 Aside from the size, the Zeekr X has a lot in common with Smart #1. They share the same SEA architecture. Moreover, their electric motors and the battery are made by the same manufacturer that is VREMT (Viridi E-Mobility Technology), a company fully owned by Geely.
Speaking about the electric motors, the X got two options. The first one has a 200-kW (272 hp) electric motor on the rear axle. It can speed up from 0 to 100 km/h in 5.8 seconds. As for the second option, it has two e-motors with a total power of 315 kW (428 hp). Its zero-to-hundred acceleration is 3.7 seconds. As for the battery, it is ternary (NMC) with 66 kWh capacity. The RWD models got a 560 km of CLTC range, and the 4WD model can run up to 512 km on a single charge.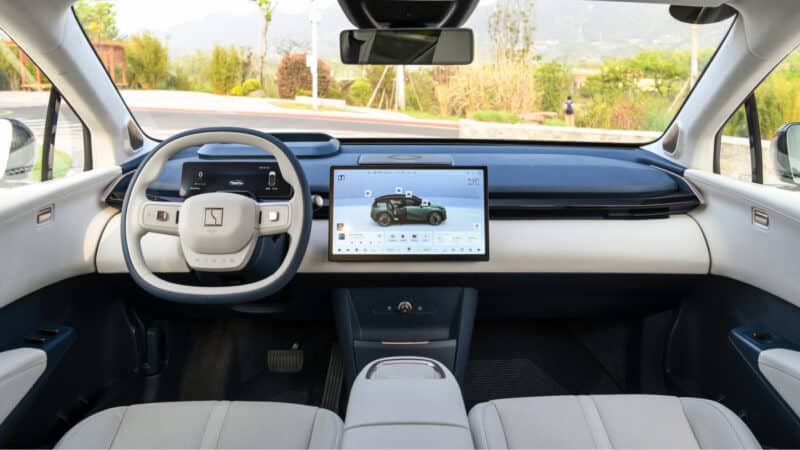 The Zeekr X can be equipped with 5 or 4 seats which are pretty rare for Chinese cars. Its interior has a huge 14.6-inch floating main screen that can move toward the passenger. It also has a wireless phone charging pad and a gear shifter behind the steering wheel.
Zeekr X prices and specs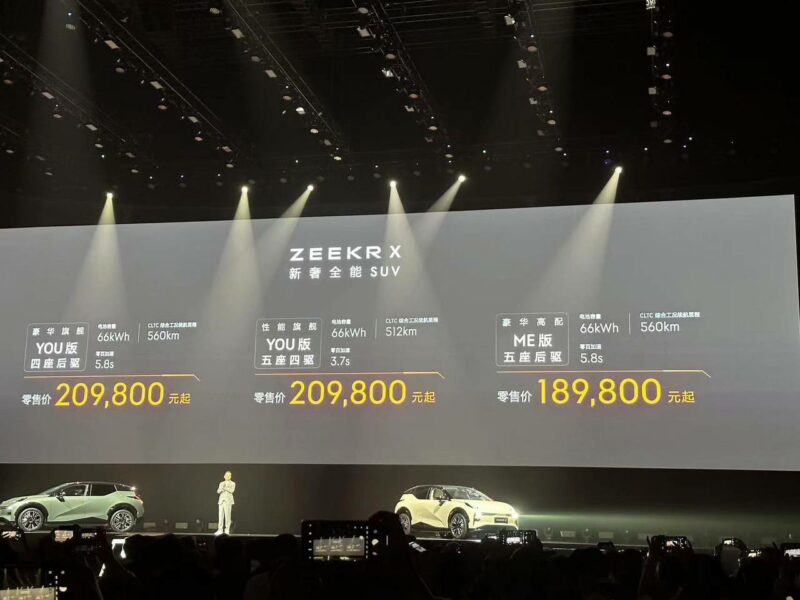 The Zeekr X has three trim levels. The entry-level version is called ME. It has five seats, a single electric motor, and a sticker price of 189,800 RMB (27,600 USD). You can't equip it with 4WD, but you can add it heated steering wheel, Yamaha sound system, automatic doors, and the screen on the B-pillar. With these options, its price tag rises to 212,800 RMB (30,900 USD).
| | | |
| --- | --- | --- |
| Trim level | Price (yuan) | Price (USD) |
| Zeekr X ME (200 kW) | 189,800 | 27,600 |
| Zeekr X YOU 5-seater, 4WD (315 kW) | 209,800 | 30,500 |
| Zeekr X YOU 4-seater, RWD (200 kW) | 209,800 | 30,500 |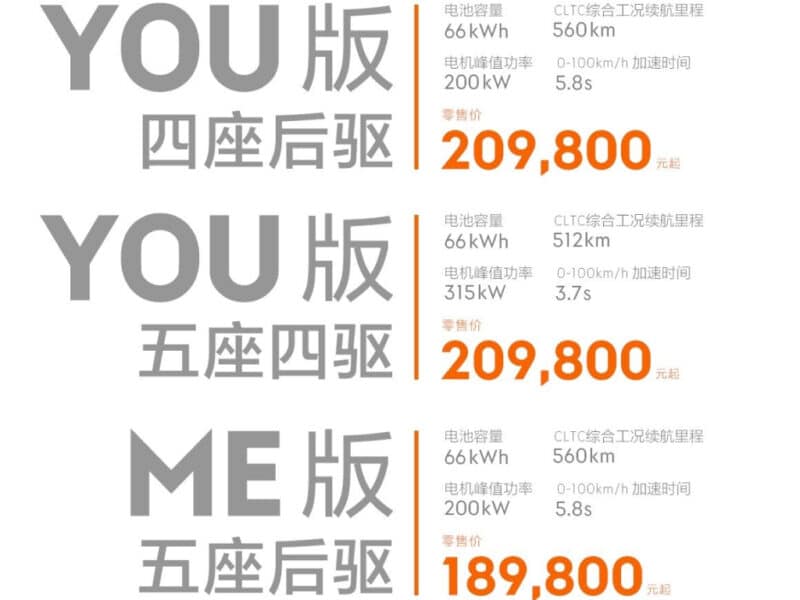 The second trim level is YOU, with five seats that cost 209,800 RMB (30,500 USD). It has 4WD and 428 horses. It is already equipped with a heated steering wheel and Yamaha sound system. But automatic doors and the screen on the B-pillar are optional. So its max price currently reaches 225,800 RMB (32,800 USD).
And the third trim level is the YOU version, with four seats and a price tag of 209,800 RMB (30,500 USD). It has a single e-motor as standard, but you can equip it with the 4WD system for 20,000 RMB (2,900 USD). As for the automatic doors and the screen on the B-pillar, they are still optional. So its price tag reaches 245,800 RMB (35,700 USD). Worth mentioning that, as it goes from Zeekr, the four-seat model goes with "Cloud Zero Gravity Seats".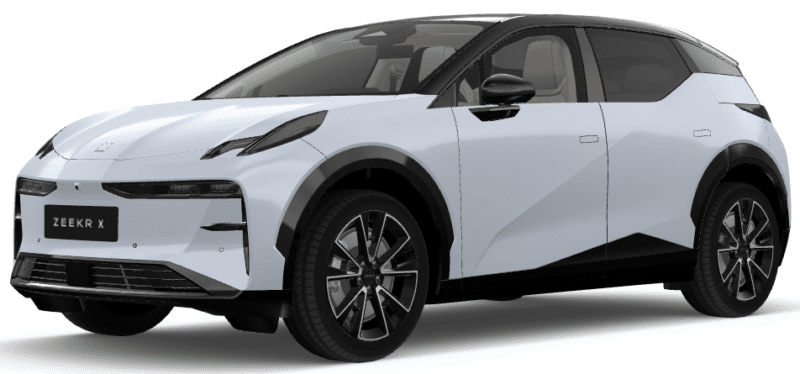 The X is available in 6 body colors: Berlin Metallic Gray, Hangzhou Green, California Sunglow Pink, Athens Cloud White, Paris Cream Beige, and Sydney Harbour Blue. All of them are currently free. But later, Hangzhou Green and Paris Cream Beige will cost 5,000 RMB (700 USD) extra.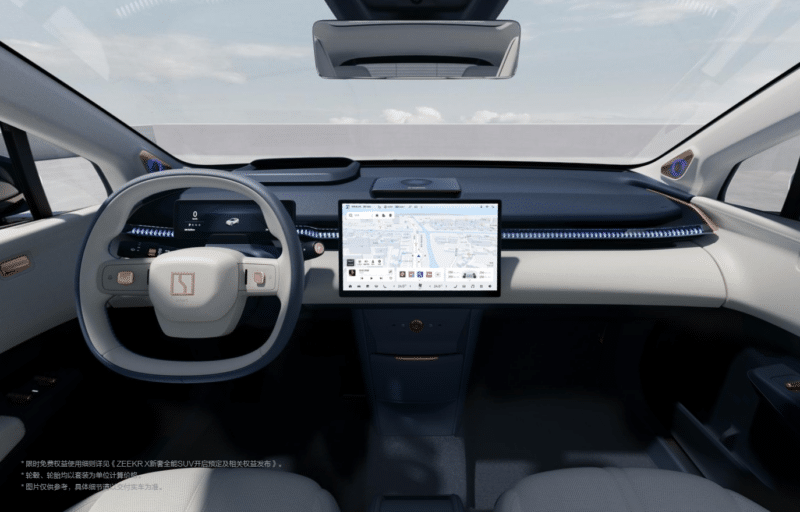 As for the interior, it is available in three shades for the four-seat version: Blue-White; Blue-Green; Black-Gray. The five-seat version also has a beautiful-looking violet color.
So the Zeekr X is a nice-looking car with decent styling and an awesome powertrain. But its battery looks a bit small. For now, it is the only drawback of this vehicle.
Editor's comment
Zeekr 001 launched for 299,000 yuan, Zeekr 009 launched for 499,000 yuan, and now Zeekr X debuted at 189,900 yuan. The price-performance ratio is top-notch, almost too good to be true.
Moreover, HiPhi is expected to launch its Y entry-level EV next week for much less than previous X and Z high-ends. It seems that the price war in China is pushing many premium brands down to the mass market faster than they anticipated. But there are still some who resist – for example, Nio. The power of each brand will go through a harsh test in 2023. We will keep an eye on it.
Zeekr X will start deliveries in June.

Source: Zeekr, Zeekr Weibo, Autohome