Good grilles! The Zeekr 009 has been launched on the Chinese car market. The 009 is probably the most interesting new Chinese MPV, and we saw a lot of those in recent months. The MPV appears to be more popular than ever in China. It has lots of bling and lots of power.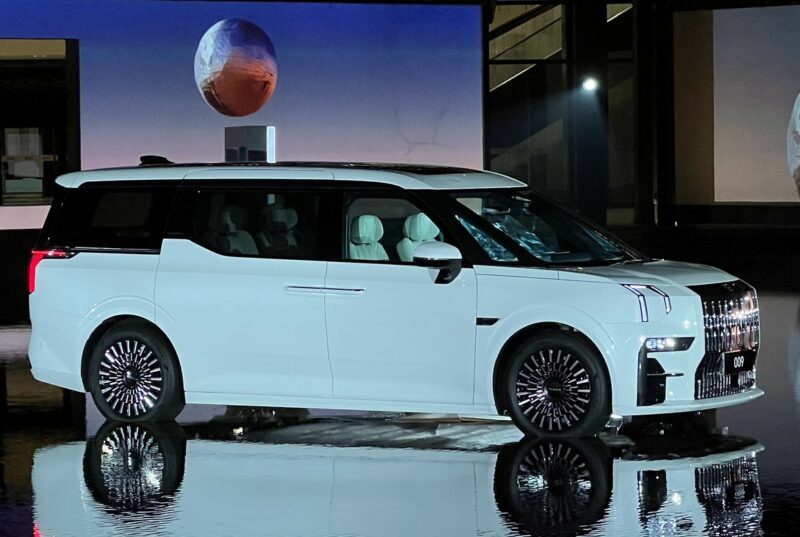 Zeekr is a premium EV brand under the Geely Group, founded in 2021. Their first car was the Zeekr 001 and the Zeekr 009 is their second car. With such a massive lineup Geely is now planning a separate IPO in Hong Kong for the Zeekr brand. Geely is really into IPOs at the moment. Volvo Cars was listed, then Polestar, and it has plans to list Lotus Technologies as well. It seems they need cash.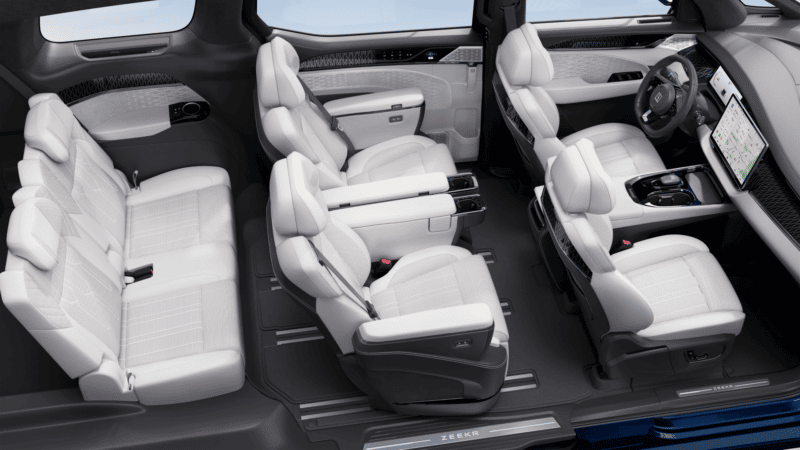 Anyway, let's get back to the Zeekr 009. It is a six-seat MPV based on Geely's SEA platform, with sliding doors on each side. It is a big car: 5209/2024/1856, with a 3205 wheelbase. Zeekr sells two versions:
Zeekr 009 WE. It has a 116 kWh CATL Qilin battery and a 702 kilometer CLTC range. Price is 499.000 yuan (68.570 USD).
Zeekr 009 ME. With a 140 kWh CATL Qilin battery (!) and a 822 kilometer CLTC range. Price is 588.000 yuan (80.800 USD).
Very impressive specs indeed. But it gets better. Both versions use a twin-motor four-wheel drive power train. Combined output is 544 hp and 686 Nm. Zeekr says the 009 sprints from 0 to 100 in 4.5 seconds and brakes from 100 to 0 in36.9 meters. Fast charging from 10 to 80% takes 28 minutes .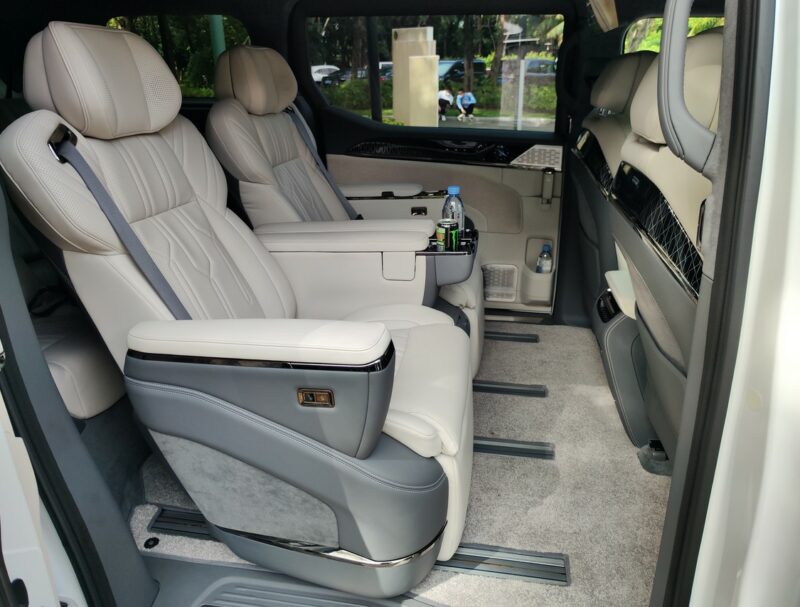 Nappa leather is standard, and the 'Sofaro' captain seats in the second row are 70cm wide with a cushion thickness of 12cm. The sound system is sourced from Yamaha, with 20 speakers including headrest speakers on the first and second rows. It has air suspension and a system that lowers the car for easy access, just like some buses do.
The 009 is loaded with "more than" 30 intelligent assisted driving functions including full-speed active cruise control (LCC+ACC), automatic parking, rear collision mitigation, automatic lane change warning assistance, overspeed reminder, low-speed reversing emergency braking, and traffic light assistance. The driver assist system is controlled by Mobileye's dual 7nm EyeQ5H high-performance chips, seven 8-megapixel HD cameras, four 2-megapixel surround view cameras, one ultra-long range millimeter wave radar, and twelve short-range ultrasonic radars.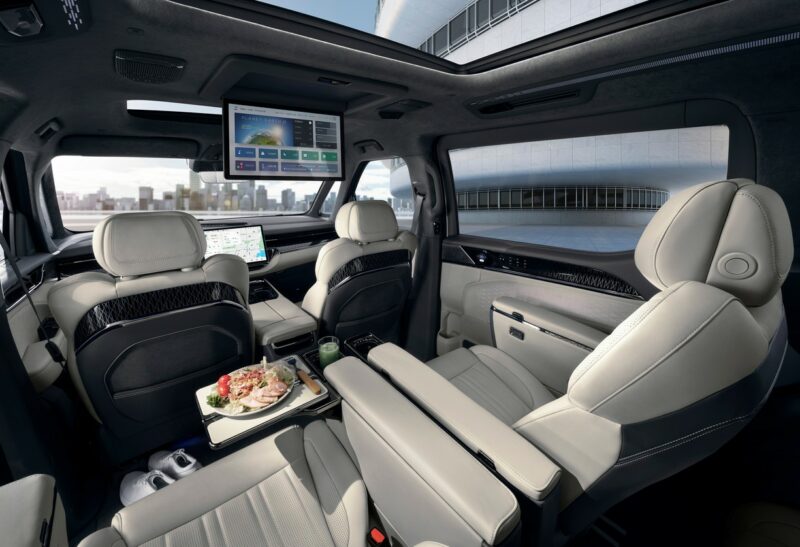 Center piece of the second row is a 15.6 inch television screen with a permanent 5G internet connection. It has a wireless screen projection function, a 1080P HD video conference function, and the kids can connect their Nintendo Switch game console. There are tray tables too, as seen on this Zeekr PR pic. So what does the intended target group like to eat when on the road?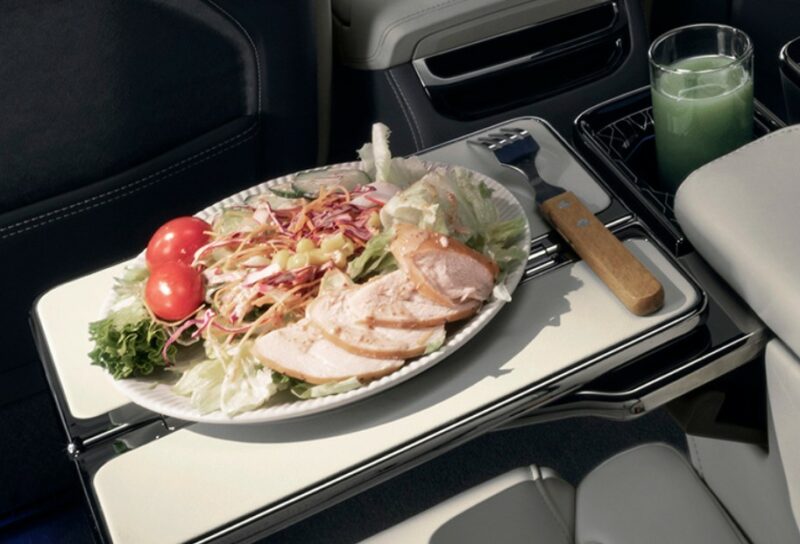 A rather non-Chinese meal. A salad with ham and lettuce and tomatoes. And the only tool is a fork! What happened to chop sticks? The drink is something green, but it isn't green tea. Melon juice, perhaps?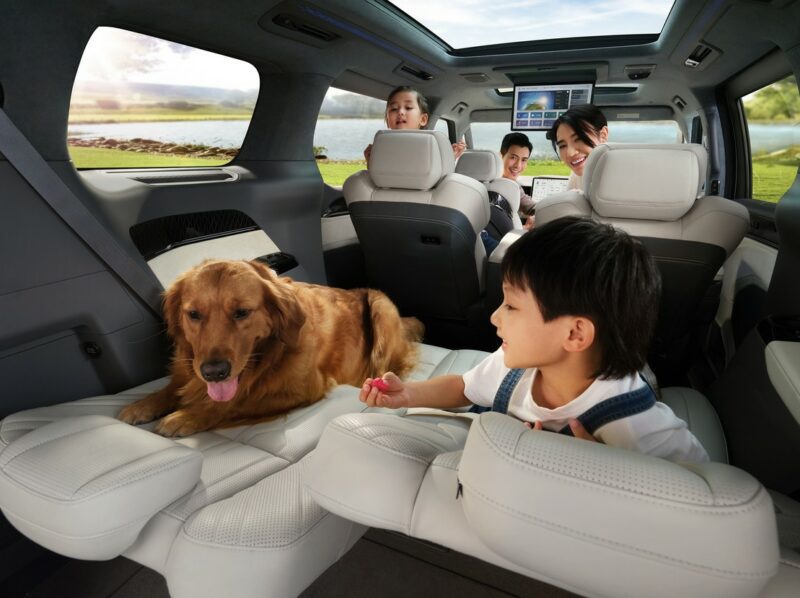 Another Zeekr image shows a typical modern Chinese family, with two kids and a dog.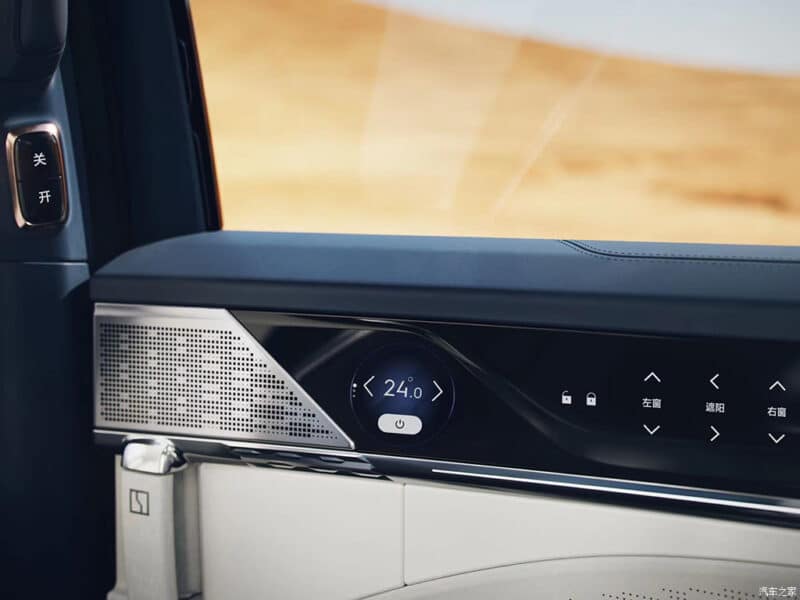 Zeekr is very proud of the 'SMART BAR' touch screen on the sliding door. The touch sensitive screen measures 3.4 inch and controls the seats, air conditioning, door locks, and the sun shades.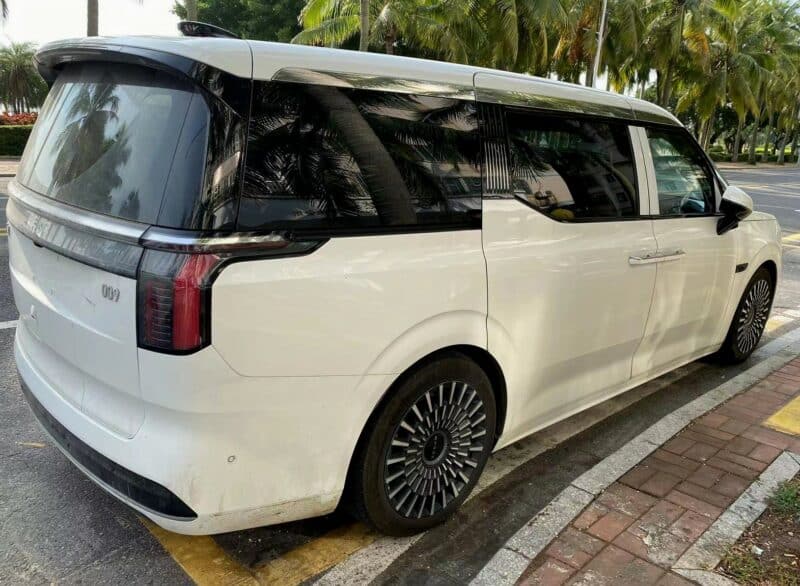 One seen on the street, showing off its crazy alloy wheels. It sure is a looker.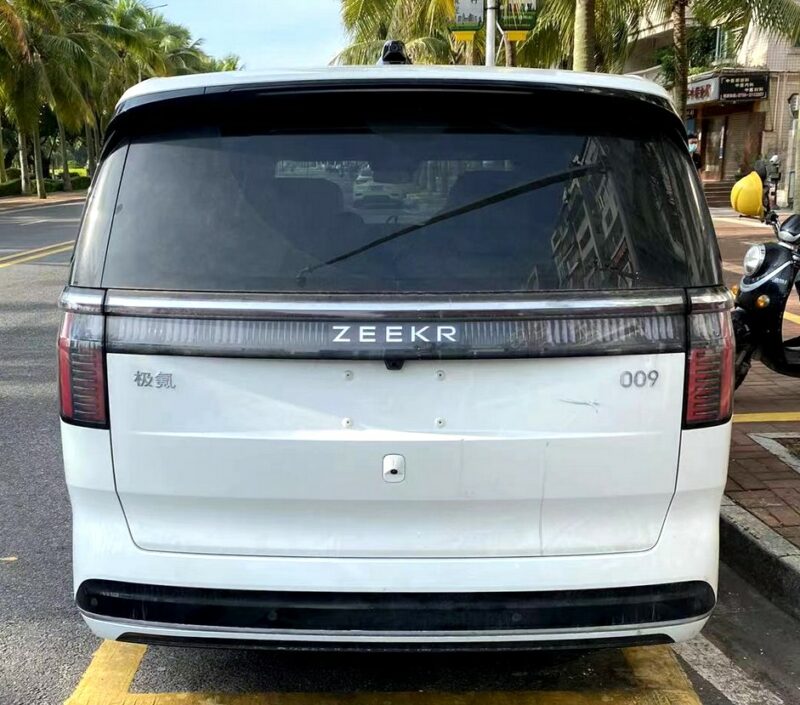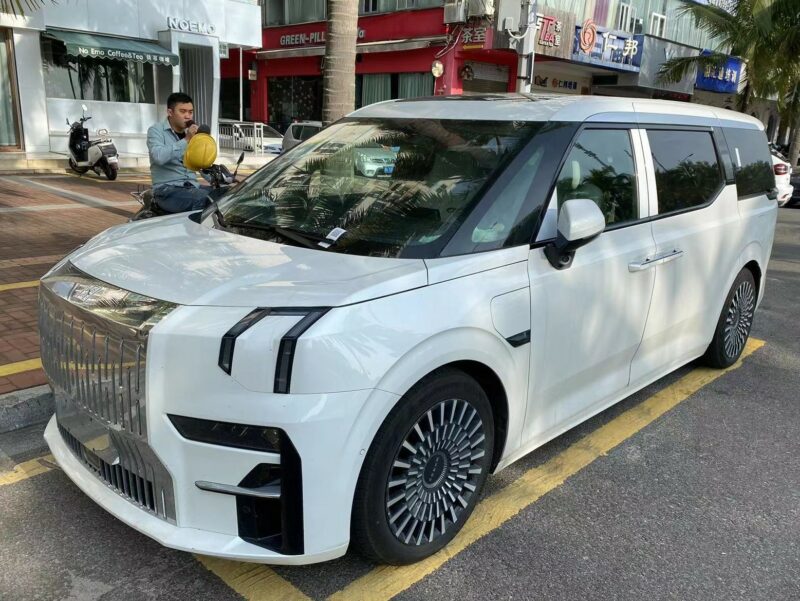 Zeekr calls the grille design "Spring of Light". The grille consists of 154 programmable LED dot-matrix lights. An impressive package indeed, but it is expensive and there is a lot of competition. Let's see how it does on the market.
Pics top: Weibo/初晓敏. Pics white car on street: Weibo/刹那数码. Others: Zeekr.