On May 22, BYD reported receiving 13,695 orders for the 2023 version BYD Han DM plugin hybrid. The company launched the 2023 Han DM on May 18 in two options, DM-i and DM-p, with a 6000 USD price reduction for the top trim level compared with the 2022 version. The average order price was 241,000 yuan (34,300 USD).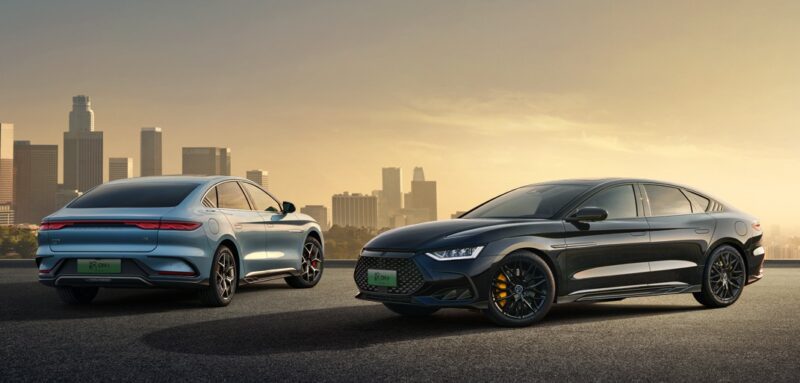 The launch of the PHEV variant follows the launch of the all-electric Han EV in March. DM stands for Dual Motor, a BYD's powertrain tech dedicated to PHEV cars. There are two versions: DM-i for front-wheel drive vehicles and DM-p for more powerful AWD. The 2023 DM-i Han is also called Champion Edition, while the DM-p is Ares (God of War, 战神 in Chinese) Edition.
The 13,695 orders are for the 2023 Han DM family combining DM-i and DM-p versions. Day after the launch on May 19, BYD reported it received 8,051 orders on the first day of sales.
Compared with the 2022 version, Han's exterior and interior styling remained unchanged; only a new body color named Glacier Blue has been introduced. The vehicle's dimensions have also remained the same, measuring 4975/1910/1495 mm with a wheelbase of 2920 mm. The more powerful DM-p Ares also received the newest suspension tech DiSus-C.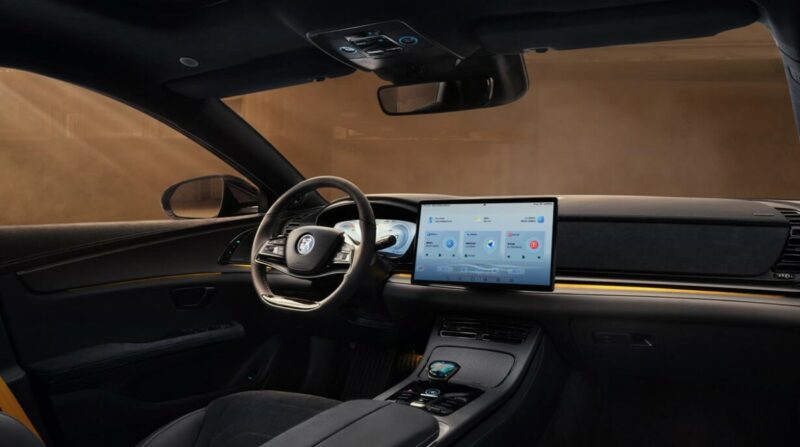 BYD Han DM-i Champions Edition
Looking at the success of Li Auto, BYD also wants to give customers what they want, so the PHEV version of Han EV can soon become a best seller with such a competitive price.
Han DM-i has an electric motor with power 197 HP mated with a 1.5 liter turbocharged ICE under the hood that generates 139 HP. 0-100 km/h acceleration is in 7.9 seconds. Han DM-i offers two battery options: an 18.3 kWh LFP pack suitable for a 121 km range (NEDC) and a 30.7 kWh LFP battery good for a 200 km range. With a full tank and bigger battery car can go 1260 km.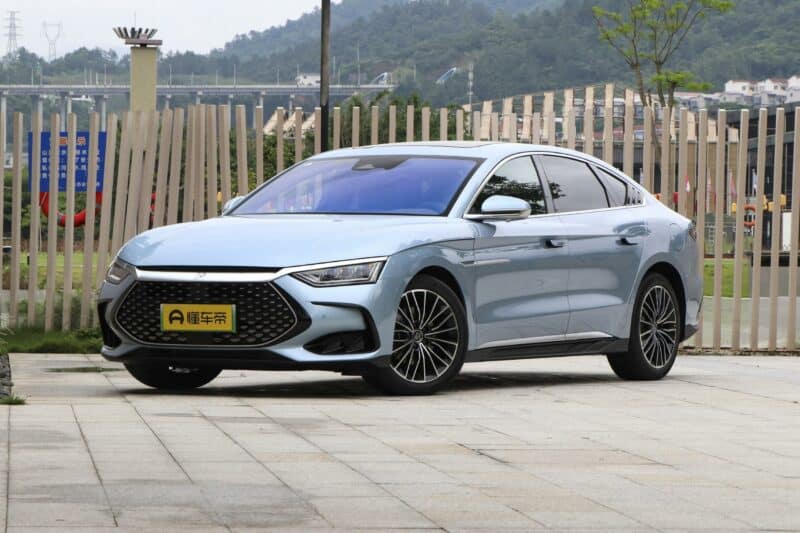 The Han DM-i with a smaller battery is priced between 189,800 yuan to 219,800 yuan (27,000 to 31,300 USD). If you opt for a larger battery upgrade, the price range increases from 239,800 yuan to 249,800 yuan (34,100 to 35,500 USD).
BYD Han DM-p Ares (God of War) Edition
Han DM-p might not be a best-seller, but its specs are much more enjoyable. It has two electric motors with 490 HP (218 + 272 HP front and rear) and a 1.5 liter ICE generator with 139 HP; all wheels are driven. The total maximum output of the system is 579 horsepower, 822 Nm peak torque, and it accelerates from 0 to 100 km/h in 3.7 seconds.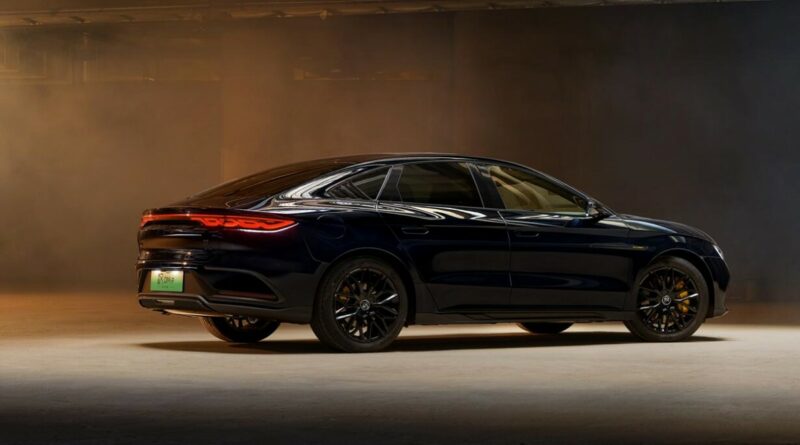 It has only one battery option – a 36 kWh pack suitable for a 200km range, and the mixed range is 1,120 km. The price tag is 289,800 yuan (41,200 USD) which is a surprisingly great price for vehicles with such a performance. However, CarNewsChina expects the cheaper front-wheel drive DM-i variant will be the backbone of the 2023 Han DM family sales.
Price Drop
BYD does all it can to increase or at least keep its market share amid the price war in China, and dropping the price of new models is a way to give 'discount without giving discount' and thus not harming the brand premiums.
The reduction in the starting price of the 2023 Han DM-i is 28,000 yuan (4,000 USD). The Han DM-p top trim level dropped 32,000 yuan (4,500 USD) compared to the 2022 model caused of a slightly smaller battery. Moreover, using a smaller battery, the top trim Han DM-i dropped 42,000 yuan (6000 USD) compared with the 2022 version.
BYD sales in 2023
In April, the BYD Han series achieved a sales figure of 14,329 units, showing a 6.77% increase compared to last year and a 5.75% increase from March.
BYD founder and CEO Wang Chuanfu announced that BYD would sell 3 million vehicles in 2023 without doubt, with the optimistic goal of reaching 3.6 million sales. The company sold 757k cars from January to April, about half being all-electric vehicles. BYD's monthly sales are about 200k vehicles, so they need to step it up to over 300k monthly deliveries if they want to reach the goal.
BYD ceased production of pure ICE vehicles a year ago in April, focusing only on NEVs.