On May 2, BYD released its Sales Volume report for April. The Shenzhen-based automaker sold 104,346 BEVs, 82% up compared to the same month last year and 1.7% up compared to the previous month. It is also the third-best month in BYD history regarding BEV sales.
BYD also sold 105,103 PHEVs, so in total, BYD sold 209,464 passenger vehicles in April, which is 98% up YoY. Together with buses and commercial vehicles, BYD sold 210,295 NEVs. BYD stopped production of ICE vehicles a year ago. The EVs & PHEVs are called NEVs in China (New Energy Vehicles) and have a unique green plate. BYD cumulative deliveries of NEV reached 4.1 million.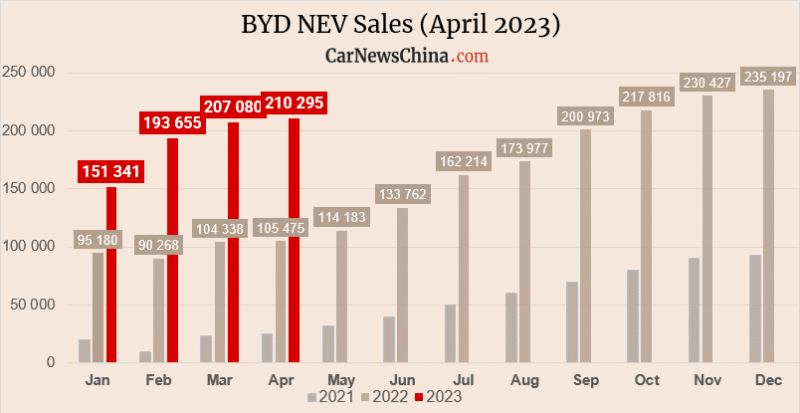 The company report also revealed that 14,827 NEVs were exported. BYD didn't specify which cars were exported. CarNewsChina learned that it was mainly Yuan Plus (Atto 3) SUV, which recently became the sales champion in Israel, Thailand, and New Zealand and started deliveries in the UK.
BYD also announced its brand Denza jointly owned with Mercedes (10%), sold 10,526 EVs. Denza sells only one car – a luxurious MPV Denza D9, which costs about 400,000 yuan (57,900 USD). Soon the second Denza car will go on sale as Denza N7 will be launched in June. The N7 SUV received 10,569 preorders seven days after its unveiling at Shanghai Auto Show in April.
IThome published a detailed breakdown of the BYD sales. The best-selling series was the Dynasty which sold 115,550 vehicles:
BYD Qin – 42,202 units
BYD Yuan – 39,160
BYD Han – 14,329 units
BYD Tang – 11,759 units
BYD Song – 8,100 units
Second best selling series was the Ocean series which sold 83,388 vehicles:
BYD Dolphin 30,462 units
Frigate 07 – 10,003 units
BYD Seal 6,212 units
Destroyer (Chaser) 05 – 5,380
BYD Seagull 1,500 units
BYD E2 – 2,095 units
BYD Song Plus – 27,736
The last row is not a mistake; BYD considers BYD Song Plus an Ocean series.
Moreover, BYD installed a 9,954 GWh battery capacity, an increase of 59% from the same month last year. The year-to-date installed capacity is 36.945 GWh.
BYD's goal
In 2023 BYD sold 762,371 NEVs in the year's first four months. BYD will sell at least 3 million vehicles in 2023 to reach 3.6 million. That would mean they must sell 355,000 cars annually on average until December.
The sales are expected to get a significant boost when the budget EV hatchback BYD Seagull hits the market, as it was launched last week on April 26.