On April 25, Li Auto published weekly sales data for the week of April 17 – 23. The sales data are based on weekly insurance registration in China, and Li Auto doesn't reveal the exact numbers but rounded values. Only Chinese NEV startups are included. NEV means New energy vehicles, and it is a Chinese term for pure EVs, PHEVs, EREVs, and FCEVs.
Li Auto sold a record 7,200 cars, up 14% from last week. The growth winner is Nio which sold 2,000 EVs, up 180% from last week. The second spot behind Li Auto got Neta with 3,000 sold cars and 66% WoW growth; the second place goes to Leap Motor, which sold 2,500 cars, up 47% WoW.
Xpeng is up 46% with 1,900 EVs, and Zeekr is up 31% with 2,100 sold cars. Denza and Voyah's sales became almost flat.
Tesla is not part of the Chinese NEV startup leaderboard. Still, CarNewsChina learned they delivered 10,300 EVs (down 17% WoW) in China on April 17-23 from the premium passenger vehicle sales data also released by Li Auto.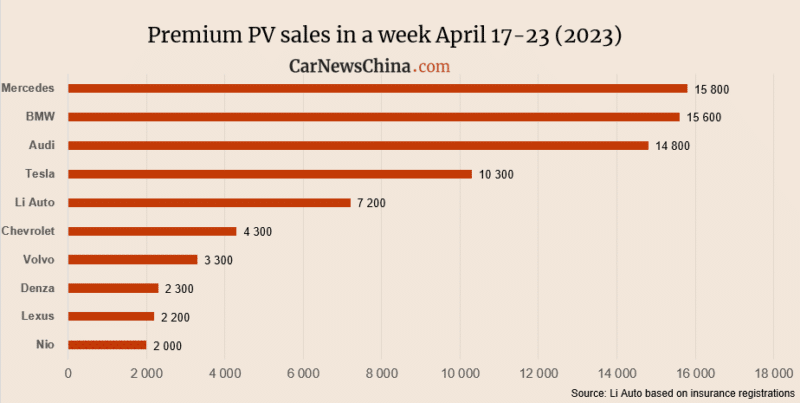 Previously, the weekly insurance data were internally released by China Merchants Bank International (CMBI) and reprinted by Chinese bloggers. However, this practice stopped three weeks ago. Since then, Li Auto has taken over the responsibility of publishing the weekly data and will likely continue to do so as long as they like the data.
It is worth noting that Li Auto only sells EREVs, despite recently announced plans to launch the first pure EV. Nio is currently transitioning and retooling their factories for the refreshed NT2 models as they plan to have eight NT2 EVs in their lineup in June 2023, including ET7, ES7, ET5, ET5 Touring, ES8, ES6, EC6, and EC7.