BYD sold 14,300 units of the Seagull in May, from the 1,500 units sold in April when it was initially released. BYD sold 119,603 pure electric vehicles in May, and Seagull accounted for about 12%.
Parameters of BYD Seagull
The Seagull offers three trim options with prices ranging from 73,800 to 89,800 yuan (10,400 USD to 12,600 USD). All variants feature a single front motor with 74 horsepower (HP), a peak torque of 135 Nm, and a 130 km/h top speed.
The primary difference lies in the battery options. The highest trim level is equipped with a 38.88 kWh battery pack, providing a range of 405 kilometers under China's New Energy Vehicle Test Procedure (CLTC). The other two configurations come with a 30.08 kWh battery pack, offering a range of 305 kilometers. Both options utilize an LFP Blade battery and support 30-40 kW fast charging, enabling the Seagull to charge from 30% to 80% in 30 minutes.
Before its official launch, BYD opened the pre-sale of Seagull during the Shanghai Auto Show. Within the first 24 hours, BYD received 10,000 orders for the model, and Seagull is currently BYD's cheapest model.
The Seagull is a 5-door, 4-seater model based on BYD's e-platform 3.0 and belongs to the Ocean series. Its dimensions measure 3780 mm in length, 1715 mm in width, and 1540 mm in height, with a wheelbase of 2500 mm.
The main competitors of BYD Seagull
The BYD Seagull faces competition from two main rivals in the Chinese market. One is the Wuling Bingo, manufactured by GM's joint venture in China, SGMW. The Wuling Bingo features a 50-kilowatt electric motor with a range of 333 kilometers under the CLTC standard and is priced at 59,800 yuan (8,400 USD).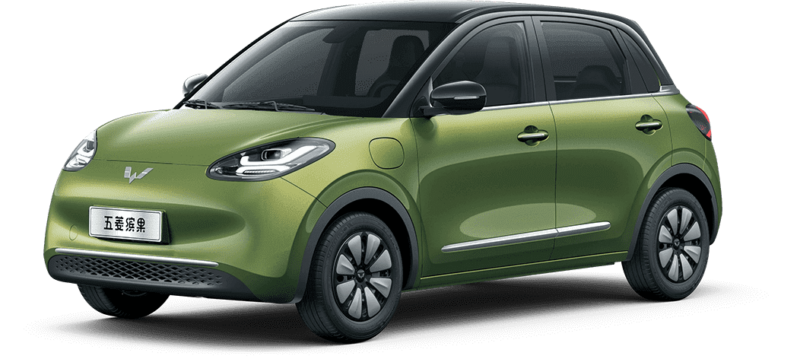 The other competitor is another model of BYD, Dolphin. BYD Dolphin starts at 116,800 yuan (16,400 USD). Regarding sales performance, the BYD Seagull achieved impressive results, selling 14,300 units in its first month of availability (May). On the other hand, the Wuling Bingo sold 16,383 units in its first month (April) after its release, and the BYD Dolphin recorded sales of 30,679 units in May.