On August 29, Li Auto released weekly sales data in China for week 34 of 2023 (August 21 – 27). Li Auto doesn't specify the source of sales data, but obviously, they use insurance registration monitored by CMBI.
The sales are rounded and show sales of new energy vehicles (NEV), the Chinese government term for BEVs and PHEVs. To be completely precise, it also includes hydrogen vehicles (FCEVs), but their sales are almost non-existent.
In week 34 (W34), BYD grew to 51,700 NEVs, 7% up from 48,300 units in the previous week. BYD stopped production of internal combustion engine (ICE) vehicles in April last year, focusing only on NEVs. The current BEV:PHEV sales ratio is about 50:50. Between August 1 – 27, BYD sold 179,300 NEVs in China.
The second spot went to Tesla, who grew 22% and sold 17,000 in W34. Tesla sells all four models in China (S3XY). However, as Model S and X are imported, their sales are very insignificant, and almost all Tesla's deliveries are driven by China-made Model 3 and Model Y. Unlike BYD, Tesla doesn't sell any PHEVs.
On August 14, Tesla cut prices of two top trim levels of Model Y by 1,100 and 1,900 USD, respectively. Model 3 received an instance subsidy of 8,000 yuan (1,100 USD). Between August 1 – 27, Tesla sold 56,400 units in China.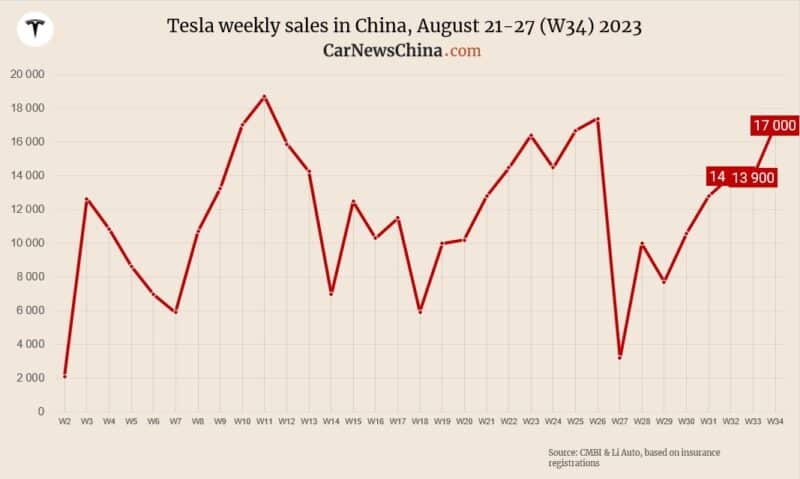 The third spot in W34 goes to the dark horse GAC Aion. Despite not getting much attention outside China, they sold 12,400 electric vehicles, 19% up from the previous week. GAC is a state-owned automaker and a member of the Big 4 in China. Aion is their EV brand. They sell EVs exclusively in China. However, in August, GAC announced that Aion had become an international brand ready to export, with the first market being Thailand.
To better understand the sales data, here is the price range of the TOP10 NEV brands lineup. 5,000 sales of expensive premium brands differ from 5,000 sales of budget city EVs.
| | | |
| --- | --- | --- |
| No. | NEV maker | Price range (yuan) |
| 1 | BYD | 73,800 – 342,800 |
| 2 | Tesla | 231,900 – 1,058,900 |
| 3 | GAC Aion | 119,800 – 469,600 |
| 4 | Wuling | 32,800 – 213,000 |
| 5 | Li Auto | 319,800 – 459,800 |
| 6 | Changan | 49,900 – 215,900 |
| 7 | Nio | 298,000 – 656,000 |
| 8 | Volkswagen ID. | 162,900 – 679,800 |
| 9 | Xpeng | 148,900 – 469,900 |
| 10 | Leapmotor | 59,900 – 286,800 |
Price range of TOP10 NEV brands lineup. Source: Autohome data
Looking at the Chinese NEV startups chart, Li Auto, Nio, and Xpeng met in TOP3 again, which is good to see. They are followed by affordable EV maker Leapmotor, which grew 7% to 3,100 sales. Leapmotor is the brand that Volkswagen is considering buying its EV tech for its entry-level brand, Jetta. In China, Jetta is not just a family sedan but an independent VW brand.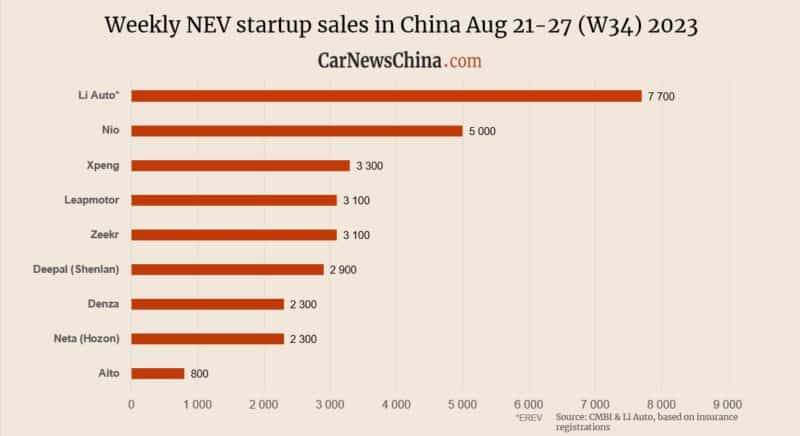 Nio grew 22%, selling 5,000 vehicles, 900 more than last week. In June, Nio launched the new generation of its best-selling car (ES6), and weekly sales culminated a month later in W30, when Nio delivered 5,400 units. The W34 sales are second best in the company's history.
The new Nio ES6 contributed 50% of all Nio sales in July. By April, when the previous generation of ES6 ceased production, it contributed 40% of all Nio cumulative sales since it was founded.
August 1 – 27 Nio sold 16,000 vehicles in China, so assuming it sells about 720 units daily, the August sales will be around 18,900.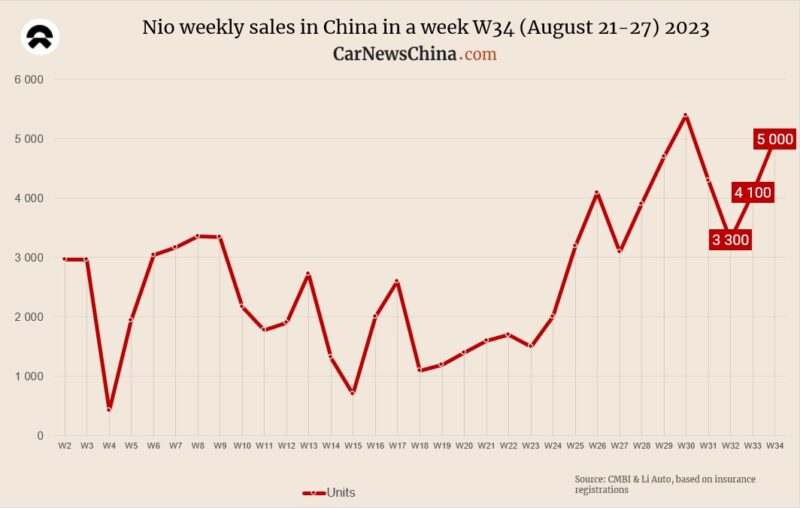 Zeekr grew 106% from 1,500 EVs sold in W33 to 3,100 units in W34. It's good to see Zeekr X catching up.
Deepal sold 2,900 NEVs, down 12% from the previous week, and continued its stagnation. Hopefully, launching the facelifted SL03 sedan with new tech will help its struggling sales. Deepal is a brand under the state-owned Changan Automobile. In the hypercompetitive Chinese market, the window to increase their sales to become a relevant player is slowly closing for them.
BYD's Denza was down 4% and sold 2,300 NEVs, mainly minivan D9. Their N7 and N8 SUVs started deliveries recently, so there is no need to worry here; it always takes time before new models boost their deliveries. However, in September, we should already be seeing growing numbers.
Week 34 was good for Chinese NEV makers; almost the whole market grew, with only three exceptions: Li Auto, Deepal, and Denza. Zeekr, VW ID, experienced the highest growth. In VW's case, the reason is the radical price cut as ID.3 now costs 119,900 yuan (16,500 USD) in China.