On September 1, Zeekr, the subsidiary of the Geely Group, published its latest delivery statistics, offering insights into its recent performance in the electric vehicle (EV) market. In August, Zeekr delivered 12,303 new cars, reflecting a substantial 72% increase compared to the previous month. However, the month-on-month growth was more moderate at 2%. Nevertheless, August represents the month with the highest monthly sales for Zeekr in 2023 thus far. Notably, since the start of the year, Zeekr has consistently witnessed month-by-month growth in sales.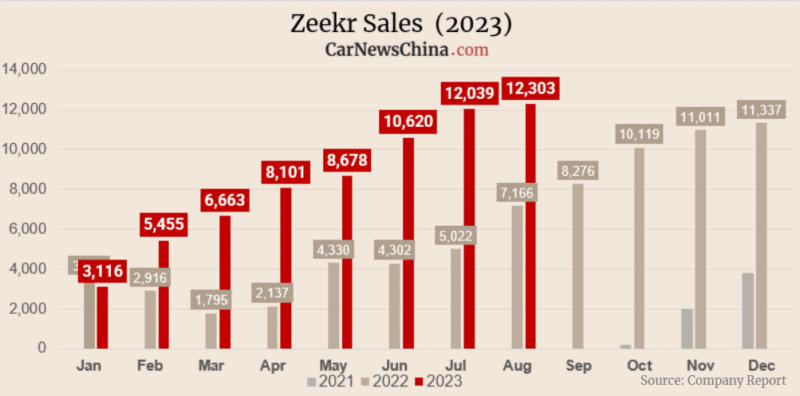 When examining cumulative sales data from January to August 2023, the figures reveal 66,975 vehicles delivered. This statistic indicates a remarkable 115% increase when juxtaposed with the same period in the preceding year.
Zeekr currently boasts a portfolio of three EV models for sale: the Zeekr 001 coupe, the Zeekr X SUV, and the Zeekr 009 MPV.
Additionally, at 20:00 Beijing time on the same day, Zeekr planned to unveil its latest offering, the Zeekr 001 FR sports car. Before its release, the company had generated excitement through teasers, suggesting that the Zeekr 001 FR would be significantly lightweight. The vehicle incorporates carbon fiber aerodynamic kits in the form of a front lip, side skirts, rear diffuser, rear wing, and roof. Lightweight and high-performance forged wheels are featured to enhance handling and driving stability.
According to company officials, the Zeekr 001 FR is equipped with carbon-ceramic brake discs at the pinnacle of performance, equating to the braking capability found in supercars valued at tens of millions. Geely Group Vice President Yang Xueliang disclosed that the vehicle would feature four motors and is anticipated to accelerate from 0-100 km/h in approximately 2 seconds. Further details will be reported upon the release of additional information.
In summary, Zeekr's delivery data for August demonstrates continued growth in sales, especially when compared to the corresponding month in the previous year. This steady expansion aligns with the company's trajectory of increasing sales each month in 2023. With a diverse lineup of EVs already available for purchase and the unveiling of the Zeekr 001 FR sports car, Zeekr is committed to innovation and further establishing itself as a formidable player in the competitive EV market.
Source: Zeekr; iTHome