Back now to the 2006 Beijing Auto Show. Changfeng Automobile from the great city of Changsha in Hunan Province surprised everybody with this kinky Changfeng UU CT3 concept. The only thing Changfeng made at the time where old Pajero's under a license agreement with Mitsubishi.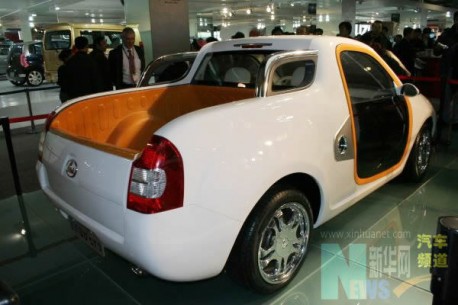 The Changfeng UU CT3 was a compact beach-buggy kinda pick-up truck, meant to preview a new Changfeng-branded series of compact passenger cars. Its design was all very bright 'n shiny with fantastic looking blacked out doors, the door-handle sits right behind the door so it didn't have to disturb the pattern.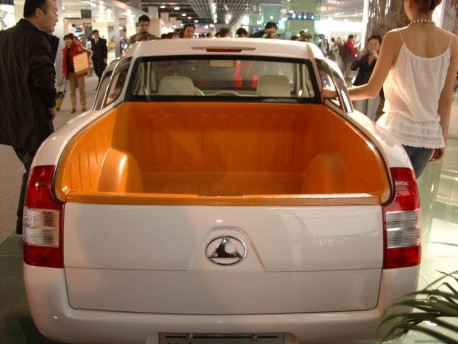 The Changfeng UU CT3 traveled to every auto show in China and even made it to the 2008 Detroit Auto Show. Everybody liked it so much that Changfeng seriously thought about actually producing the little ute, it was seen testing on public roads a couple of times but in the end Changfeng didn't have the guts nor the money to develop it any further. What exactly powerd the concept is not sure. Changfeng considered two engines for the real thing: an old Ford ZETEC unit they had got their hands or a Mitsubishi 4G1.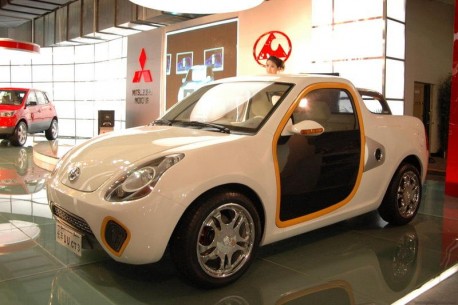 Interesting was that Changfeng never let the doors open, not on any show. It was likely impossible to open the doors in any neat-looking way. Still had some work to do there… Because of the door-thing the UU CT3's interior was never shown either which was kinda sad because it looked very cool: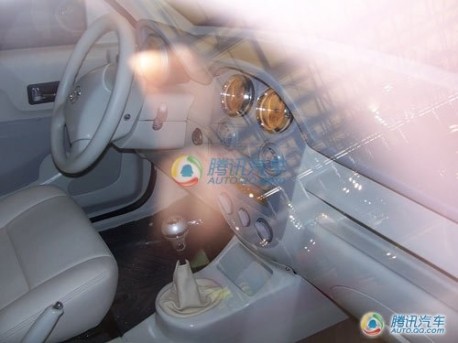 Minimalistic indeed, like a skelter, a buggy, all plastic so easy to wash the sand off, or other dirty things. Dials look great, manual gearbox here, hand-brake far to the back.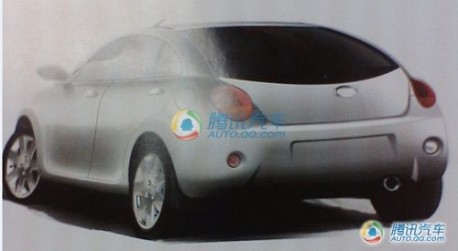 The new series of compact passenger cars never materialized either, not even in concept. All we have are a couple of drawings that show an almost Beetle-like 4-door hatchback with all the round design-elements that where present in the UU CT3.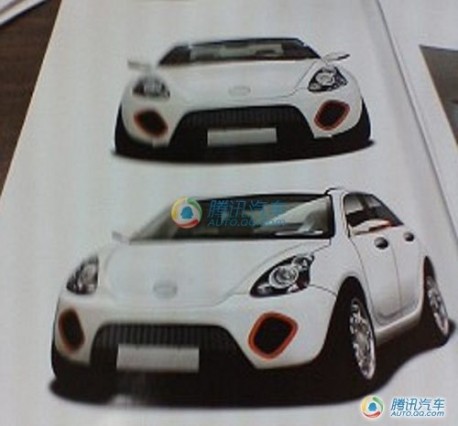 The 4-door again. Very nice car and a very interesting idea. Sadly, noting ever happened. Even more sadly, nothing really ever happened again, at all. Changfeng today still makes Mitsubishi Pajero's and some Pajero-based Changfeng-branded cars that nobody buys except the Chinese army.
There was some hope when the Changfeng Liebao CP2 sedan debuted as a concept at the 2009 Shanghai Auto Show. However, as of today the CP2 is still not in production. Last year Guangzhou Auto aquired the majority of shares in Changfeng Automobile. This means likely the CP2 will in the end be branded 'Guangzhou' instead of Changfeng. Guangzhou Auto still needs a car to sit below the Trumpchi…
Would things have turned out differently if the UU CT3 and its brothers and sisters had indeed made it to the market? Well, you can never say for sure but in this case I dare to say yes.