We have seen the Hongqi parade cars and Chery parade cars, but there is yet another parade car maker in China. It is Changfeng Automotive who makes a parade car based on the Liebao which is again based on the Mitsubishi Pajero. On the first pic president Hu Jintao parading during an inspection of the South Sea Fleet in sunny Sanya in Hainan Province in April 2009.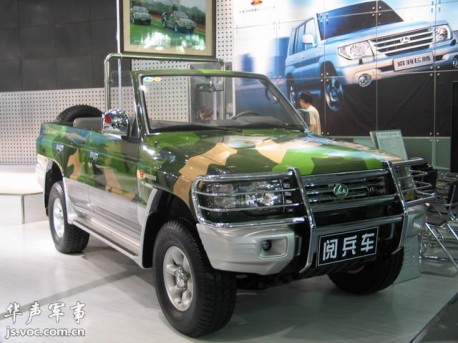 The Changfeng Parade Car at a military exhibition. Changes compared with the standard car: the roof went completely off and behind the front seats came a handle bar so the high-ranking parading person can hold himself steady with one hand while waving to the low-ranking masses with the other.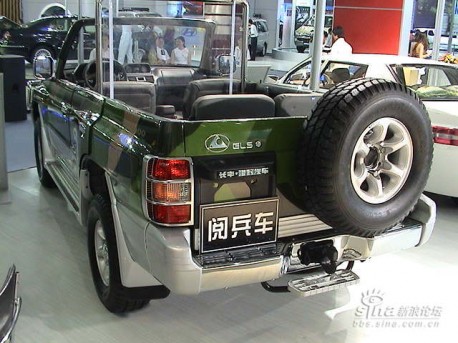 Changfeng has a license-agreement with Mitsubishi. The make they current Pajero for the Chinese market which is sold under the Mitsubishi-name. The old 1991 Pajero is made by Changfeng since 1995 and is sold under the Liebao-name. Biggest Liebao-customer is the Chinese army, they buy some 70% of the total production, each year. The Liebao Parade Car is based on the Liebao GLS which was powered by a fat Mitsubishi-sourced 3.0 V6. The standard Liebao had to do with a 2.2 4-cylinder.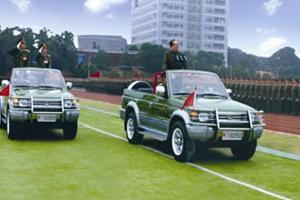 Pic is not very clear but this seems to be former president Jiang Zemin on inspection.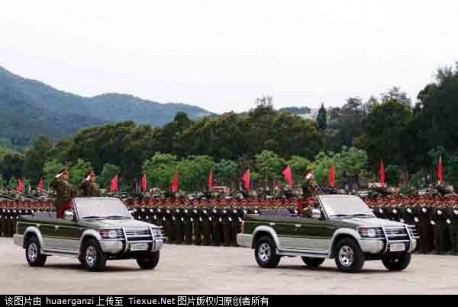 Unknown high ranking officer on inspection. The inspections are usually done with two cars. In the first car the dignitary with one staff-member, one soldier-body guard and the driver. The second car is actually a spare for if the first car for some reason brakes down.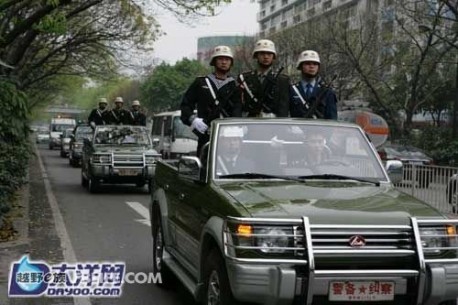 This is an exceptional way of using a parade car. There are three vehicles all full with heavily armed men. Let's have a look at the first car. The man on the left is from the navy, the man in the middle from the army and the man on the right from the air force.
It was probably some sort of 'the armed forces are united' parade. This because the three pillars of the armed forces in China have a long tradition of not working together, they don't wanna do it, no matter what the political bosses in Beijing say. But still, the armed forces got to give the president something and that's why the put on a show like this once in a while.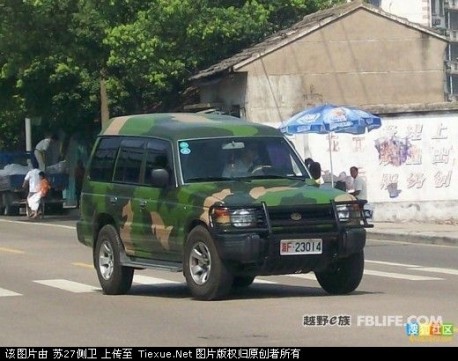 Standard army-spec Changfeng Liebao.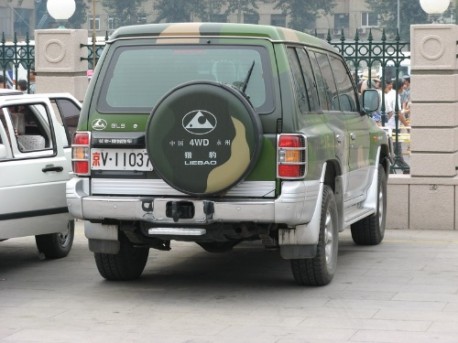 Via: FBlife.com, FBlife.com 2.