An extremely wide Smart ForTwo seen on a tuning show in the great city of Dalian in Liaoning Province. Big body kit, lowered suspension, and 17 inch low profile tires with racy alloys. Good car! Color a bit questionable, some vague shade of green, would have been better in black, red or white, maybe yellow, or pink.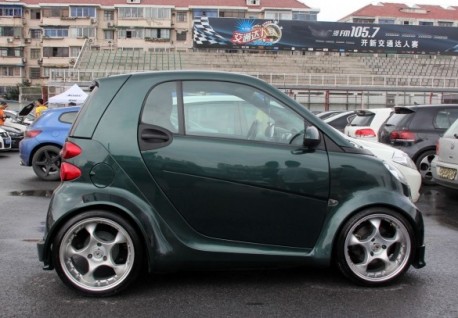 Any size bigger and those tires will make car completely unusable. Side skirts are well done but could have been even lower. Benz started selling Smart vehicles in China in 2010 but sales are still slow, Chinese car buyers just don't see the point of paying so much for a small car.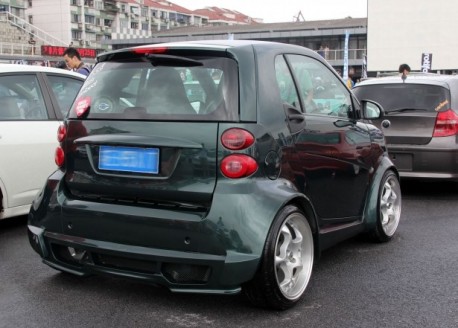 But the tide seems to be changing, small premium priced cars like the Audi A1 and such are becoming more popular, this might help Smart a bit. Benz however doesn't seem to do that much on marketing (NBA haha) which keeps the brand unknown and uncool. Some Smarts however are quite nice: Pink, Hello Kitty Smart, a Bling Smart, a diamond Smart, NightOrange, and the Dragon Smart.