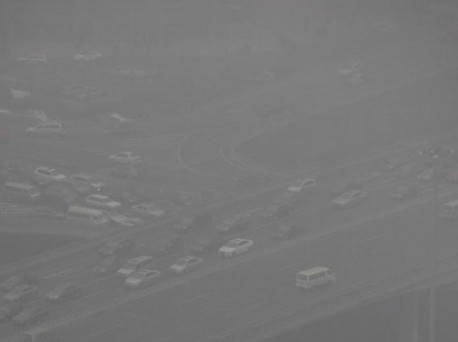 Beijing is planning to implement a harsher emission standard for motor vehicles starting next month in an effort to curb the city's air pollution, municipal environmental authorities said Wednesday.
The new Beijing V emission standard, which could be as strict as the Euro V emission standard used in Europe, will be adopted as of Feb. 1, said Fang Li, spokesman for the Beijing Municipal Environmental Protection Bureau.
The standard will be applied to new cars on the auto market and motor vehicles that have yet to receive license plates, Fang said, adding that vehicles currently in use will not be influenced by the new regulation.
As of Feb. 1, the sale and registration of diesel vehicles that cannot meet the new standard will be halted. Sales of substandard gasoline cars are to be stopped as of March 1, Fang said.
Municipal authorities have specified over 1,300 types of cars that meet the new standard and can cater to the demands of buyers with differing financial requirements, according to Fang.
Beijing has a permanent population of around 20 million and some 5.2 million vehicles, with the number of private cars still on the rise.
It is expected that the number of vehicles in the city will reach 6 million by 2015, said Li Kunsheng, director of the Beijing Municipal Environmental Protection Bureau's vehicle management department.
Once the new standard goes into effect, it will help the capital cut nitrogen oxide emissions from vehicles by about 40 percent, Li said.
Beijing has seen frequent dense smog this month. Air quality hit serious levels on Wednesday, with smog blanketing the city.
The implementation of the new standard is expected to reduce automobile emissions, particularly fine particles that are known to be more hazardous, Fang said.
Via: Xinhua.