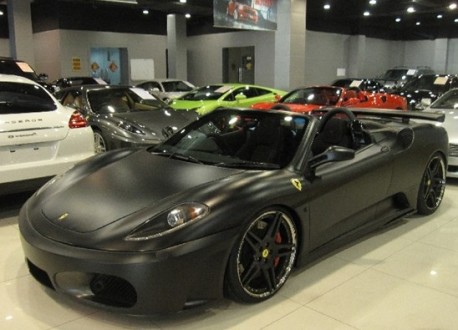 This is the most bad-ass Ferrari F430 Scuderia Spider 16M I have ever seen, seen in a second hand car shop in the great city of Shanghai. Wrapped in matte black, gigantic wheels, a tinted front window and a huge wing on the back. What a beautiful car!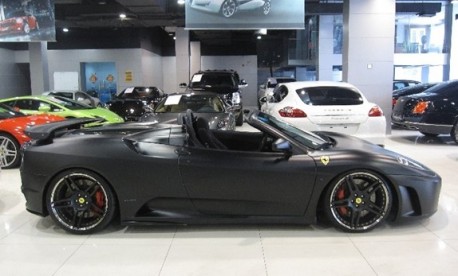 The wrap is of very high quality and is skilfully applied all over the vehicle, even inside the many air vents, over the window frame, over the bumpers and over the mirrors. Just perfect. The Ferrari F430 was made from 2004 until 2009, this stealthy Scuderia speedbeast is a 2007 car.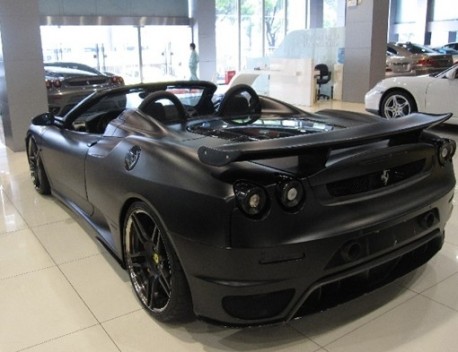 Fuel cap in matte black too! Rear lights very dark in black, extremely cool for driving at night. Wing is wider than the car. See again how the wrap sits in every vent and hole. Somebody has been working on this for a many days, worth every minute because the result is simply stunning.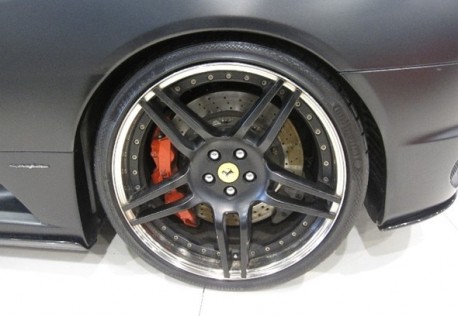 Shiny rim on the outside of the alloy for contrast. Superbly subtle. Only dissonant are the brake pads which should have been in black as well. Five-spoke alloys are works of art, and so is this whole car. But it is art, that begs to be trashed on a track!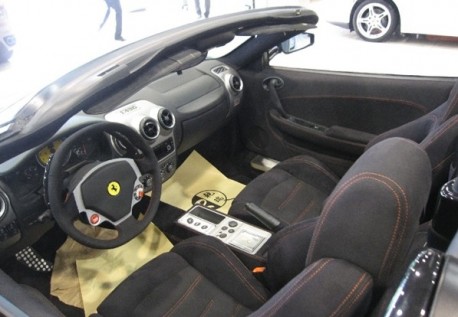 Interior seems standard. Needs more matte black!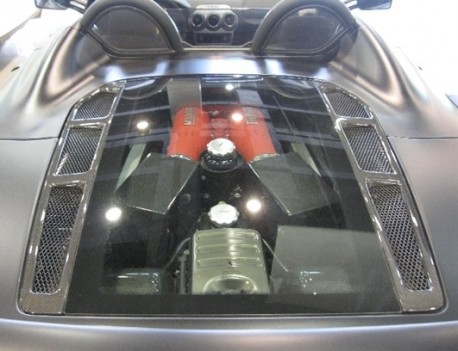 The Scuderia was the hard core super light variant of the base F430. Weight was down 100 kilo compared with the standard car and the 4.3 liter V8 was tuned up to 508hp and 470nm, good for a manic 319km/h, 0-100 is gone in 3.9 seconds.
We have seen many interesting Ferrari F430 supercars in China. Our collection: with girls, matte black Scuderia, shiny red, golden alloys,   F430 Novitec Rosso, Spider 16M, matte-black-silver,  red, a red, matte-black and a mighty Novitec Rosso 707.