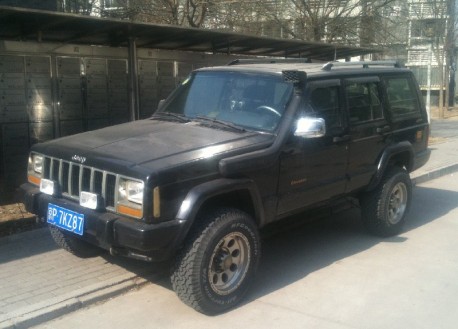 A very clean and very black Jeep Cherokee XJ, seen in a faraway suburb of Beijing. The vehicle is lifted by about 20 centimeters for more speed up mountain. Other pretty-making upgrades include a snorkel, chromed mirrors, a roof rack and gigantic tires with 9-hole alloys.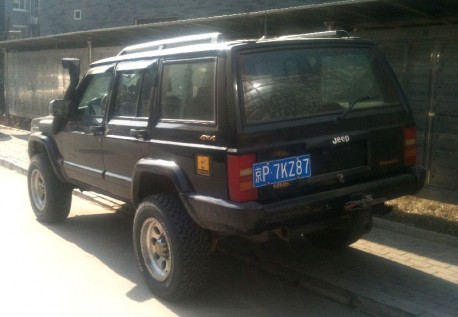 The Jeep Cherokee XJ was made in China by Beijing-Jeep from 1984 to 2009. This black high rider seems an early 1990's car. The new Cherokee will be made in China too, by the Guangzhou-Fiat joint venture, but China does not like the way it looks. The old one however is already considered a classic and has a huge cult following. The China-made Cherokee was available with the 2.5 liter four-cylinder and the 4.0 six-in-line.
After 2009 Beijing Auto continued production of the Cherokee on its own, the Beijing Auto Works Knight S12 can still be bought new today, but it isn't as popular as the real Cherokee was.