We don't know whether we should laugh, or cry. This is a BYD-Daimler Denza 'prototype', previewing the real Denza that will be launched on the Chinese car market in 2014. BYD-Daimler is a joint venture between BYD Automobile of China and Daimler-Benz of Germany, aimed at making electric cars for the Chinese auto market. The Denza is their first car, based on the old Benz B-Class with the electric powertrain of the BYD e6.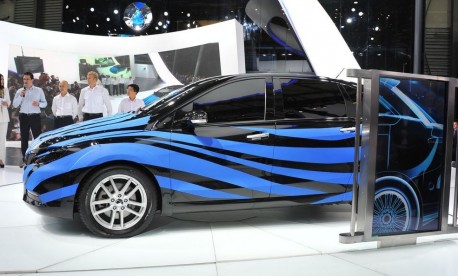 This is simply ridiculous! Sticking blue stripes on a reworked old B and then putting up some signboard showing a part of 'the real thing'? We, cry. BYD-Daimler showed a Denza concept on the 2012 Beijing Auto Show, which didn't look too bad. After that it was silent around the Denza until February this year when we saw one heavily camouflaged prototype testing somewhere in southern China. That thus, must be the same car as this idiotic vehicle on show in Shanghai. Check the alloys, they are the same.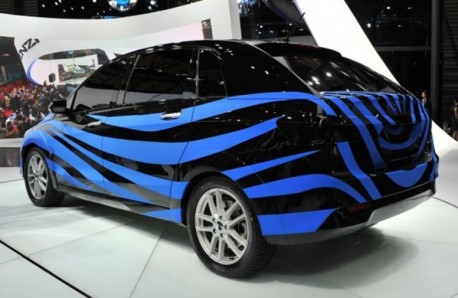 More blue stripes at the back. This thing will be hopelessly outdated in 2014, if it ever hits the market. We hear from several sources, including our good friend Bertel from TTAC, that things are not going too well at BYD-Daimler. This almost tragic performance in Shanghai seems to confirm this loud & clear.