The BYD-Daimler Denza NEV debuted at the Beijing Auto Show. NEV means: New Energy Vehicle. BYD-Daimler is a new joint venture that will make electric cars for the Chinese car market. The Denza EV is their first car, the Denza-name will eventually become a brand with several more electric cars. Now!, look at the tall man standing at the Denza's door. Who is that?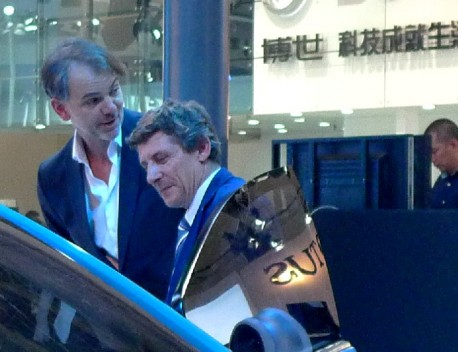 It is Adrian van Hooydonk, my fellow Dutchman, chief designer of the BMW Group. His name is often misspelled by ignorant media as Adrian von Hooydonk. 'Von' is German, 'Van' is Dutch, from the Netherlands, also known as 'Holland'. Cleared that up!, what was Adrian looking at?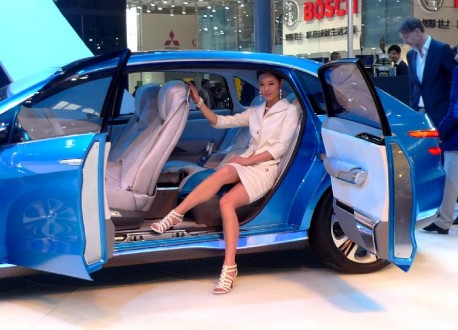 He was looking at a hot babe. Back to that Denza HEV. It is based on the old Mercedes-Benz B-class and will get the electric  powertrain from the BYD e6. The real car has been spotted testing in China a lotta times. The HEV on show however was still very much a concept car. BYD-Daimler published a press release on the Denza HEV which says absolutely nothing about when the first Denza will hit the Chinese market. I asked around a bit, here and there, and I understood it won't be in 2013 as the JV said earlier but more likely in 2014.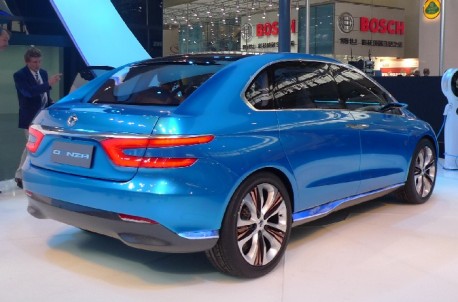 Concept doesn't look bad. Certainly cooler than a Prius. If they can keep it this way it might easily sell a few hundred a year. Not much indeed, but the market for electric cars in China is extremely small, mostly because there isn't any place where owners can charge 'm up, and that won't change any time soon.