A very sad Maserati Quattroporte, Spotted in China by 'WagonFan' near Phoenix Town, just outside the eastern section of the Third Ring Road in Beijing. The poor vehicle looks completely abandoned, covered with a thick layer of dirt and all tires are deflated. China doesn't seem to like classic Maserati's very much, in December last year we saw an abandoned Maserati 4200GT Spyder in Yulin.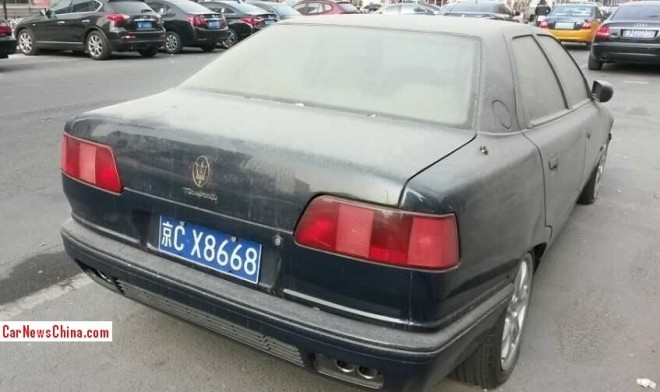 The fourth generation Maserati Quattroporte was arguably the most beautiful Quattroporte ever. Manufactured from 1994 until 2001, and designed by none other than, check those rear-wheel arches, Marcello Gandini himself! Base engine was a 2.8 liter twin-turbo V6 with 284hp, which was good for a very speedy 255km/h top speed.
However, it seems unlikely this X8668 will ever go that fast again, lonely as it stands on a dirty road in a dusty town. The location isn't very far from the CarNewsChina.com headquarters, I will try to have a look at this miserable Maserati myself, sometime next week after the Horse has arrived.
---