A very dirty Peugeot 605 SV 3.0 sedan, Spotted in China on a car market in Beijing by Reader & Serial Spotter Navigator 84, thank you for the pictures! The Peugeot 605 was manufactured from 1989 until 1999 with a facelift in 1995, this is a pre-facelifted car. The poor Peug looks very dirty, covered with dust and dirt, and all that while two kinky pinky brooms are standing straight at it!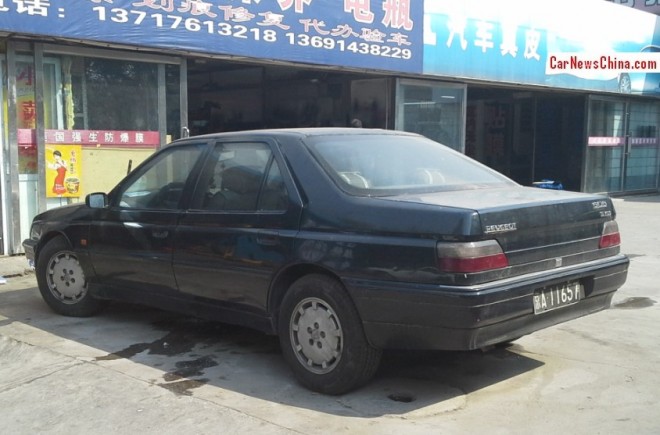 The 605 was never officially exported to China. This particular car has black license plates, indicating it once belonged to a foreign-owned company which were allowed to import their own cars in the 1980's and 1990's.
The 605 was available with various four-cylinder and V6 engines. The top-of-the-line SV 3.0 had a 3.0 liter V6 under the bonnet, good for 197hp and 250nm.
The 605 was designed by Pininfarina and was at the time the largest sedan Peugeot had ever developed. It was based on the same platform as the illustrious Citroen XM. The 605 was tasked with attacking the Germans at Audi, BMW, and Mercedes, but sadly failed to make much of an impression on the market. Too bad!, because this big French limousine was a superbly comfortable, speedy, and beautiful car.