Amidst the continuing controversy over the Landwind X7 SUV, a clear clone of the Range Rover Evoque, one could easily forget that Landwind makes another five vehicles for the Chinese car market. Some are good, some not so. Let's have a look at the current line-up and some old:
This is the Landwind X5 SUV, a reasonable modern compact SUV. Design with strong Hyundai influences. Price starts at 99.800 yuan and ends at 133.800 yuan ($16.246 – 21.780). It was launched in January 2013.  Lone engine is a Mitsubishi-sourced 2.0 turbo petrol with 190hp and 250nm, mated to a six-speed manual or a eight-speed automatic, sending power to the front wheels. This is exact the same drivetrain as in the Landwind X7.
The fact that Landwind has an eight-speed automatic has surprised many, next week I will follow up with more details on the box and with the story how they got it in the first place.
Landwind is a relatively new automaker, founded in 2004 and jointly owned by Jiangling Motors and Changan Auto. The latter is a heavyweight in China, and well-known for its various Sino-Foreign joint ventures: Changan-Ford, Changan-Mazda, Changan-PSA (DS), Changan-Suzuki, and Changan-Volvo. Jiangling mostly makes relatively cheap SUV's and has a joint venture with Ford for making commercial vehicles and SUV's, including the new Ford Everest.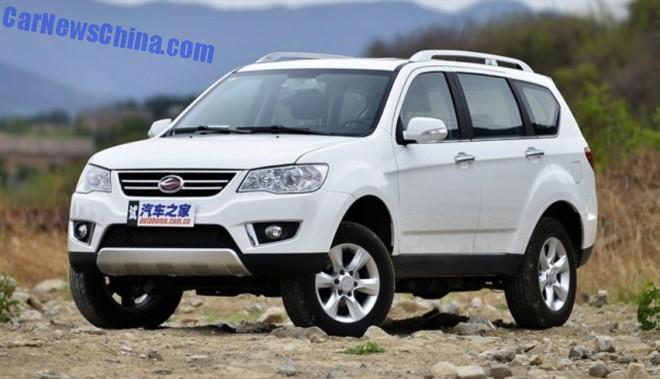 The Landwind X8 is the other reasonable modern compact SUV, basically a Landwind X5 with a longer wheelbase, but it was launched on the Chinese car market earlier; back in 2010. The Landwind X8 is available with as many as five engines, which is a lot for China: the 190hp 2.0 turbo petrol as in the X5 and X7, a Mitsubishi-sourced 2.0 petrol with 133hp, the classic Mitsubishi 2.4 liter four-cylinder petrol with 160hp, a 2.0 turbo diesel with 122hp, and a 2.5 turbo diesel with 143hp. Transmissions: six-speed manual on the 2.0 turbo and five-speed manual on all the others. No auto-option. FWD standard, AWD optional. Price starts at 93.800 yuan and ends at 156.800 yuan ($15.269-25.500).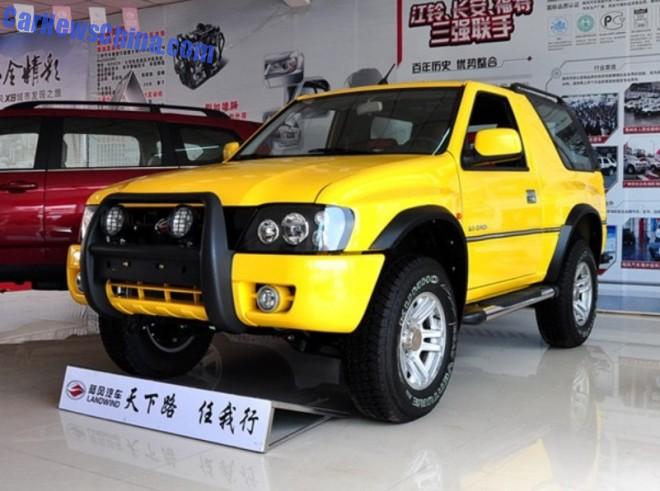 This cool looking machine is the Landwind X9, basically a much improved three-door variant of the Landwind X6 (see below). Production started in 2006 and the last facelift dates from 2013. The X9 is based on the 1998-2004 Isuzu Rodeo, under a fully legal license agreement with Isuzu Motors of Japan. The X9 has a solid reputation and is even popular among city-based weekend-mountaineers. Lone engine is the Mitsubishi-sourced 2.0 turbo petrol with 122hp, mated to a five-speed manual sending horses to all wheels. No diesel or automatic available. Price starts at 145.800 yuan 165.800 yuan ($23.730-269.900).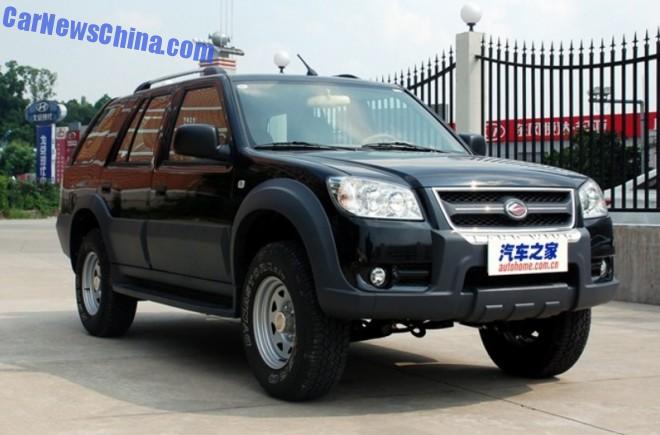 The Landwind X6, based again on the Isuzu Rodeo. The X6 was launched in 2003 and last updated in 2011. The X6 became instantly famous when is spectacularly failed a German crash test in 2005. At the time the Landwind X6 was sold in the Netherlands and Belgium but sales crashed completely after the test and the brand never recovered on the old continent, although they still have a 'European website' packed with all sorts of errors and strange text. The X6 however is still available in China. Engines: a 2.0 petrol with 114hp and a 2.8 turbo diesel with… 92hp. Really. Price starts at 99.800 yuan and ends at 125.800 yuan ($16.240-20.478).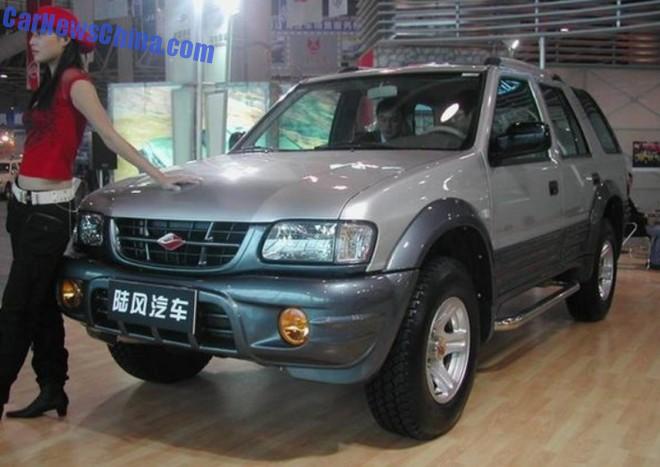 The original 2003 Landwind X9, also called Xinshinjie in China, with a cowgirl for a rodeo.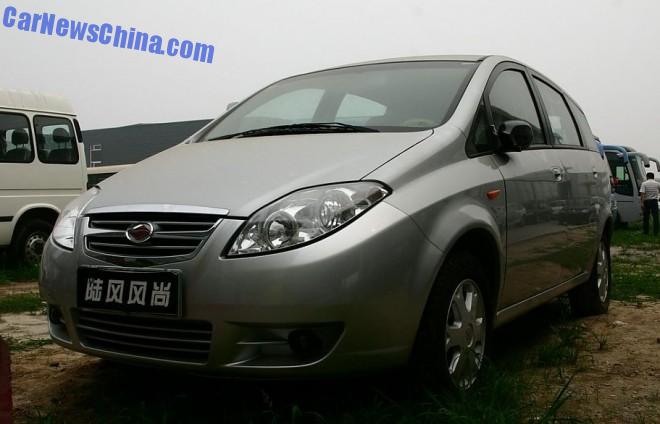 The Landwind Fengshang MPV, also known as Fashion, and also known as CV9. Launched in 2006 and last updated in 2011. Landwind, somewhat crazily, tried to export it to Europe, but a 2010 Euro NCAP crash test made sure the party didn't last long, again. The Fengshang however is still available in China. Lone engine is a 1.6 petrol with 96hp, mated to a five-speed manual sending power to the front wheels. When launched it was also available with the 114hp 2.0, but the engine was cancelled for the Fengshang in 2010.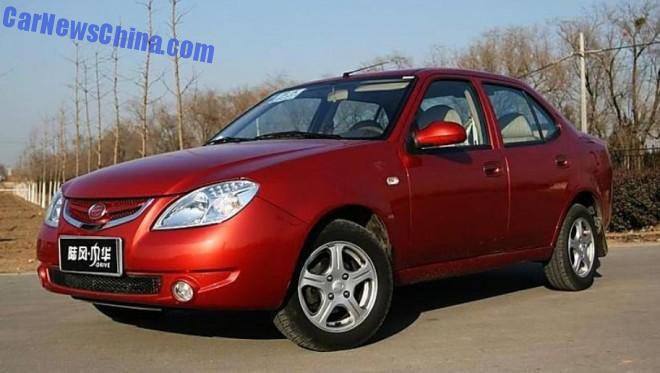 This is the Landwind Fenghua, the only sedan Landwind has ever made. It was launched in 2007 and manufactured only until late 2008, when it suddenly disappeared from the market. The Fenghua was based on the 1999-2011 first generation Ford Ikon/Fiesta sedan which was manufactured in China by Changan-Ford.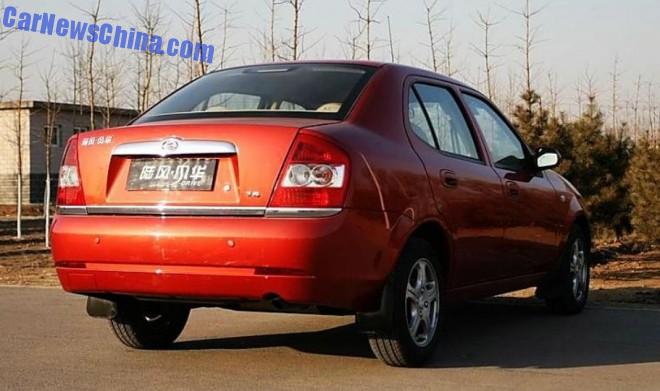 Landwind asked German design company EDAG to design the new front and back. At launch the Fenghua was powered by a Ford 1.6 petrol, but 2008 saw the arrival of a brand new 1.5 liter petrol designed by German engineering company FEV and featuring a Bosch injection system. Output was 94hp and 137nm. Price in 2008 started at 55.800 yuan and ended at 62.300 yuan.  Why the Fenghua only lasted for two years is misty, but most rumors and unconfirmed reports say Ford wasn't told about the Fenghua until it launched, got very pissed, and eventually refused to supply Landwind with any more platforms.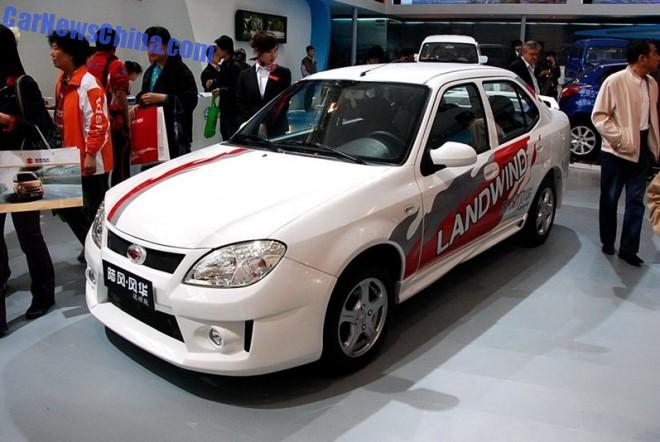 This speedy Fenghua Sport Concept was shown on the 2008 Beijing Auto Show, but never made it to production.
Landwind thus has a mixed line-up of  new and old, powered by new and very old engines. Design wise nothing special and until the X7 nothing really cloned. But the odd story of the Fenghua proves Landwind has had a sneaky side for long…