A crazy Tramontana R Special Edition, Spotted in China in a supercar shop on the Beijing Tuning Street. The R Special Editon is an ultra light and ultra exclusive variant of the Tramontana R, which in turn is the closed-top variant of the completely crazy Taramontana S.
The Taramontana is manufactured in miniscule numbers by a Spanish carmaker called Tramontana Advanced Design. The company was founded in 2005 and the first open-top S rolled of the line in 2007. The vehicle features an unique two-seat tandem configuration where the passenger sits behind the driver in a very tiny cockpit.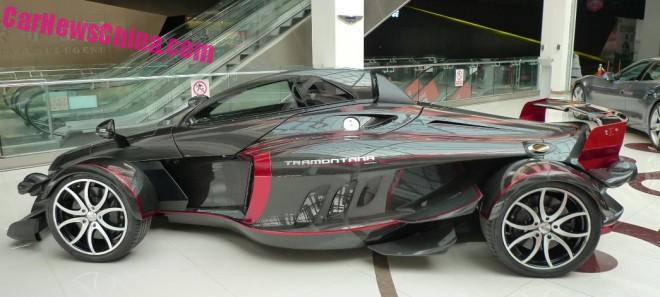 The R is made out of aluminum and shiploads of carbon fiber, the 20 inch wheels are magnesium. The R Special Edition comes with swaths of naked carbon, red detailing all over, a red rear wing, and mean looking 'ninja-star' ten-spoke alloys.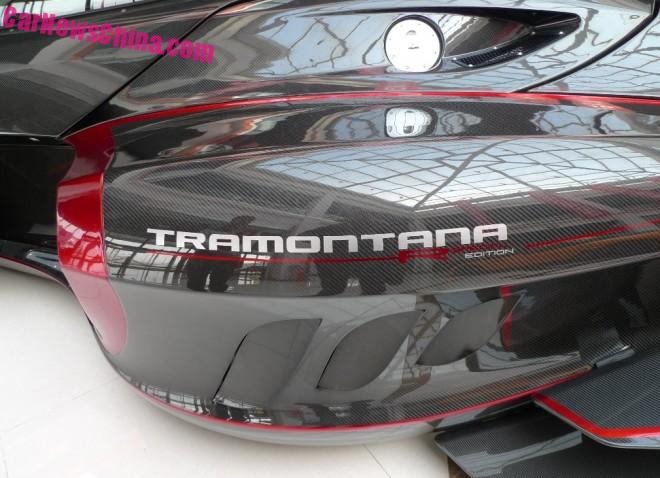 It is a true work of art which each part of the body sculpted with utter dedication to create this mad machine. The only other brand that comes close to this precision is Pagani of Italy, and both brands share something else; the both use an engine supplied by AMG. The Tramontana R Special Edition is powered by a twin-turbocharged 5.5 liter V12 with an output of 760hp and 920nm. Curb weight is only 1268 kilo versus 1360 for the regular R. Speed is monstrous: 0-100 is gone in 3.6 seconds, 0-200 in 10.15 seconds, and top speed is 345 kilometer per hour.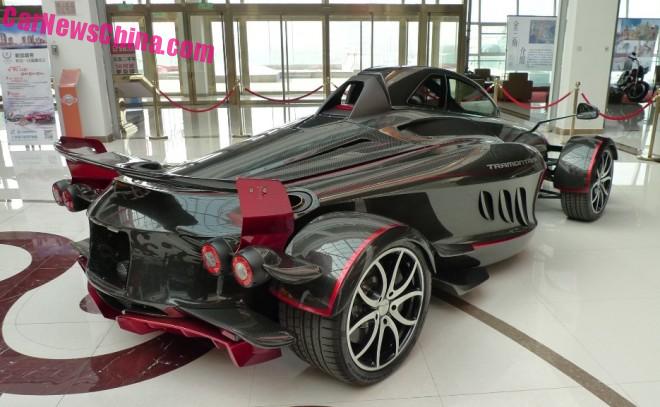 The sides of the wing are made of aluminum, the wing itself is carbon fiber.
The Tramontana brand launched in China in December 2010. The R was priced at a staggering 16.8 million yuan, and at least two cars were sold. This particular R Special Edition has been around since 2011 when we met it in Shanghai (scroll down for the second car), we saw it again with babes in 2012 and once more here in Beijing in 2014. She is for sale now for 6.8 million yuan or 1.08 million yuan. That's a bargain, ten million down from 2010!
More wings than a flock of birds.