This is the bimmered Jinma JMW2200, a new low-speed electric vehicle (LSEV) from China, seen earlier this week on the Shandong EV Expo  (intro). The Jinma JMW2200 comes with looks inspired by the BMW i3, including very similar headlights, a very similar bumper, a black bonnet, and a shiny BMW grille. Even the brand names are similar. Jinma (金马) means 'Golden Horse' and the Chinese name of BMW is Baoma (宝马), meaning 'Treasure Horse'.
Not much BMW on the inside. Round air vents rather special for an LSEV, they are mostly square or oval. Dial is fully digital, but the screen in the center console is only suitable for playing MP4 video. Drive selector loox like a 1980's BMW manual, and that is kinda cool.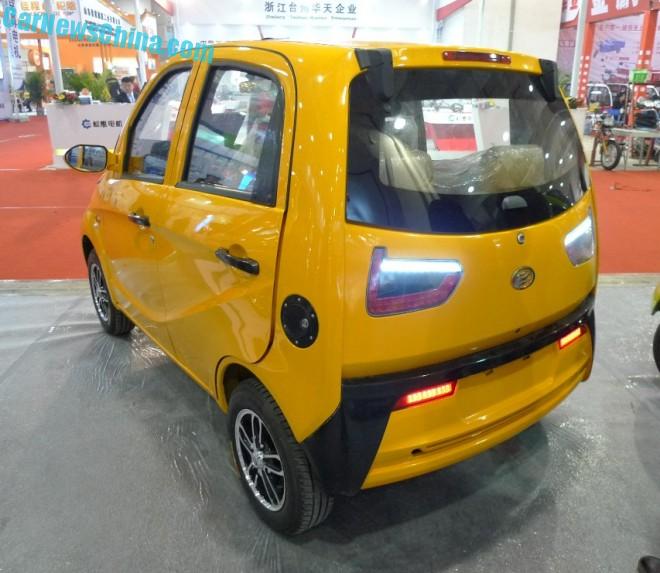 Jinma looked at the i3 again for the rear lights and bumper, with LED lights! Subtle body-integrated wing on top of the window, with an integrated brake light. They had five different JMW2200's on the stand, the golden car was the most luxurious with the black bonnet and functional roof rails. This yellow example is a cheaper version, see also the five spoke alloys versus eight.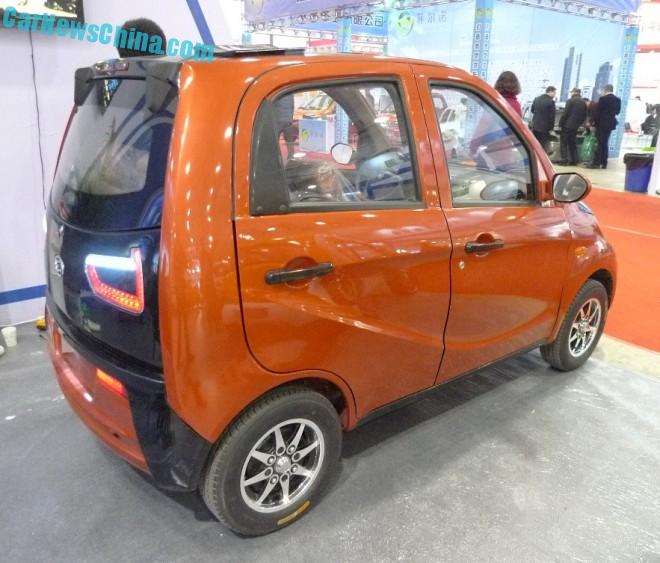 This orange car has eight-spoke alloys but no roof rails. The Jinma JMW2200 is manufactured by a company called Qingzhou Da Jinma Motorcycle Corporation (web), based in the great city of Qingzhou in Shandong Province. As the name implies Da Jinma started in the bicycle business, moved up to motorized tricycles, then to electric tricycles, and finally and very recently to low-speed electric cars (LSEV's).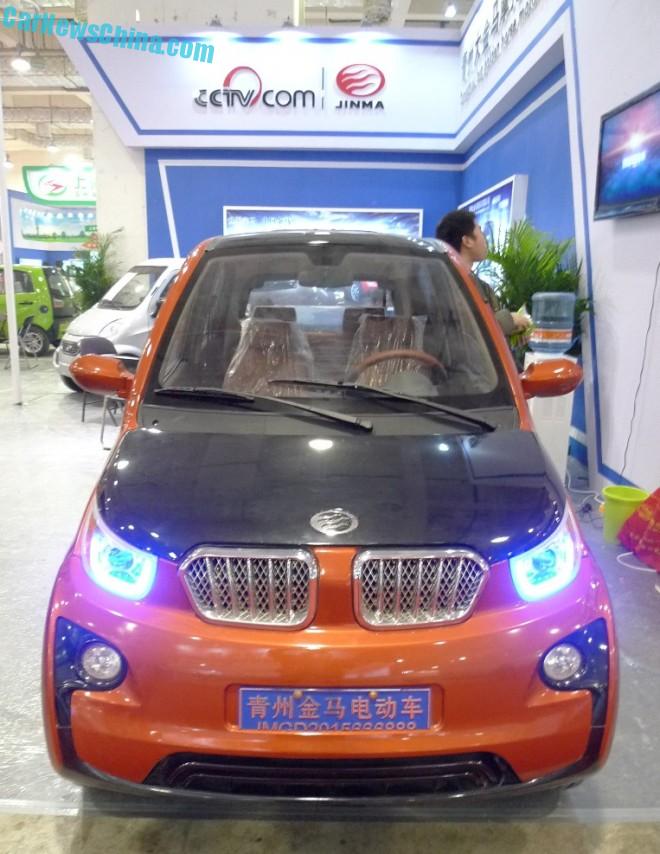 Jinma had large CCTV logos on their backdrops and brochures. CCTV is China's state owned TV conglomerate, operating some 30 stations. I asked what was that about, and they said their company had been featured in a CCTV documentary about electric cars. All right!
The JMW2200 is powered by a tiny 3 Kw electric motor mated to a lead-acid battery, but they said they were working on a lithium-ion version. Top speed is 50 kilometer per hour, which is five faster than most LSEV's. Range is 120 kilometer and charging takes seven hours on 220V. Size: 3000/1400/1540, and wheelbase is 1930. The JMW2200 seats four, but the rear bench is only big enough for kids. Price for all this pretty: 24.998 yuan or 4023 USD.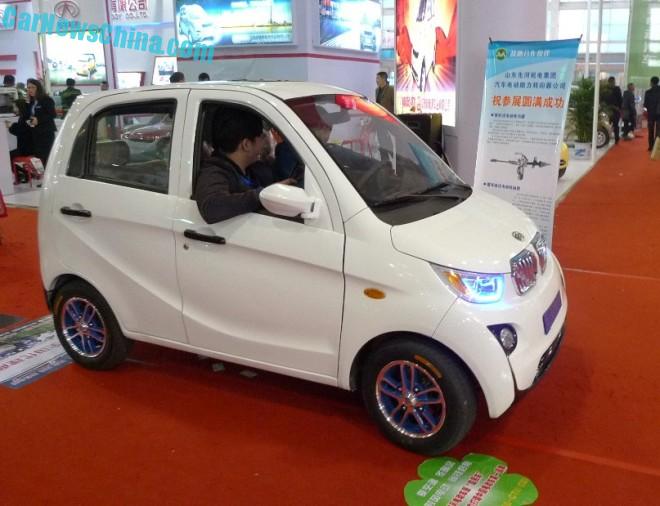 Later on around 16:00 I met a white example driving through the exhibition hall. This was allowed, a lot of cars were zooming around, causing some danger but more fun.