This is the very first photo of the Yema EC60, a new electric crossover SUV for China. The photo shows the rear of the vehicle. Nice but unexciting, exactly what we would expect from Yema. There is a trendy EC60 badge on the right, with a blue E, the underscore the car's clean credentials. But… what are those things in the bumper?

Exhaust pipes. Fake ones, I presume, looking utterly stupid on an electric car. It seems Yema is mostly being lazy here. The EC60 is based on the petrol-powered Yema T60, which has exactly the same exhaust pipe tips.
I suspect the tips are fake on the T60 too. This is a very common design feature these days, with the real pipe hiding somewhere further under the bumper. When Yema had to turn the T60 into the EC60 they simply left the fakes in place, instead of going through all the trouble of designing a new bumper.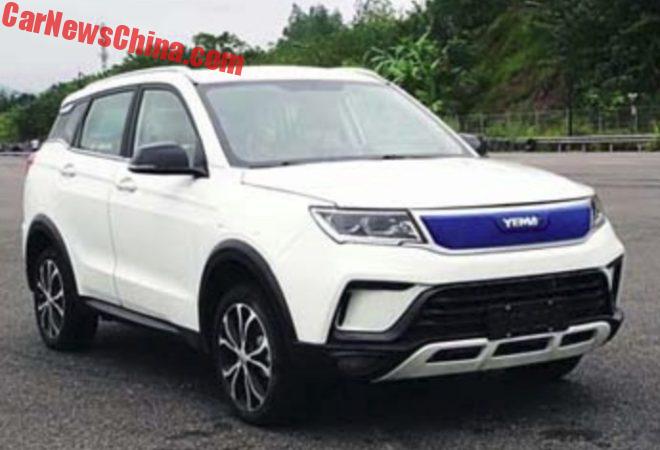 Yema however did change the grille, replacing the shiny bars of the T60 with a blue panel. Good effort! Power comes from an electric motor with 116 horses, good for a 105 km/h top speed. Range hasn't been announced yet but EVs in this segment usually go somewhere between 150 and 200 kilometers. The EC60 will hit the Chinese car market in early 2018.