On May 2, a CarNewsChina reader sent us a video showing eight 1,098,000 yuan (159,000 USD) YangWang U8 on a trailer in China. The car started presales on April 18 and will begin deliveries in September in China.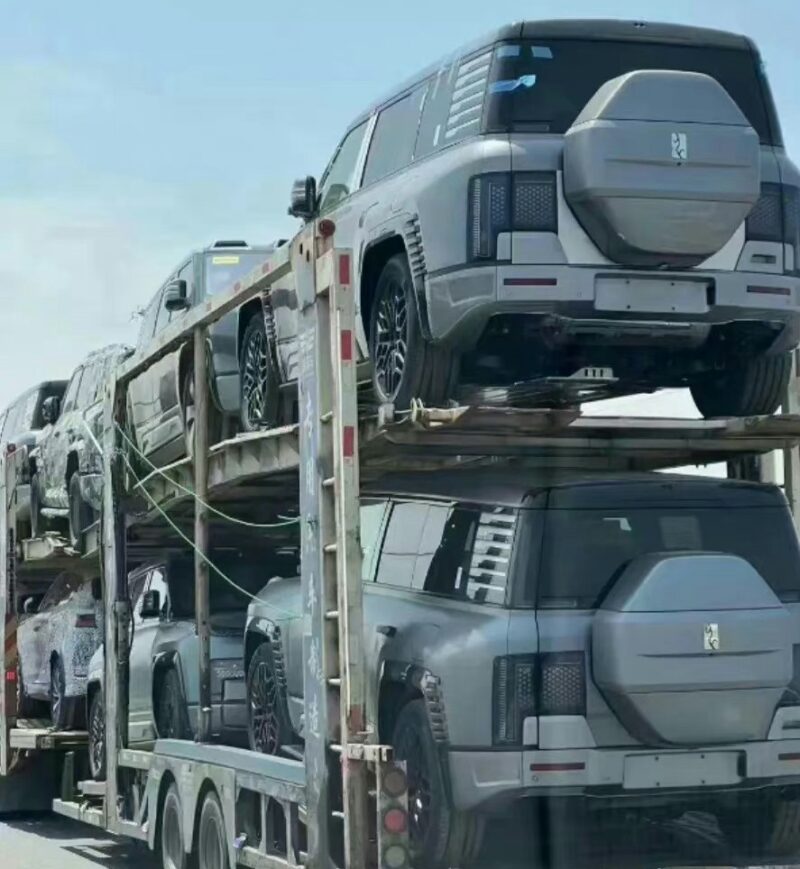 The video was taken in Changsha, far from the BYD's Pingshan plant in Shenzhen, where Yangwang U8 will be manufactured. Most likely, the vehicles are being transported for off-road testing. The cars on the trailer cost almost 9 million yuan (1.3 million USD).
Yesterday, May 1, BYD held a press event on the outskirts of Dunhuang, a small Gobi desert city about 300km from Mongolia. The car performed 360-degree tank turn on local streets and in the sand, and BYD some impressive videos out of it.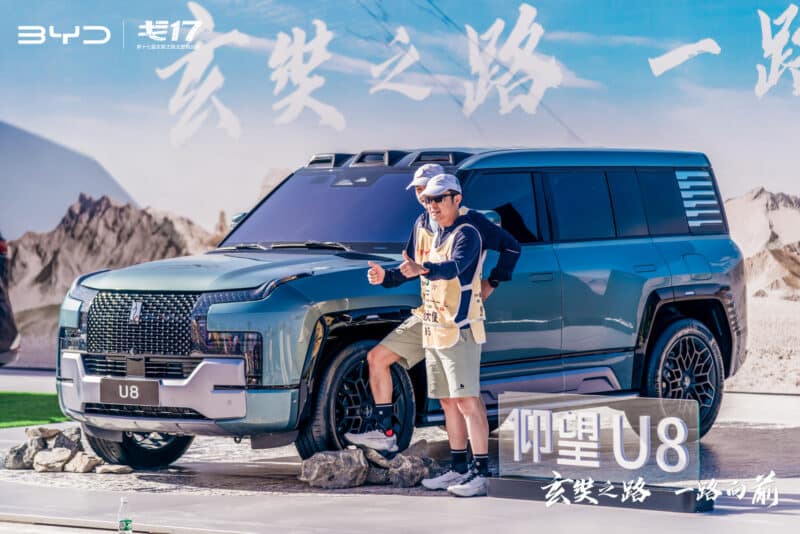 The YangWang U8 off-road SUV got into the spotlight in January when BYD unveiled the car and showed it is capable of 360° tank turn, floating on the water, and doing 0-100 km/h in 3.6 seconds.
When the U8 started presales on April 18, customers could choose from two versions to preorder: Premium Edition and the Off-road Master Edition with a large rooftop box. The U8 revealed only the EREV version, but the all-electric model is expected to be launched later. Still, imagine what battery would this heavy monster need – 200 kWh, 250 kWh?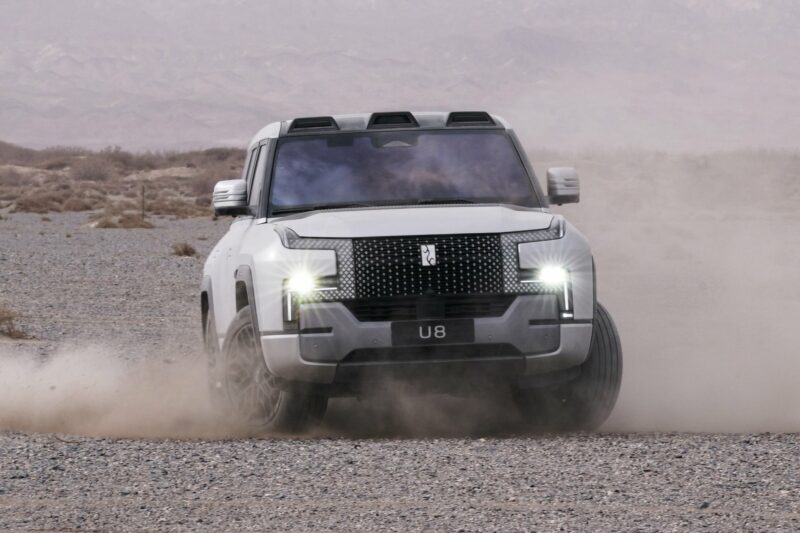 The EREV trim has a 49.05 kWh LFP Blade battery good for a 180 km CLTC range and 2L ICE which works as a power generator for the battery and is not connected to wheels. With a full 75 liters tank and full battery, the total range is 1000 km.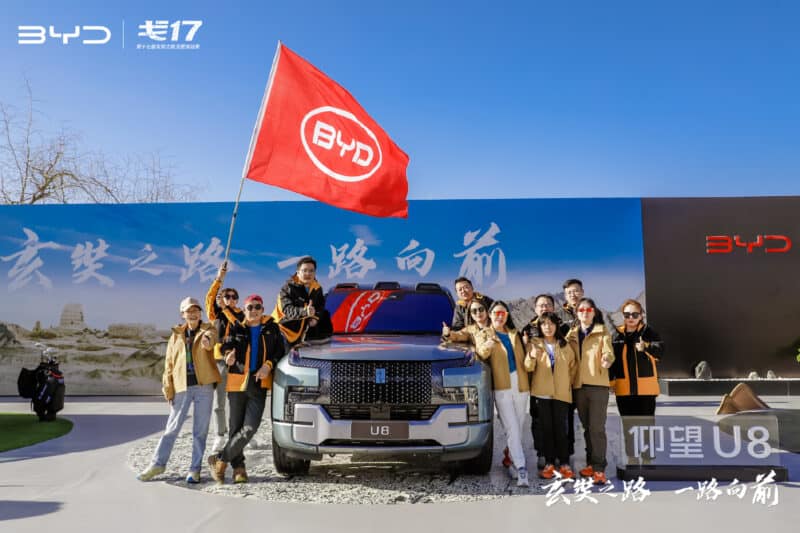 The car's battery can be charged from 30% to 80% within 5 minutes. Additionally, the vehicle is equipped with an array of 38 sensors, including 3 lidars, 5 MW radars, 14 ultrasonic radars, and 16 cameras, providing an advanced level of safety and control.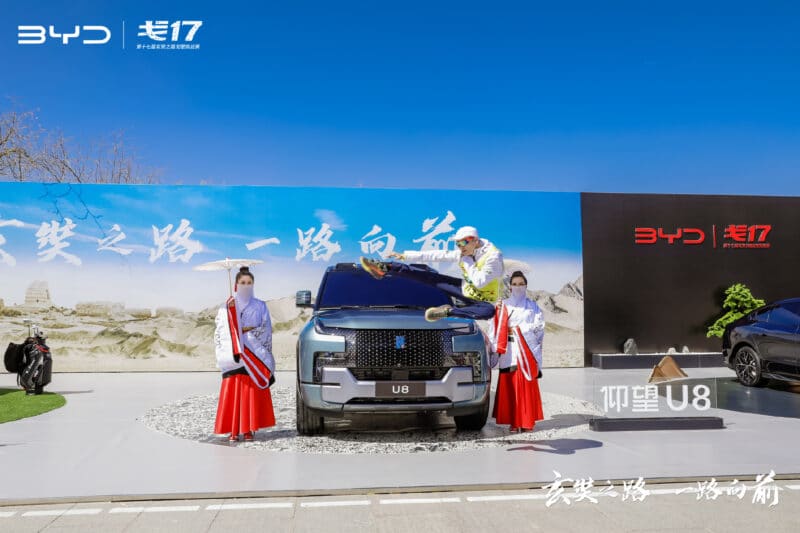 It is further equipped with onboard satellite communication, enabling the driver to stay connected with the outside world even in remote locations where phone signals are weak or non-existent, such as mountains or deserts. Furthermore, the car offers an optional drone docking station.
The two trims have different sizes:
Premium (length, width, height): 5319/2050/1930 mm with wheelbase 3050mm
Off-road (length, width, height): 5259/2095/2034 mm with wheelbase 3050mm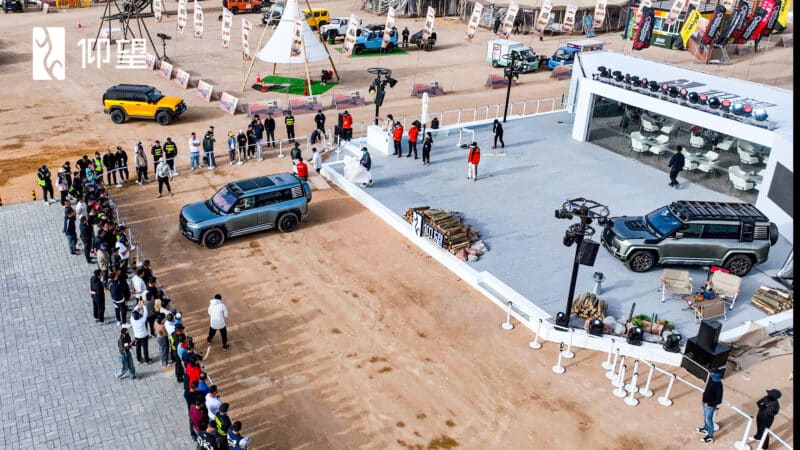 Regarding the powertrain, this car boasts a 4-wheel-drive system, with each wheel being powered by its electric motor, delivering 220 kW. This vehicle packs a serious punch with a total maximum power output of 880 kW (1,180 HP) and a peak torque of 1280 Nm.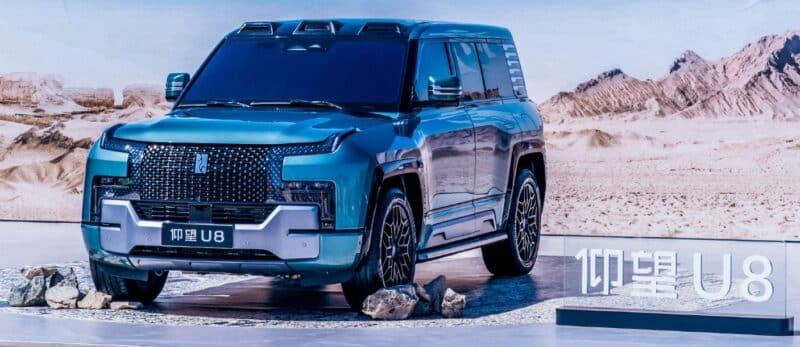 The car is built on BYD's E4 platform and equipped with a high-end suspension system, DiSus-P, which allows U8 to move up and down 150 mm if needed. The forged wheels are 22″.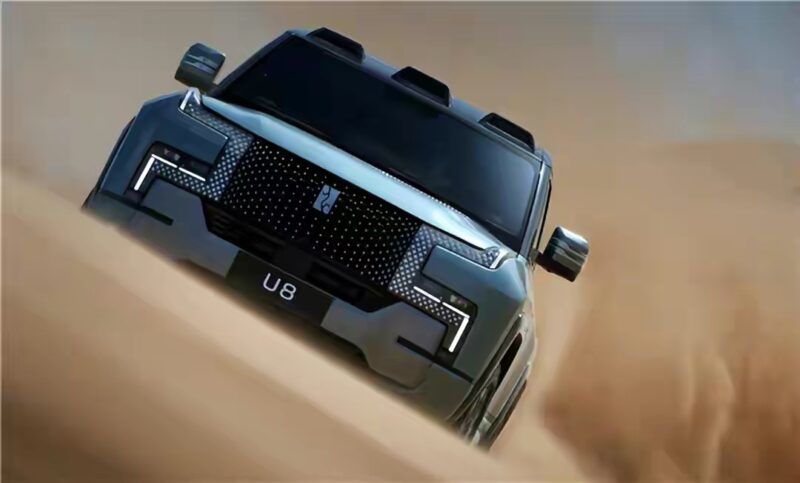 Inside the cabin, you find four big screens. The first is a 12.8″ instrument panel for the driver, the second is a massive 23.6″ infotainment screen, and two other screens are in the passenger's back seats.
The car will compete with the Mercedes EQG and Hummer EV in China, and BYD didn't comment on export plans.