The BYD Qin debuted as a concept on the Beijing Auto Show in April and these are the first spy shots of the real thing which will be launched on the Chinese car market late this year. The Qin is a hybrid based on the new BYD F3 that also debuted at the Beijing show, it is the successor of the rather unsuccessful BYD F3DM. Good news now: the Qin will get a lotta horses!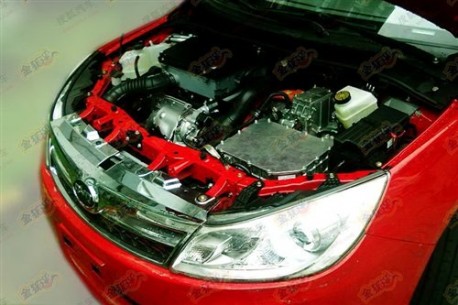 The Qin is a 'dual-mode electric vehicle', is has two ways of powering the wheels: pure electric mode (EV) and hybrid mode (HEV). BYD claims a combined power of 315hp. The 1.5 turbo-charged direct-injected engine poops out 165hp, the electric motor another 150hp.How much of that power actually makes it to the road is however unclear. BYD claims a 0-100 in 6.9 seconds but does not claim a top speed.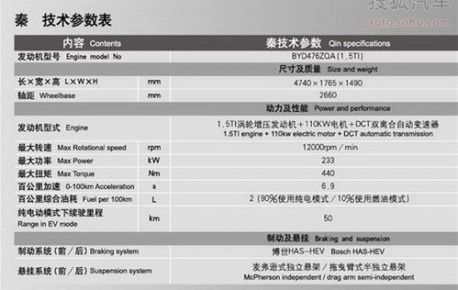 Fuel consumption however seems impressive: 2 liter per 100 km. But there is a catch that is only written in Chinese, sure BYD 'forgot' to translate that in English. The 2l/100 is only possible when driving 90% in full electric mode and 10% in hybrid mode. And here we have a problem because BYD also claims that the max full-electric range is only 50km. Go figure…
Via: Autohome.