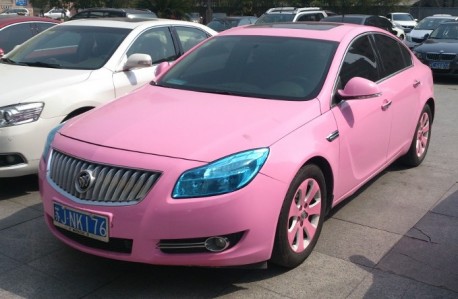 Been very busy today with snow in Beijing, in late April! The spring sun has killed most of it by now, but we need some Pink to finish the job. Fortunately, we have. This is a very pinky Buick Regal, seen in the great city of Shanghai by reader & serial spotter Navigator 84, thank you for the pictures!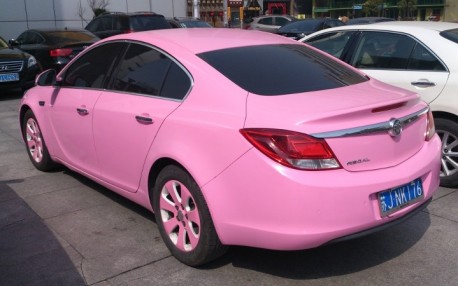 The wrap seems to be of high quality, neatly covering the bumpers and the mirrors. Only some chrome is left original for contrast. The vehicle is further made pretty by blue head lights and painted-pink alloys. Good Pink; good car.
The Buick Regal is made in China by the Shanghai-GM joint venture (facelift on the way). Price starts at 185.900 yuan and ends at 283.900 yuan. Engines: 1.6 turbo, 2.0, 2.0 turbo (Regal GS), and 2.4. Time now for our Famous China-Buick Regal Collection™: matte black, Expo 2010 Edition, lime-green,  matte purple & silver, pink and silver, a pirate, an orange taxi, and all-silver.