A very impressive supercar line-up, seen in the great city of Chengdu in Sichuan Province. From left to right: a yellow Ferrari 458 Spider, an orange Lamborghini Aventador, a Bling Audi R8, a red Audi R8, a white Dodge Viper, a Rolls-Royce Ghost and a Rolls-Royce Phantom. The Viper is the most amazing car here because it has never been officially exported to China, and this is the very first we see in the country.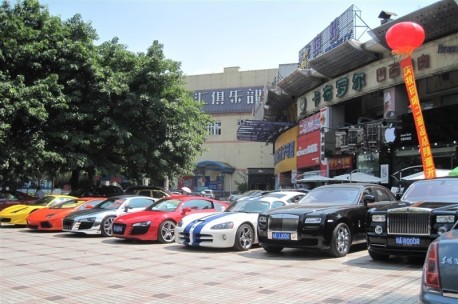 Let's count Cash: Phantom for 6.8 million yuan, Ghost for 4.19, the R8 starts at 1.79 million, times two. The mighty Aventador comes in at 6.57 and the Spider at 4.43 million.
That leaves the Viper which doesn't have an official price in China, because officially it's not here. The American supercar likely arrived via the gray market where all sorts of fast vehicles are sold directly by US dealers to Chinese dealers.
Sadly, there doesn't seem to be a single Viper on sale in China at the moment, so we can't quote any price, but it will be at least two million, bringing the total of this supercar lineup to an impressive  27.57 million yuan or 4.49 million USD.