An extremely speedy Dodge Ram SRT-1o pickup truck, seen in a second hand super car dealer on the Beijing Tuning Street. The super Dodge was painted in the famous Gulf Livery, as if ready for a 24-hour hard core race. However, it matters not it will never see anything else than traffic jams in the capital; an orange grille is always good! The truck was recently imported from California and was priced at a very steep 688.000 yuan or 113.000 USD.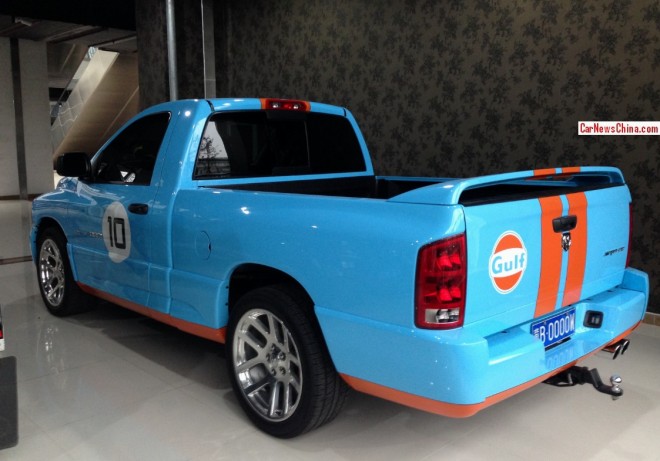 Gulf sticker extra cool. With a hook, for pulling boats and such. The Dodge Ram SRT-10 was made from 2004 until 2006, only 9527 trucks were produced. Power came from the manic Viper 8.3 liter V10, good for 510hp and 712nm.
Chrysler never exported any Dodge-branded pickup trucks to China, all there is in country comes via the gray dealer-to-dealer circuit. This particular example in Beijing is painted in shiny black and made even more pretty by matte black alloys. A few other rare Dodge vehicles we met in China: Ram 1500,  Dodge Ram Crew Cab, sec-gen Dodge Ram Van RV, and a Dodge Tomahawk.