A beastly BMW 3-Series sedan, Spotted in China on the Beijing Tuning Street in the east of the Capital. The good Bimmer was wrapped in a very spooky matte black blue wrap, and further sexed up by a very convincing M3 body kit, racy tires, and super sporty HRE matte black blue alloys.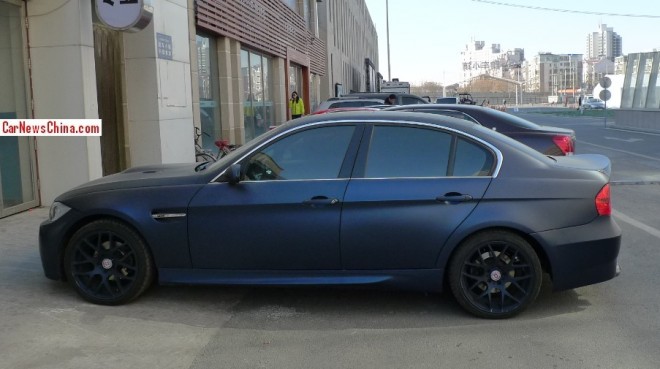 The wrap was of reasonable good quality and was perfectly extended over the bumpers, mirrors and door handles. Chrome is fine for contrast but would have worked better in a shiny or in a matte finish. This is the standard stuff which doesn't excite too much.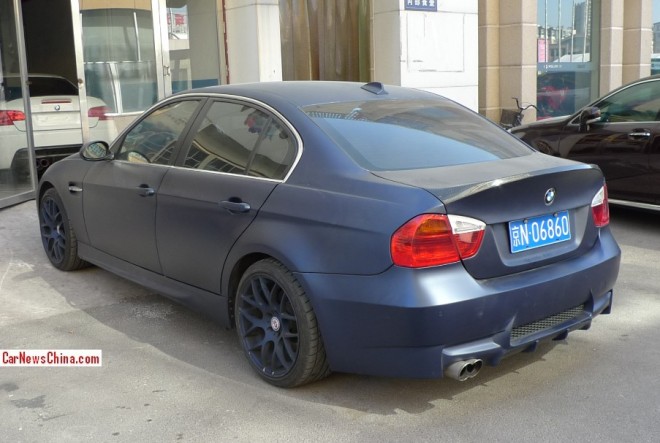 Body kit not very M3 at the back, but all together a very nice piece of work. The E90 BMW 3-Series was made in China by the Brilliance-BMW joint venture and has since been replaced by the China-only stretched 3Li-Series. A few other notable Threes we saw in China: matte purple, black & white, with girl, leopard, not a Cruze, black & orange, and a low rider.
---