A very coolio BMW 3-Series sedan, Spotted in China on a parking lot near the Dongfang car market in east Beijing. The bobbly Bimmer was wrapped in a purple wrap and further sexed up by tinted rear windows, but otherwise tandard. The vehicle was very dirty with dust making matte almost shiny in the sun at this particular time of day.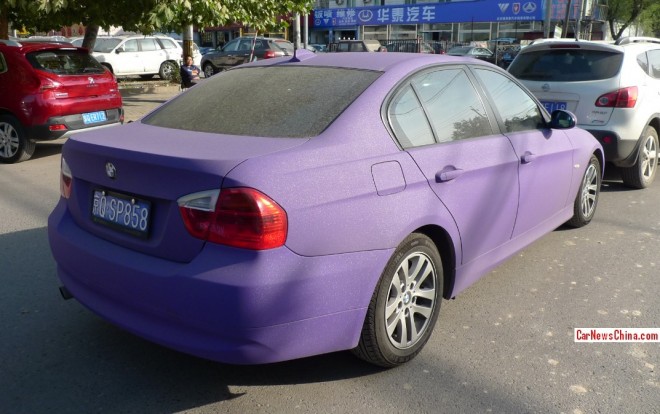 Note psychedelic dust patterns around rear light and on rear bumper. I enjoyed the spectacle very much. The wrap was of top quality and perfectly extended over the mirrors and bumpers. Quality work well done here! Too bad the alloys are bog standard too. How beautiful would this BMW be with some gold in her wheels?
The BMW 3-Series was made in China by the Brilliance-BMW joint venture and has since been replaced by the China-only stretched 3Li-Series. A few other notable Threes we saw in China: black & white, with girl, leopard, not a Cruze, black & orange, and a low rider.
---