The new and super fast Chevrolet Corvette C7 is popular in China too. Sadly, General Motors doesn't officially sell the Corvette in China. There were some rumors that they might sell officially in the future but this has not been confirmed by GM or Chevrolet.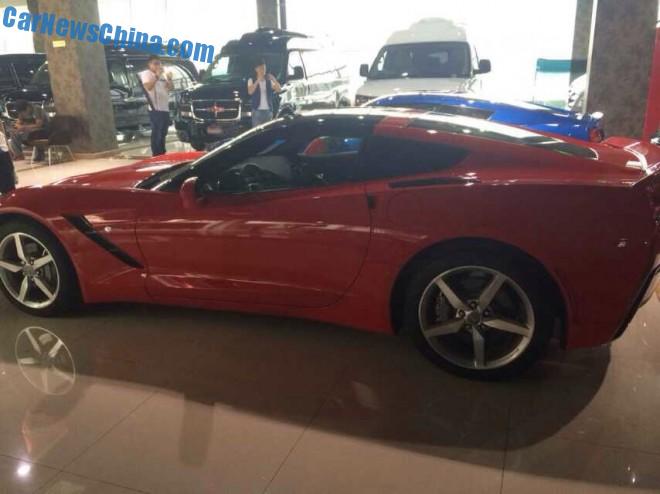 Eager Chinese car buyers have to look for their Corvette fix on the gray dealer-to-dealer market, which ships brand new cars from dealers in the U.S., mostly West Coast, to dealers in China. Two Corvettes have arrived in a well-known car shop in the Beijing Tuning Street. They are not cheap…
The red car goes for 1.73 million yuan, that is 282.000 USD. The blue car is slightly cheaper with a price of 1.68 million yuan or 273.000 USD. In the U.S. a new C7 starts at $53.000 for the Stingray 1LT and ends at $65.000 for the manic Z51. The Corvette in China is this five times more expensive than the most expensive U.S. Corvette!
Note Ford Raptors in the background on the first picture. They are gray too. Current price hovers around 640.000 yuan or 104.000 USD.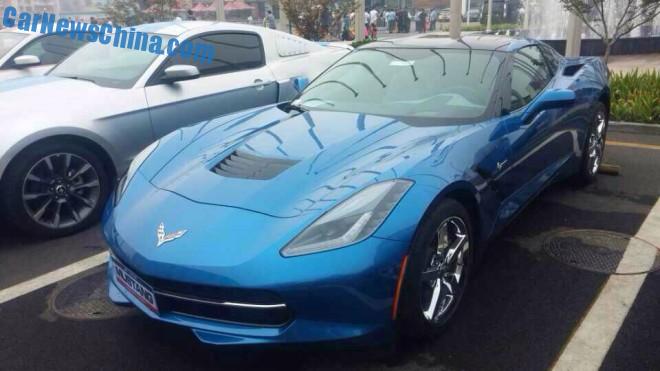 Check that license plate on the 'Vette. It says Mustang. The horror. The the left a Mustang. Not officially available in China either, and very expensive in gray. The new 2015 Mustang however will see official sales in China. Blue Corvette is a base Stingray.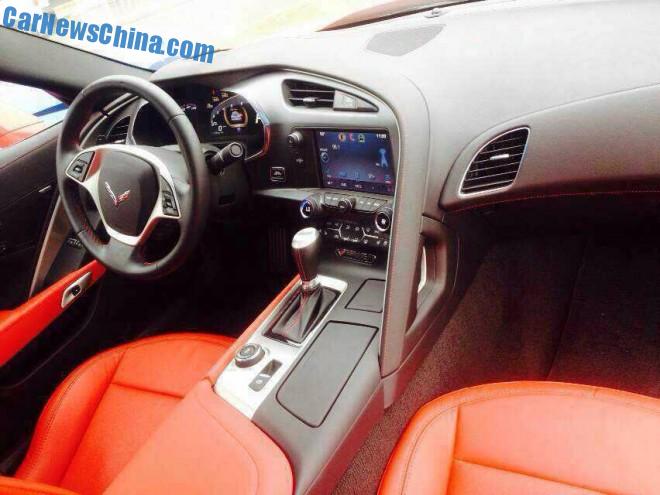 With the automatic gearbox. Chinese car buyers don't want manuals. They simply don't know how to use one.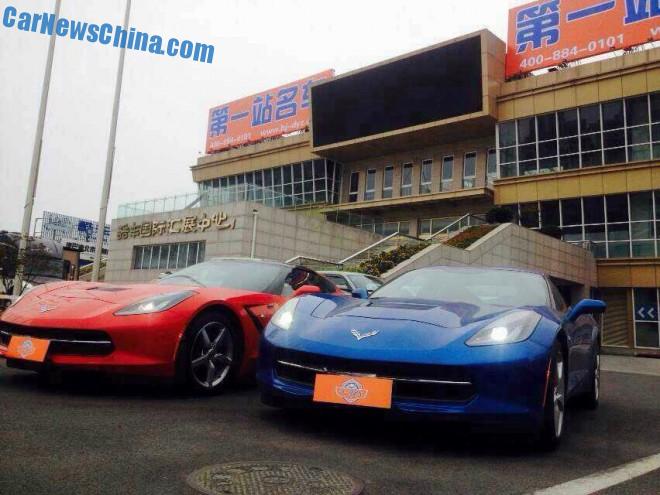 Two gray Corvettes in the heart of the Chinese capital. Many have asked my why GM and Ford are so reluctant to sell their fastest and fattest cars in China. Buyers enough, and they are available anyway. The reason is politics. The almighty Chinese central government want cars to be clean, green, and lean. A Ford F-650 for example, is all that not. GM and Ford care about what the government want because they need the government to like them if they want to expand their business in China. That is also why GM is selling the Chevrolet Volt here, when absolutely nobody buys one; to create political goodwill in Beijing. The new Mustang comes with a relatively clean 2.0 turbo. Rumor has it that Ford developed that one especially for China.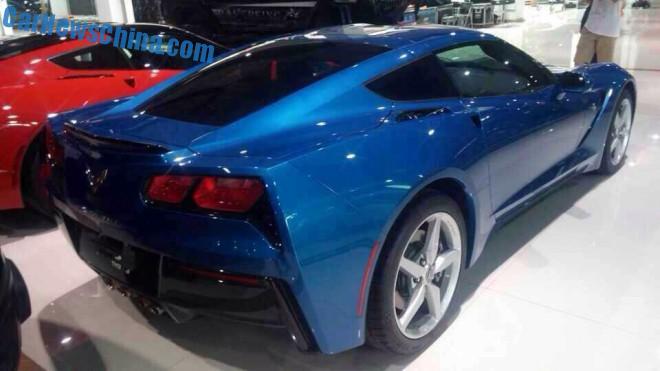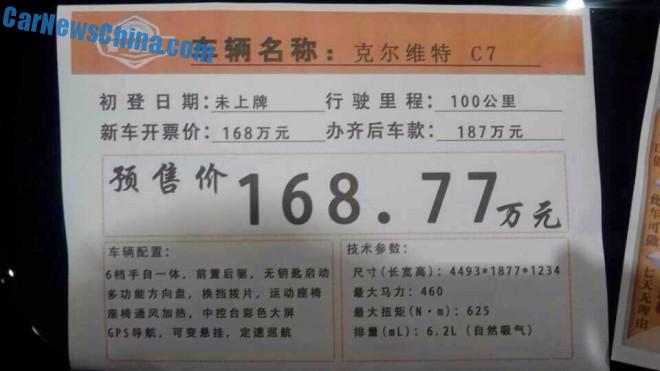 Price tag of the blue car. Price is in 'wan yuan'. One wan yuan = 10.000 yuan. Power from a 6.2 liter V8. 460hp and 625nm.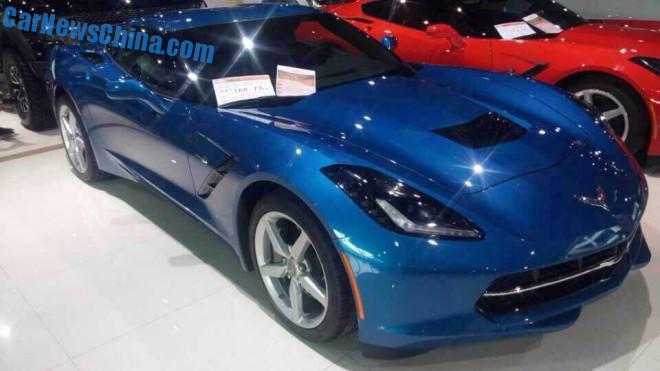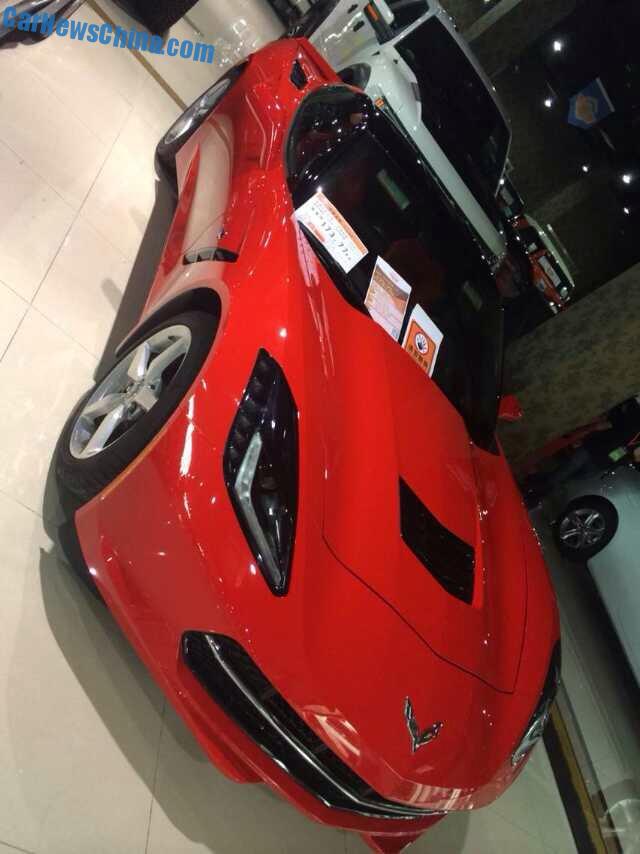 173.77 price tag on the red car.