Ford does not export the Mustang to China. However, it is relatively easy to get one via the thriving gray market. I went to a small dealer show in Beijing a while back an got me a nice brochure from a Beijing-based Ford Mustang dealer. Not cheap; the 2013 Mustang V6 goes for 568.000 yuan or 89.897 USD. The same car costs only 39.819 USD in the US. China's high import taxes count for about 25%, the rest is pure profit. Things get even more mad with the expensive Mustangs…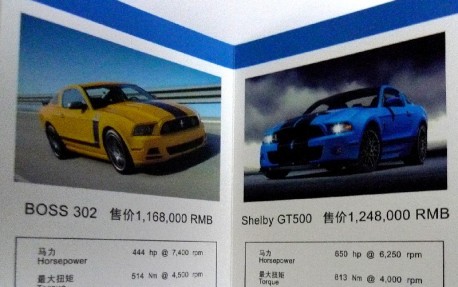 Boss 302, 1.168 million yuan, or 184.000 USD, only 59.569 USD in the US. Shelby GT 500, 1.248 million yuan, or 197.000 USD, approx 67.000 USD in the US. China's import taxes for anything with an engine bigger than 4.0 liter goes up to 40%, the rest again, is pure profit. The cars are usually bought by Chinese dealers from American dealers on the US West Coast, this particular Mustang-seller got his cars from California.
The big bucks are being made by dealers on both side of the Pacific, Ford just gets the dealer price in the US. Bad business model…  GM is doing much better, selling the Camaro officially in China since 2010. Price ranges from 455.800 yuan to 475.800 yuan for the 3.6 V6, almost as much as the Mustang V6 and all profit goes to the General.
Ford did finally took notice earlier this year and might be or might noy be considering a Mustang- move into China, but it won't be any time soon. Strangely, Ford decided to sell the Mustang in cash-stripped Europe first, where road tax for big American cars is very high and their image very low. China would snap up many Mustangs more…