Tesla is struggling in China, lacking stores and superchargers. And now they have something else to worry about: local competition, of some sort.
The above car is the Aoxin Ibis, an impressive full electric full size sedan with a Tesla-like logo on the enormous and enormously shiny grille. The Aoxin Ibis debuted last year on the New Energy Auto Show in Shanghai (NEAS) and will be launched on the Chinese car market in the second half of this year. The girls seem impressed, and that is a good start. There is more:
Aoxin and Tesla compared.
The Aoxin Ibis, alternatively called Aoxin Heying or Aoxin E45, is manufactured by a Chinese company called Aoxin New Energy (web), based in Yancheng City in Jiangsu Province. The company was founded in 2006, became a subsidiary of Dongfeng Motors in 2007, and was sold on to the Yancheng Municipal Government in 2009, making it a local state-owned enterprise (LSOE).

The main products are a line of small electric utility vehicles and a hip electric mini car. The latter is marketed in the United States as the e-GO EV by a Las Vegas-based company called 2050Motors. In 2011 Aoxin New Energy started a cooperation with the Italian company TechnoDesign for the development of advanced lightweight chassis for electric vehicles, and the Aoxin Ibis is the first fruit: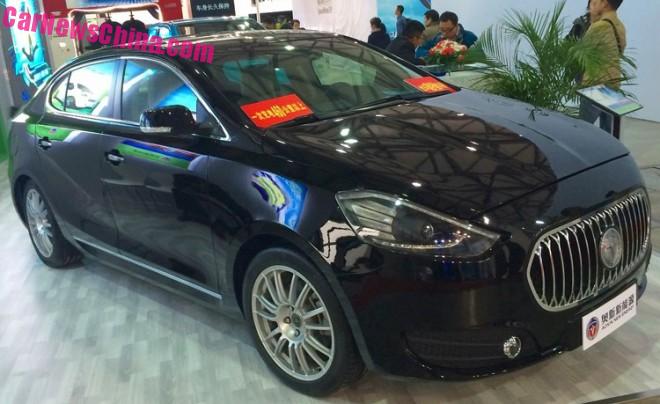 No matter the fuzzy logo thing, the actual car doesn't look much like the Model S. It has some hints of the Buick LaCrosse but not too many. The Ibis is a surprisingly advanced machine. The chassis is made out of aluminum and carbon fiber, and parts of the body are carbon as well. Aoxin claims the Ibis is fitted with race-inspired truss-double wishbone suspension, and that it is up to 40% lighter than comparable electric cars, whatever those might be.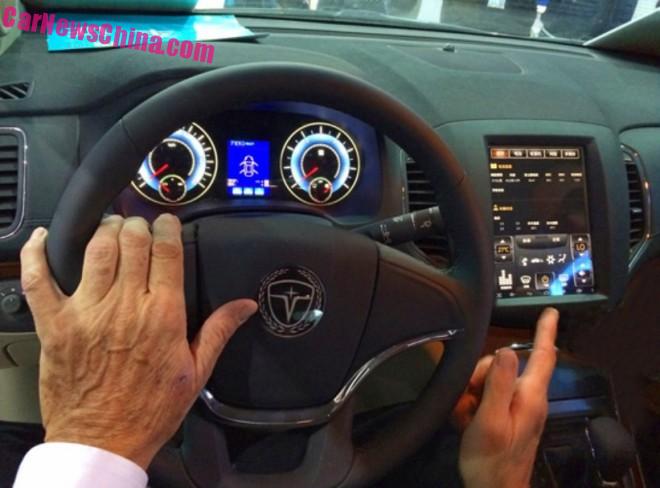 Dials are fully digital. Large screen in the center console that looks very Tesla again, albeit quite a bit smaller.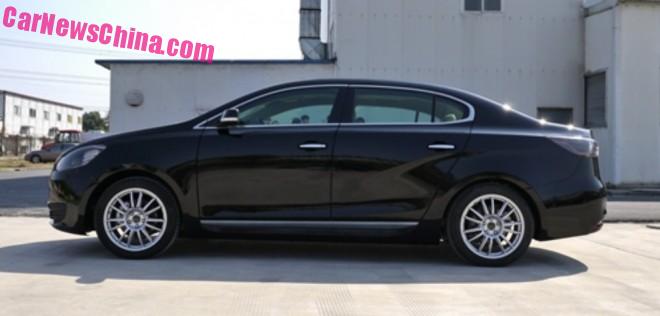 The Ibis is a large car: 5000/1898/1605, wheelbase is 2930, and curb weight is 1830 kilo. That makes the Ibis slightly longer and much lighter than the Model S: 4976/1963/1434, wheelbase is 2959, and curb weight is 2108 kilo.
Now for power! Aoxin claims the Ibis has three electric motors, all powering the rear wheels. Main motor sits on the rear axle, supplemented by a hub motor in each rear wheel. Total output is a slightly disappointing 181hp and 340nm, good for a 152 km/h top speed. Range however is very impressive with 460 kilometer by normal use, and 520 kilometer by a 60 kilometer per our average speed (this odd 60 km/h measurement is used by many Chinese electric-automakers). The motors get their juice from a 360V triple-lithium polymer battery, located under the floor of the vehicle. Specs via Aoxin.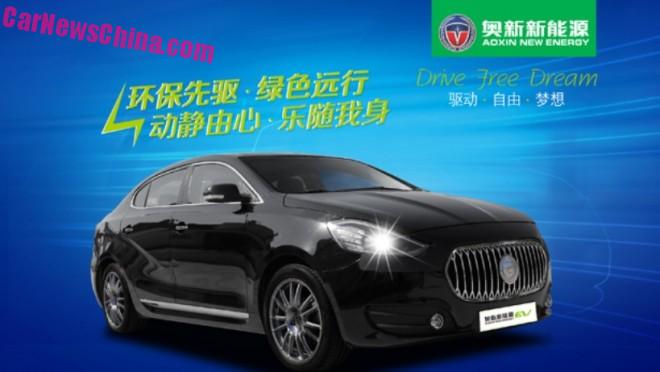 Official Aoxin banner.
When exactly the Ibis will hit the market and for how much is yet unknown. Price will be vitally important, Chinese car buyers are finally slowly warming up to electric cars, but they can't be too expensive. It is hard too predict how much it will cost as there is no comparable electric car on the market today, but it sure won't be as much as Tesla wants for the Model S.
Aoxin is expected to announce details on price and availability on the upcoming International New Energy Vehicle Show in Jinan City, starting on March 17, and I will go there. To be continued…
With many thanks to Erik @ ChineseCars.net for putting me on the trail of Aoxin.