Tesla has officially announced pricing for the Model S in China. It is not as bad as we heard earlier this week. Price ranges from 734.000 to 852.500 yuan or 121.000 to 140.000 USD. Deliveries will start in June. Buyers have to pay a deposit of 250.000 yuan or 41.000 USD.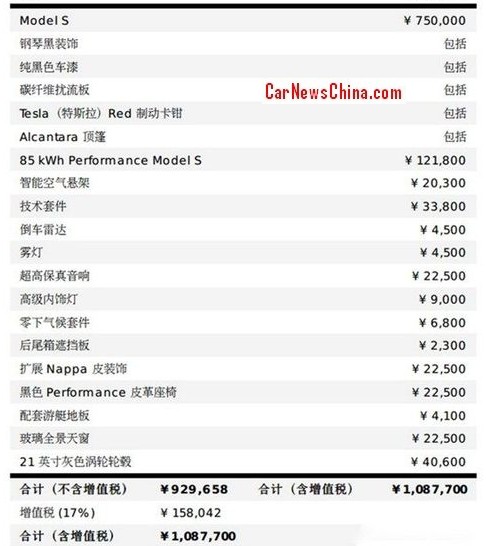 Earlier this week we heard the Model S Performance would cost 1.2 million yuan or 198.000 USD. The confusion was likely caused by the option list. A fully packed Tesla Model S Performance with all possible goodies installed will cost 1.087,700 million yuan or 179.000 USD.
Tesla will use the Chinese name Tesila (特斯拉). Tesla currently has only one dealer in China, in the capital Beijing. Tesla is planning a second dealer in Shanghai but isn't moving into any other cities yet. Earlier this month Tesla announced a plan to build a super charger network on roads from Beijing to Shanghai but no timetable was given.
---