There is just no luck for Tesla in China. After slow sales, lay-offs, competition, and near-murder they are now facing a nasty accident in Nanjing in Jiangsu Province, where a Tesla Model S collided badly with a Mazda 6 sedan during a test drive, and that alone makes it a very interesting kaboom.
Tesla doesn't have any stores or service centers in Nanjing, but they do have a few supercharger and destination charger stations. The nearest store in fact is 300 kilometer away in Shanghai, so this black car is likely an unofficial example. The suited lady on the left looks like a typical Chinese car sales woman, and there is certainly no lack of unofficial supply in Nanjing, either scalped, gray, or leased.
The passengers of the Model S were apparently all right, or so local media say, but no word about those in the Mazda. The front section of the vehicle is badly damaged and repairs seem impossible here. But no matter that, Tesla still has at least 2300 brand new cars in storage.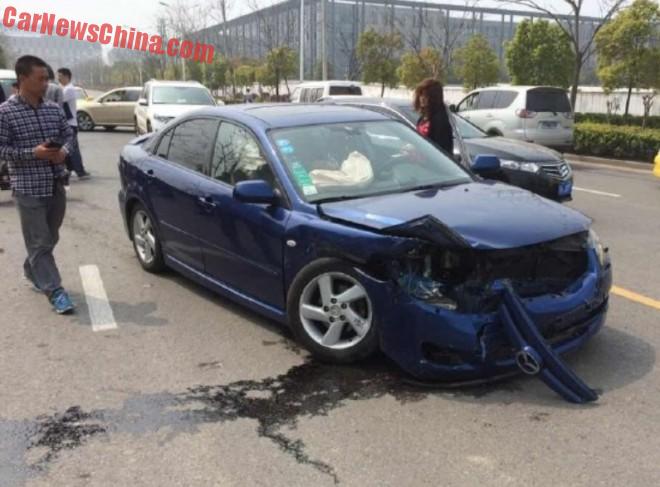 The Mazda survived the crash much better than the Tesla, but it sure needs some extensive work. This might seem an old generation Mazda 6, but it isn't; the first 6 is still in production, manufactured by the FAW-Mazda joint venture. The 6 goes for 129.800 yuan or $20.720, the Model S does a little more with 734.000 yuan or $118.400 for the 85.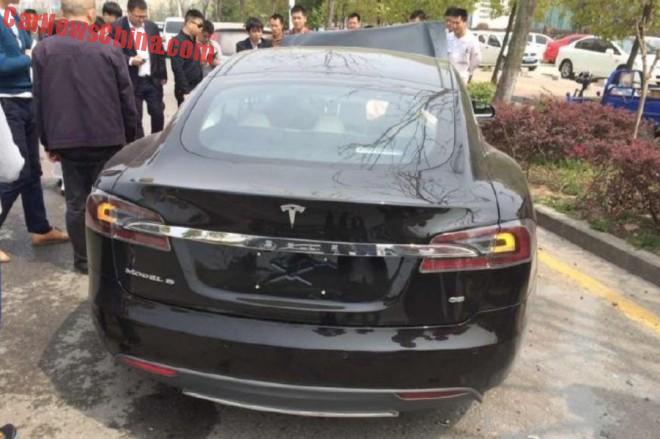 No license plates = no insurance. Somebody will have to pay…