This is the new Yogomo Jieshun mini MPV, seen last month on the Shandong EV Expo  (intro) in Jinan City. When we saw the first photos of the Jieshun last year we thought it was one of the coolest Chinese vehicles ever, until readers pointed out it looked a tad too much like the 2011 Volkswagen Bulli concept. And it does. Cloning concept cars instead of production cars is certainly an interesting idea, although not really entirely new. We also asked for more chrome in the grille (see original), and Yogomo complied, with a super fat shiny grille with one thick bar and three thinner ones. Now for the Bulli:
Overall design; check. Round fog lights; check. Air vents above said fog lights; check. Wheel arches; check. Position of the doors; check. Roof line; check. Design of the third side window; check. And on we go again. It is a shame really. Yogomo appears to be a well-financed company and their cars look really good quality-wise. Too bad they are too stupid to hire a designer. And see what they did to the Kia Picanto!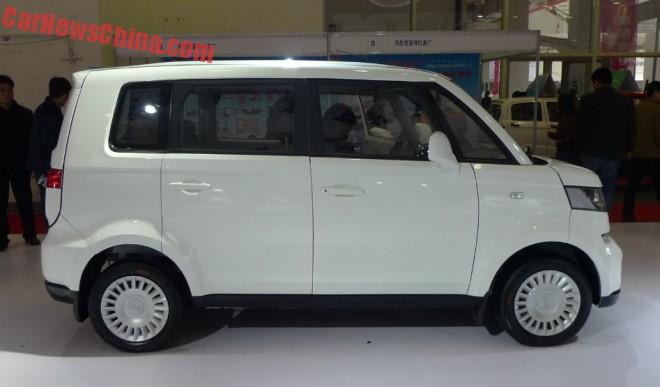 Here they are side by side. Check especially the lining and positioning of the doors.
Size check shows that the Bulli is 30 centimeter longer:
Yogomo Jieshun:  3650/1660/1690, wheelbase is 2370.
Volkswagen Bulli: 3990/1750/1700, wheelbase is 2620.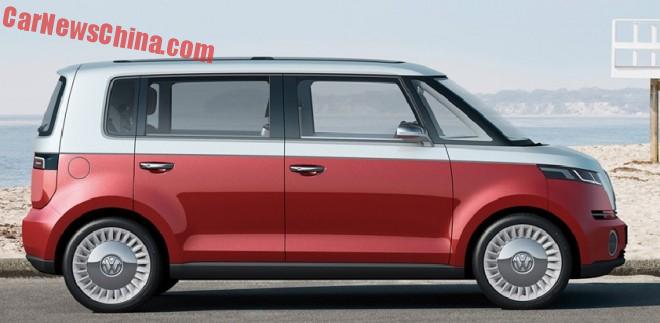 Even the wheel covers are similar.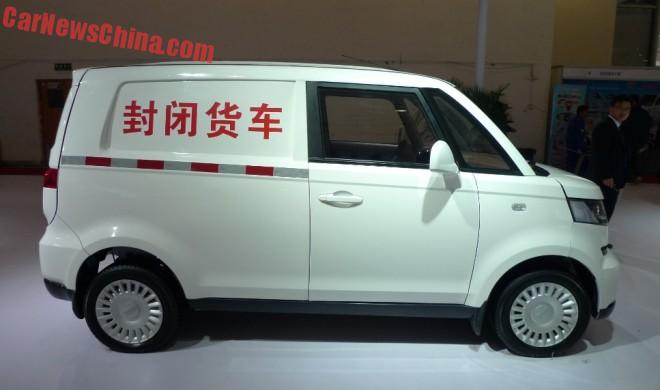 The minivan.
Although the Shandong show was about electric cars and Yogomo says they are working on an electric version of the Jieshun, the two cars on display were both petrol-powered. Yogomo didn't reveal any details about the engine, only saying that top speed was 120 kilometer per hour, and staff said they didn't know. Earlier on we heard the engine was a 76hp 1.0 four-cylinder petrol mated to a five-speed manual. Yogomo did say they expect the petrol powered Jieshun to hit the market in October, and the EV version in late December.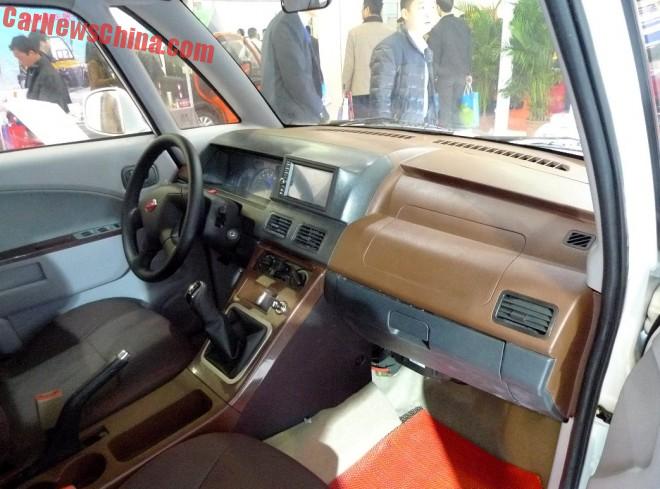 The interior looked very pre-production with huge panel-gaps and crappy finish. Staff reacted rather nervous when I took this photo and kinda pushed me out, the doors were shut closed after that, and still weren't open the next day. What secret are they hiding here..? The sash actually looks pretty cool, with the gear lever (five-manual) mounted on the center tunnel and a sleek LCD screen. Steering wheel however was far too 1981.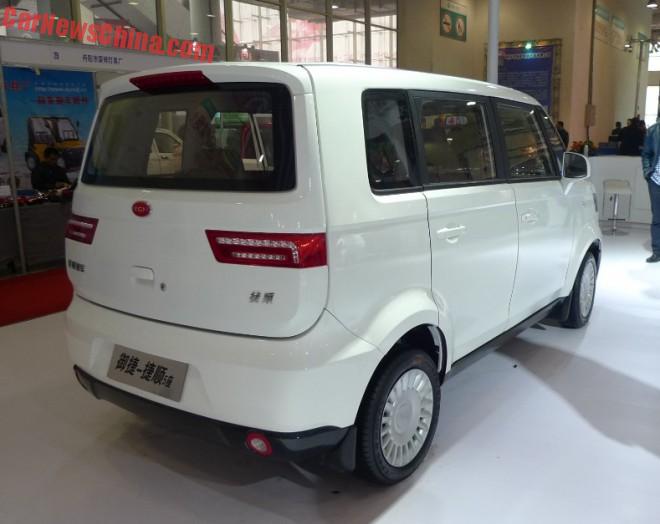 Yogomo got crazy here and added two original details: the window wing with brake light and a fog light in the bumper. Otherwise: taillights; check. Shape rear window; check. Shape rear door; check. Shape bumper; check. Shape black under-bumper; check.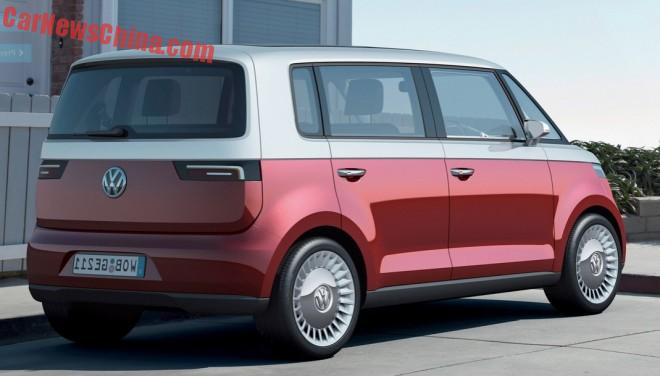 (mirrored).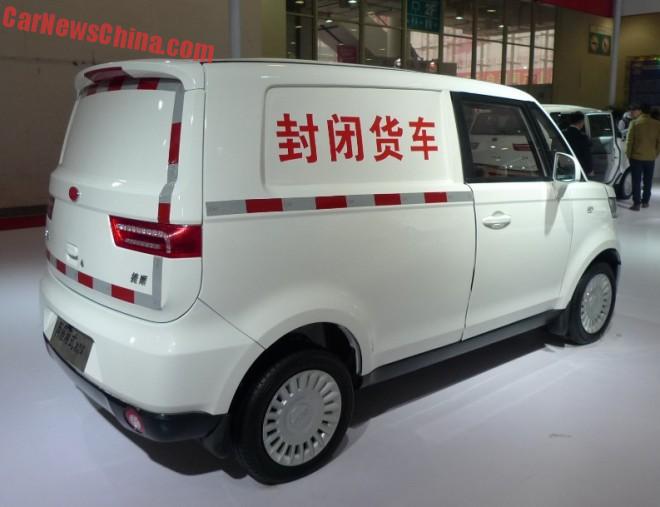 Ugly 3M reflective tape is obligatory by Chinese law on all pickup trucks and minivans. Just ask Brabus.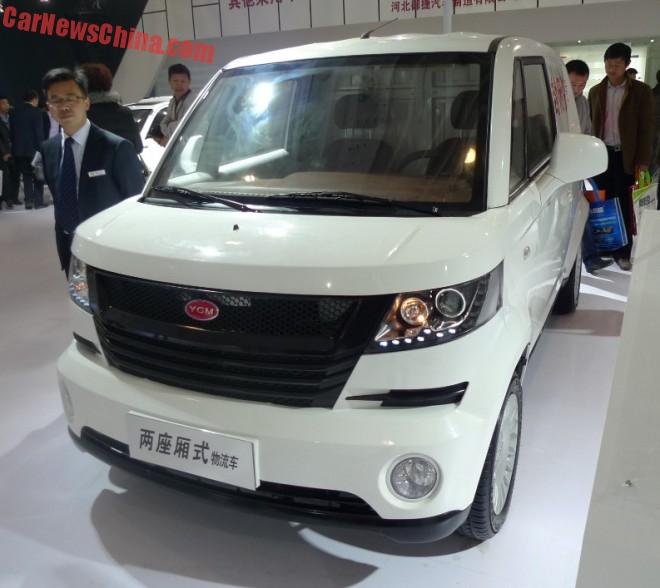 No chrome on the van. Yogomo-man in suit looks angry. Guess he wants more chrome as well.