The U.S.-based online taxi-hailing service Uber has signed a deal in China to co-operate a fleet of green-energy taxi 'limousines' in the city of Wuhan in Hubei Province under the 'UberGreen' name. The logistics and drivers will be handled by a local company called 'Green New Energy Limousine Service' and the vehicles will be provided by Chinese automaker Guangzhou Automobile.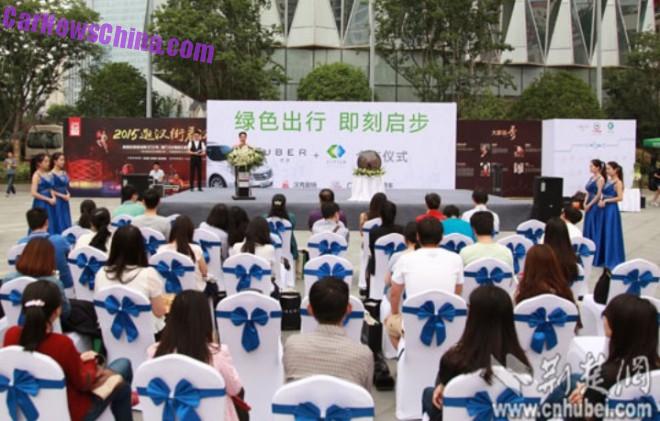 The operations have started today, May 25, with an initial fleet of ten hybrid-powered Guangzhou Auto Trumpchi GA5 REV sedans. More cars may be added if the service proves to be a success. The rate is marginally lower than the normal taxi rate in Wuhan: base price of 10 yuan plus 2.4 yuan per kilometer,  and 0.3 yuan per minute for time spend waiting.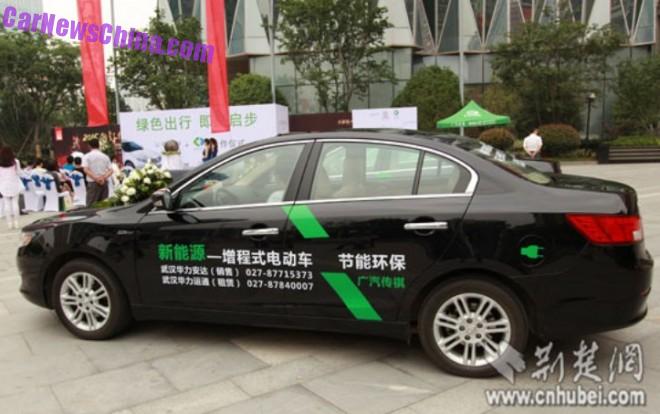 The Trumpchi GA5 REV (Range Extended EV).
The power train consists of a range-extending 1.0 four-cylinder petrol engine with 41hp. The engine powers the generator for the electric motor, which has an output of 60hp. The petrol engine does not send power directly to the wheels. Maximum speed is 150 kilometer per hour. Range on pure electric power is 80 kilometer. Range with range extender is 600 kilometer. Charging the battery takes six hours.