Here I have something very special for you all, something never seen before on this website, a first generation Oldsmobile Silhouette. But first, a bit of history. During the 1990's, General Motors developed a platform called the U-Body specifically for minivans, such as this Oldsmobile.
Other names under which this van was sold included the Pontiac Transport and the Chevrolet Lumina APV. Quite a few Chevrolet versions were imported into China by foreign companies and are found relatively easy on Weibo. The Pontiac is not so common but the Oldsmobile is by far the rarest, a quick Weibo search yields only two results.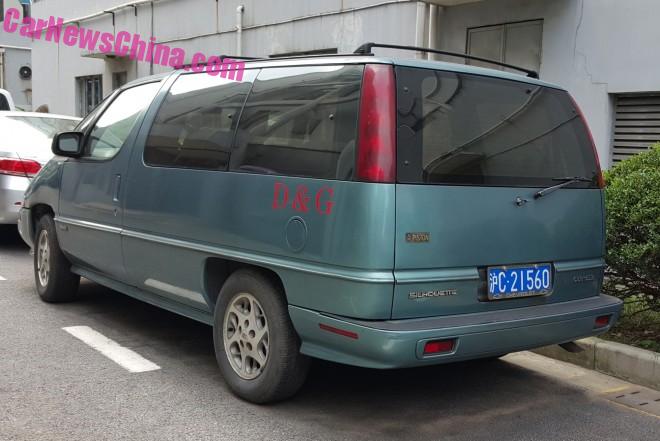 I found this particular car in Shanghai among a group of office buildings and indeed this car is still being used by a small business!! I have seen it a few times and every time it was in a different position, somebody must really like this car!
Now for some sad news. The Shanghai government has decided that any car that is registered on a Shanghai license plate and was built before 2000 will have its registration cancelled at the end of this year. What does this mean for these old cars? The owners will be unable to register them next year.
It gets worse; the vehicles will not be able to be registered in other provinces either, not even by a new owner. That means all these old cars are destined to either the scrapheap, or being stored for the rest of their lives. The only way in which these cars will see the road is in an organized car rally. This Oldsmobile was built sometime between 1993 and 1995 so it will only be on the road until the end of this year as it is on a Shanghai license plate.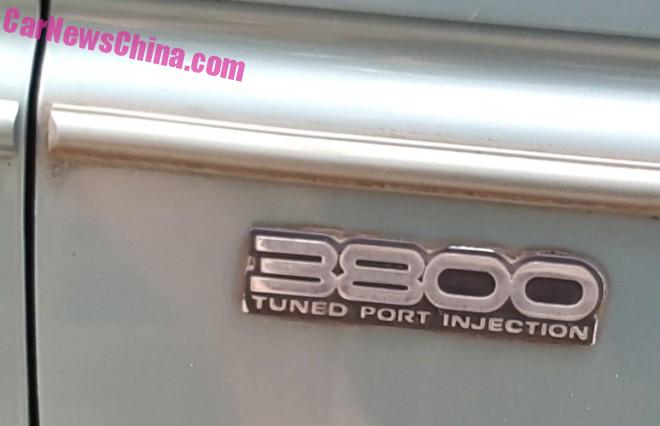 Power for this particular car came from a 3.8 liter V6 engine, mated to an old school 4 speed automatic transmission. The 3.8 was only available from 1992 to 1995 and was the most powerful engine offered. This particular car appears to be a top of the line version with the roof rack and steering wheel mounted audio controls fitted.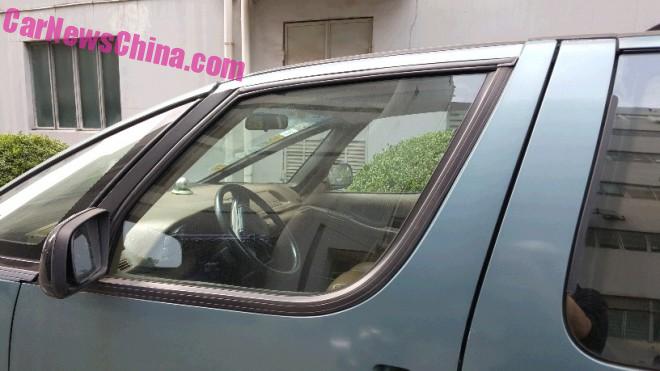 The interior of this particular car was in exceptional condition, clearly taken care of by its owners.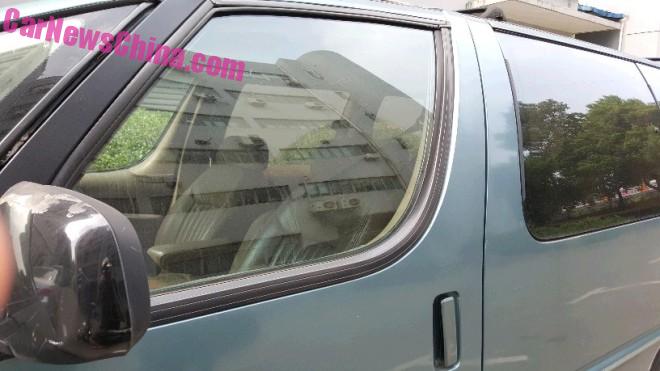 The paint was also in fantastic condition, this car is somewhat related to the highly successful Buick GL8, one of the first products of the Shanghai-GM venture. Speaking of which…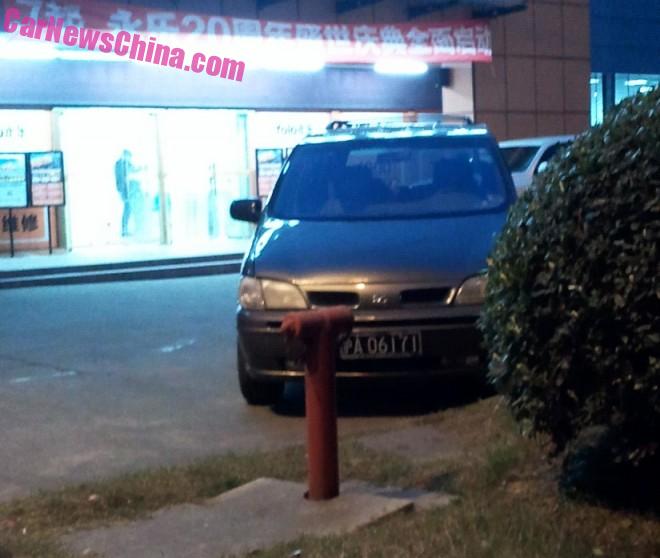 Here we have ANOTHER Oldsmobile Silhouette, this time a second-generation vehicle also seen in Shanghai, not far from the first one.
The second-generation Silhouette was made between 1997 and 2004 and was designed, along with its sister cars, to be less controversial and more conventional than the first generation of U-Body minivans that were nicknamed 'Dustbusters' as they resembled handheld vacuum cleaners. I cannot get a precise idea on when it was made and the black license plate doesn't help, they gave those to foreign buyers and companies from the early nineties all the way up until 2007.
That does mean it was (or maybe still is) owned by a foreign company or individual. Unfortunately the quality of these images isn't great and I couldn't get any other pictures, but I can tell you that this car had lived in that area of Shanghai for many years. I remember seeing it go past about two years before I took these photos. This car is extremely rare; I cannot find a single one on Weibo!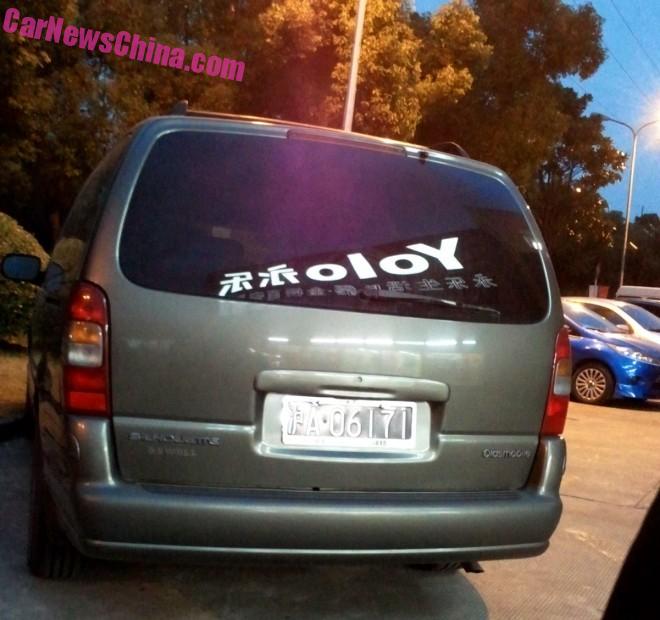 One would think that owning and maintaining this car in China would be simple due to it being so closely related to the famous Chinese car, the GL8. However, the engine and transmission are completely different! The largest engine ever available in the GL8 was a 3.0 V6, the Oldsmobile had an unrelated 3.4. Same goes for the transmissions and for headlights and taillights too.
The sad thing is that this car could be headed for the same fate as the earlier one if it was made before 2000, which would be a shame. Unique and interesting cars like this are what keep me out there trying to find them. Shanghai has pulled a really mean move on these cars. Hopefully this car is lucky and will soldier on and come back to me in the daytime with my new phone so I can take better pictures.
And just to give you guys a little more to drool over, our good friend and serial spotter Navigator 84 has seen quite a few Chevrolet Lumina APV's in China and he was kind enough to let us share them with you; the green one was seen in Nanjing, the other two in Beijing. He is a lucky man to have seen three!
Here they are: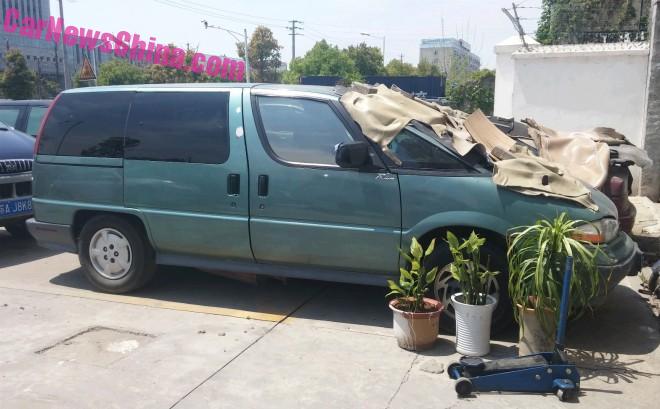 This one is parked next to a Chevrolet Corsica.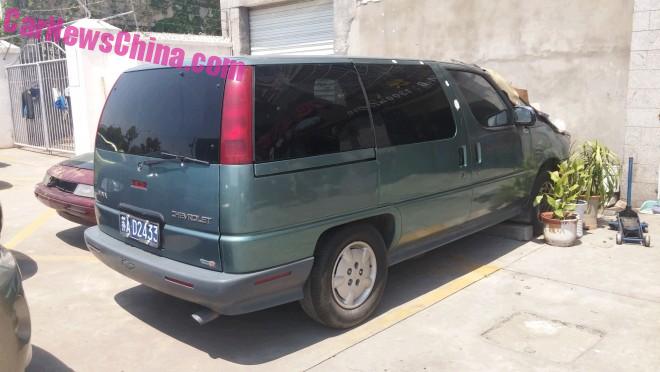 Poor Corsica seems abandoned, missing its grille.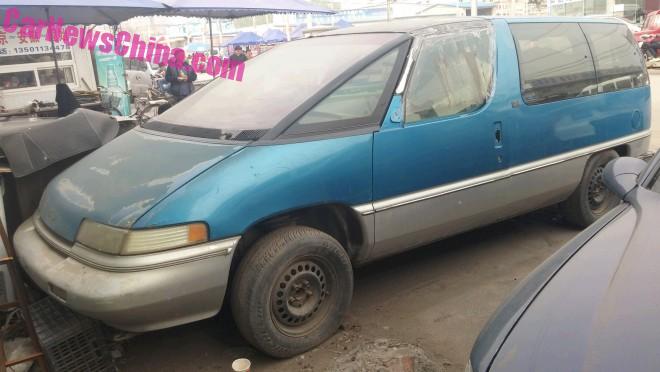 A blue example with gray bumpers. Wheel covers gone.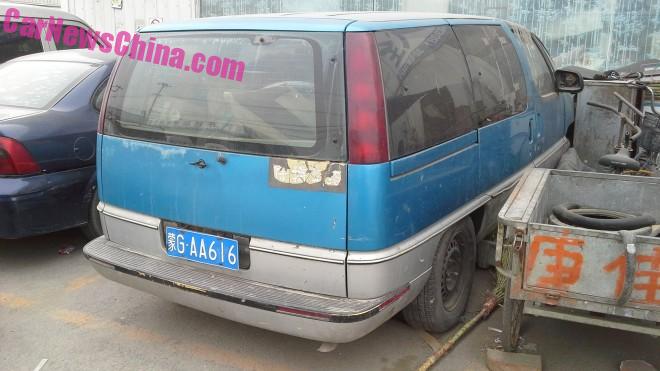 An dark blue Opel Vectra B on the left. Tricycle, paddle powered!, on the right.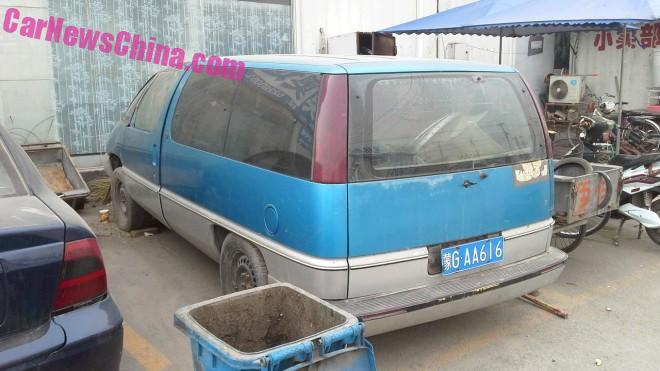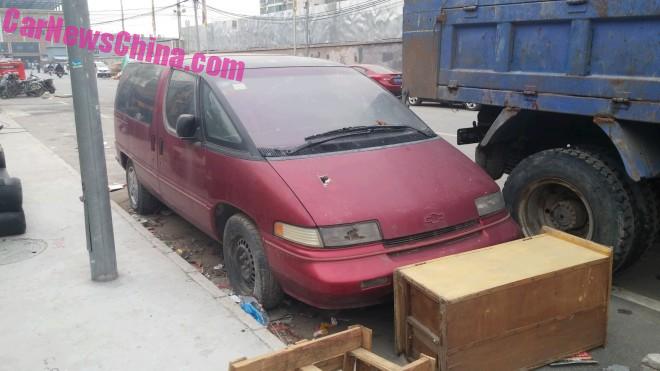 The red one has a hole in its bonnet.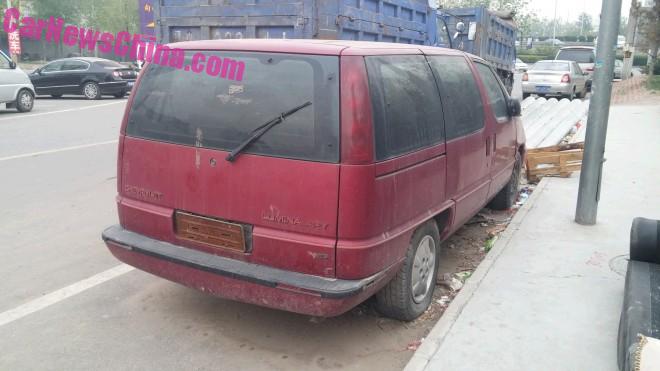 Still got one wheel cover at the back. A sad end for three very cool minivans, thanks again Navigator 84!
As ever, be sure to like my Facebook page to receive regular updates on other rare and interesting cars I see in China, I just choose the best ones to write big articles about and post on this site, there are many more that I haven't the time to write such long articles about.