A very Swedish Volvo S90 sedan, Spotted in China near a car repair shop in north Beijing. The old S was in a very good shape, with paint as smooth as silk, chrome shiny as the sun, completely original and without any obvious damage or rust.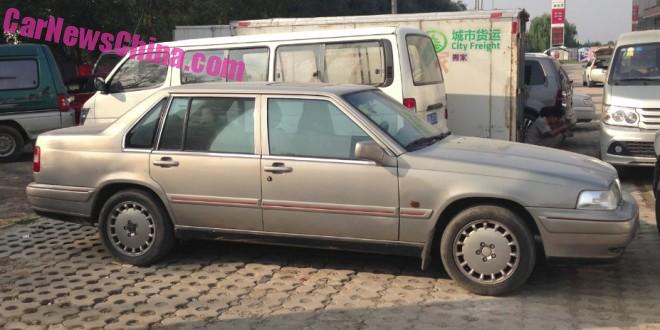 Note red line over the bumpers and doors. This was likely some kind of special edition for a certain market. If you know more, please let me know in the comments.
The Volvo S90 sedan (new one here) is a very rare Volvo because it was only manufactured for one year and eight months, from late 1996 to mid 1998. The Volvo S90 was the successor of the Volvo 960 sedan, whereas the even rarer Volvo V90 (new one coming)succeeded the 960 estate.
The S90 was available with two six-cylinder petrol engines: a 2.5 with 170hp and 230nm and a 3.0 with 204hp and 267nm, both mated to a 5-speed manual or a 4-speed automatic. This gray car in Beijing has the 3.0 under the bonnet.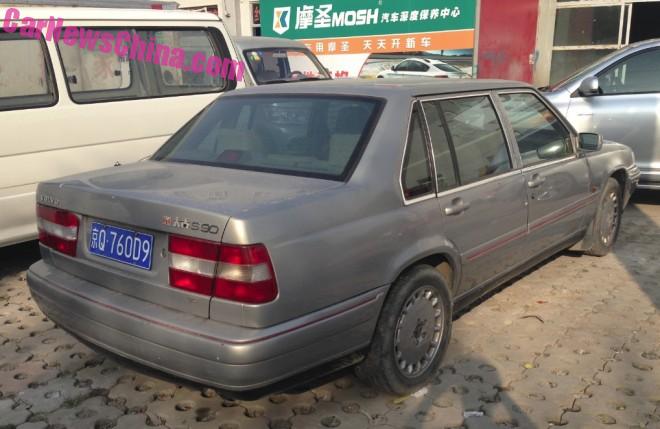 Elegant and simple design classic and timeless today. Red-white taillights typical for S90.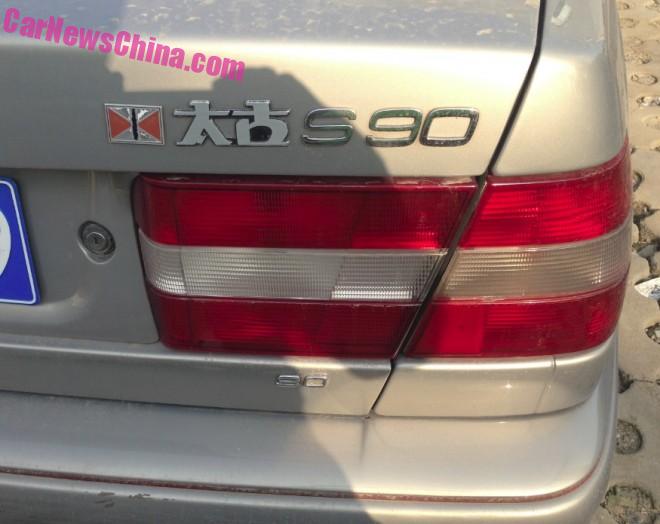 Now this badge is interesting. The Volvo S90 was not officially sold in China, with a Volvo dealer network and such, but there was trade.
Most Volvo's in China were shipped in by a the Swire Group, a British trade and real estate conglomerate with extensive operations in China. The characters 太古, Taigu, are the Chinese name of Swire. All cars originally imported by Swire got the Taigu badge on the back.
Taigu started selling Volvo cars in China in 1993, and became an officially authorized by Volvo in 1997. Taigu then opened several Volvo dealers in the big Chinese cities, but in 2001 the Swedish killed the operation because they believed Swire expanded too slowly. After that Volvo took the distribution and sales into their own hands.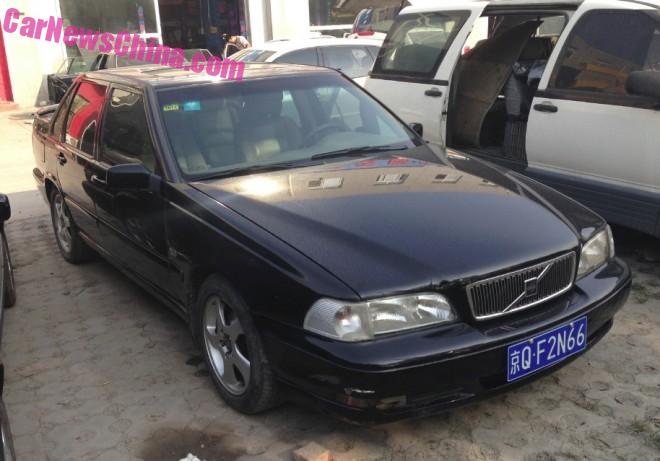 Very near to the S90 stood this near-perfect Volvo S70, painted in black with sporty five-spoke alloys. It had some damage on the front bumper, but nothing serious. The Volvo S70 was manufactured from 1997 until 2000, it was essentially a facelifted Volvo 850 with a new name.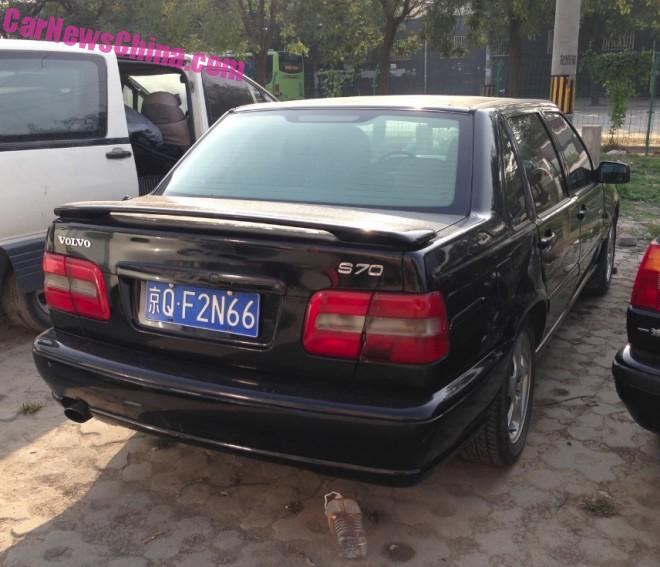 The S70 was special because it was only available with five-cylinder engines, petrol or diesel. No engine badge on this Beijing car but the sporty stuff indicates it was a top-spec model, likely a 2.0T or a 2.4T.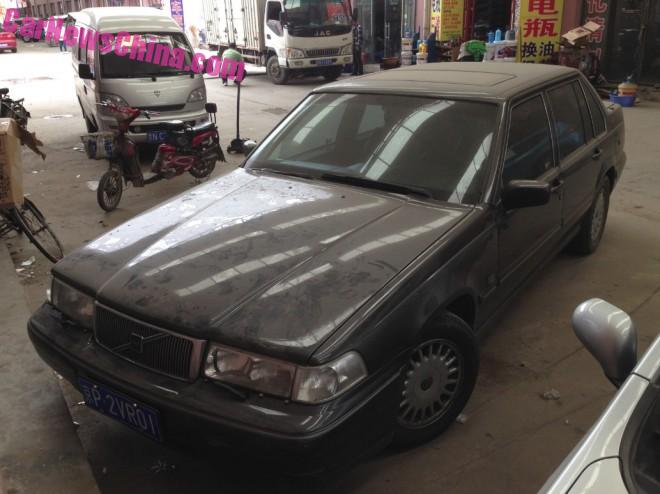 And the Volvo fun wasn't over yet because that same day I went to another repair shop nearby where I found another Volvo S90. It was extremely dirty and dusty but otherwise in a good shape. Painted in dark gray with darkened windows. This too was a 3.0 V6.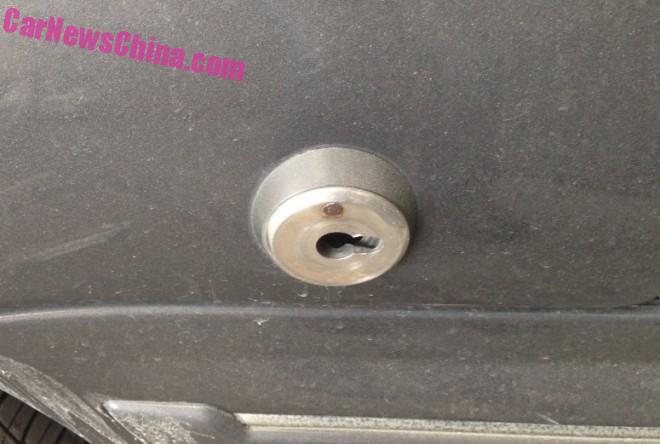 Flag-pole holder on the right-front fender indicates this Volvo used to be a diplomatic car. Diplomatic cars could, and still can, be imported by embassies directly, without the need for a trader like Taigu.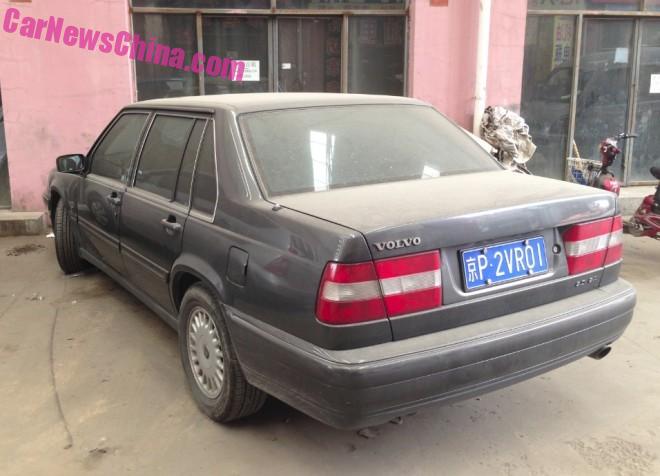 I stood there for while, dreaming about owning it, and thinking about cleaning it up then and there! But I didn't. I shop my shots and took off. More old Volvo's soon.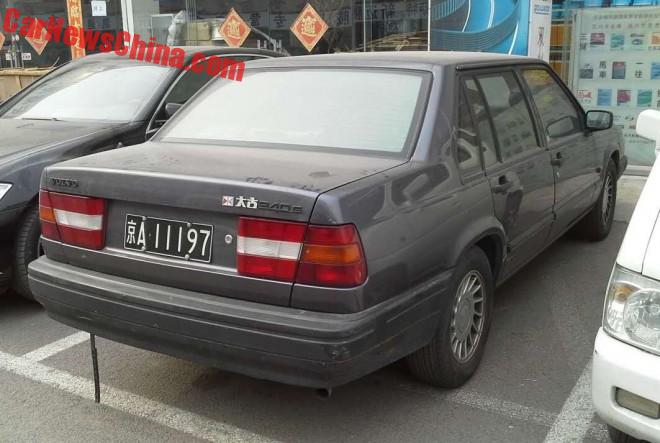 [update] Very soon! Here we have a Taigu-badged Volvo 940S on black license plates, Spotted in China on a second hand car market in Beijing by Serial Spotter Navigator 84, thank you for the pictures!