An incredible smooth and speedy 1995 E36 BMW M3 coupe, seen in the Autobots Pitstop in east Beijing. The good Bimmer is painted in white and fitted with extra wide fenders, a black grille, black badges, dark headlight visors, darkened windows, and ultra racy matte gray alloys.
But it is under the bonnet what is best…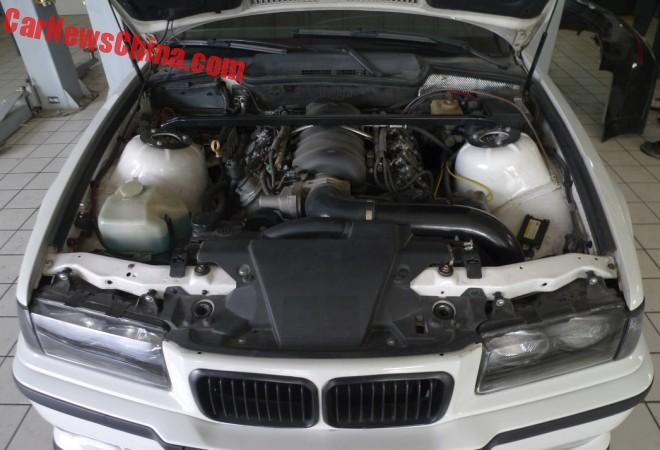 There it is! A mighty American Chevrolet LS3 6.2 liter V8 engine from a 2010 Camaro SS! Output is 400hp and 570nm, a big jump over the original U.S.-spec 3.0 six-in-line which had only 240hp and 280nm. Transmission is a GM TR6060 six-speed manual.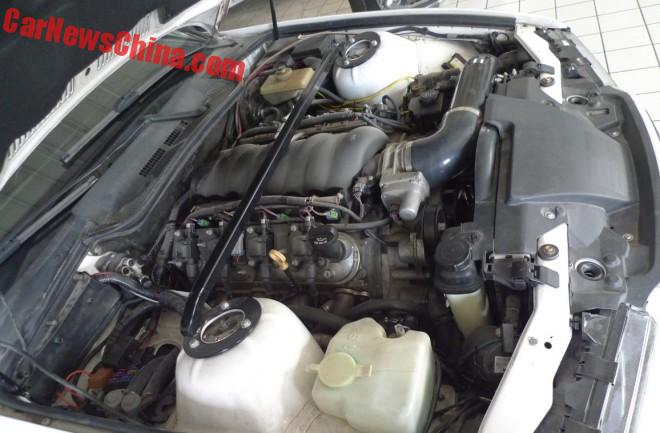 The engine swap was done in 2013 (YouTube) in the Unites States by a company called ClassicDaily, which seems to hate BMW engines, as it has done loads of BMW-to-LS swaps.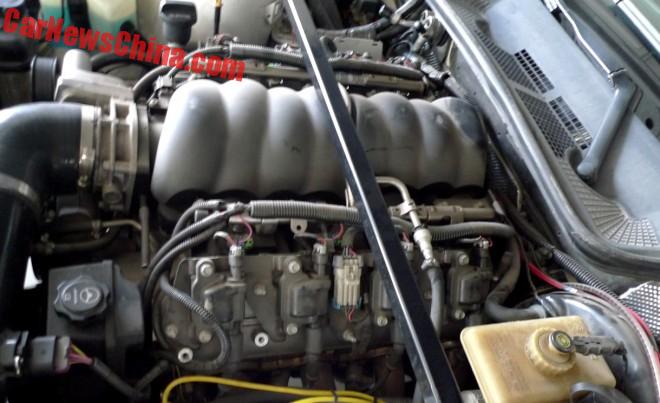 The LS3 is only slightly bigger and just a bit more heavy than the BMW engine, so fitting it in was not as difficult as it might seem, according to the swapper. More photos of the process can be seen here (in Chinese).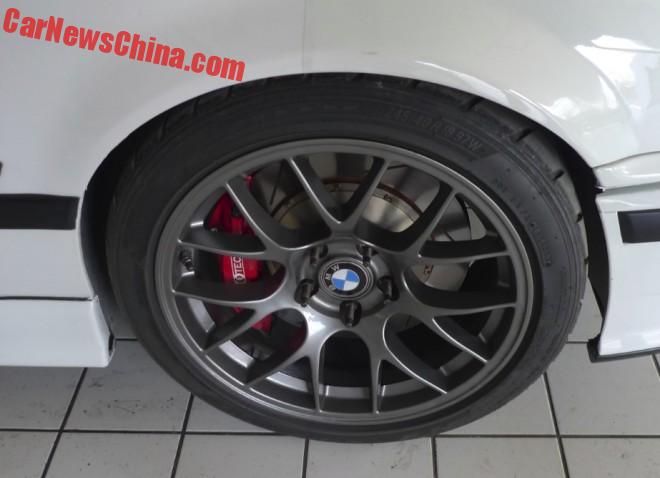 Originally, the vehicle was fitted with the brake system from a C6 Chevrolet Z06 and the brakes (discs and calipers) from a Porsche 996 911. After the car arrived in China the brake system and brakes were replaced by a completely new system by StopTech. The suspension was upgraded TC Kline Racing double adjustable Coilovers.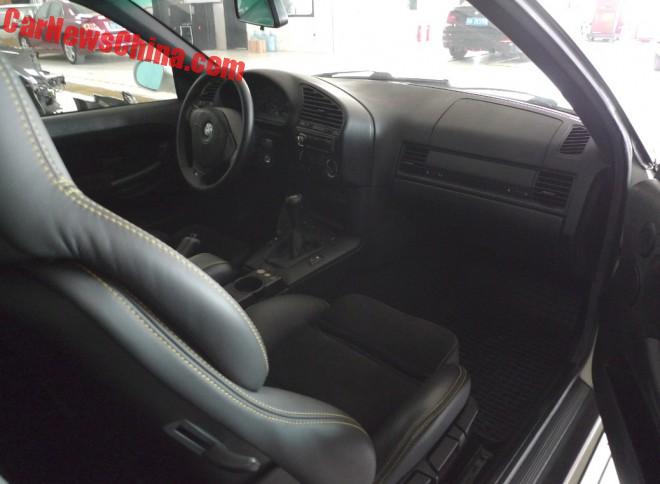 The interior is original bar for the radio, and in absolute perfect shape.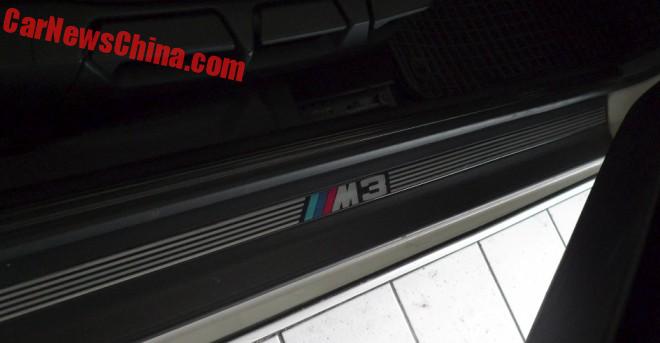 Door sills.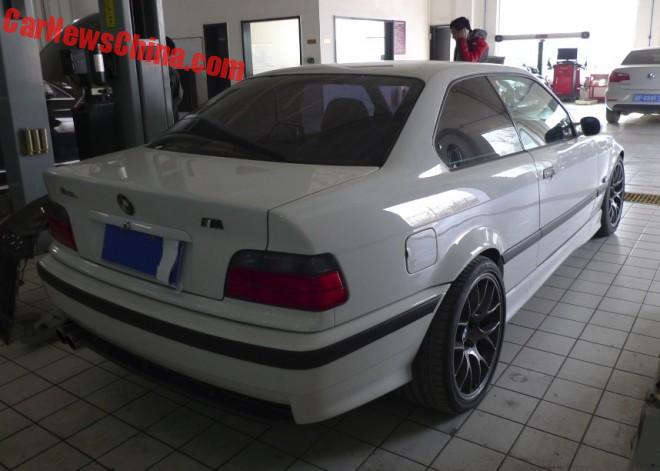 Happily, the BMW hasn't been modified to much on the outside, making for a very dangerous sleeper. Only the front and rear fenders were widened to hold the wider tires, and the rear bumper is custom made. The exhaust pipes are as modest as on the original, with two tiny shiny tips on the left.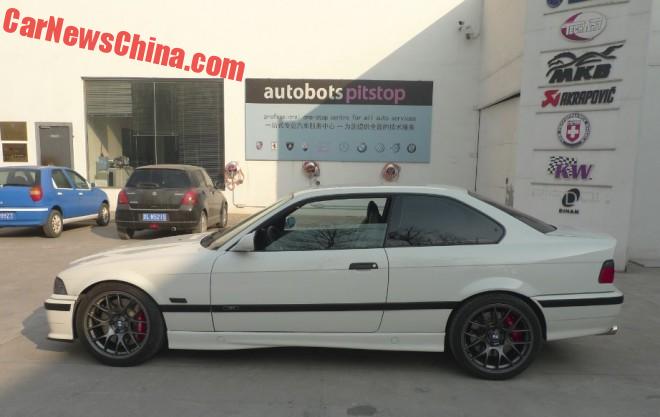 Getting some sunshine.
Autobots Pitstop is a busy company. They maintain and repair speedy cars, they tune and modify these speedy cars into even faster vehicles, they prepare race cars for track work, and they are an official dealer for, among others, Akropovic, ABT, AC Schnitzer, Brabus, and Heico. And at this very moment they are also working on my Beijing-Jeep Cherokee supercar. More on that in a later post!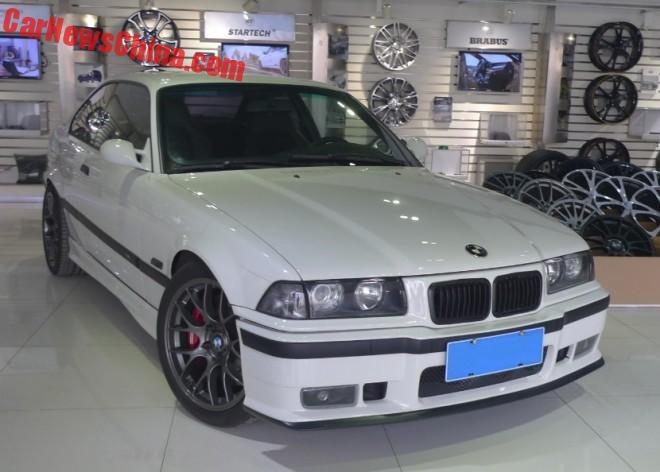 The German-American beauty in the shop.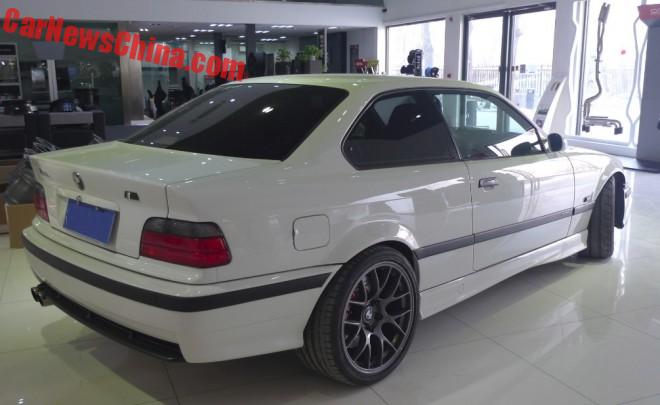 She just received some maintenance and should be back roaring on the roads of the capital very soon…