The Venucia T90 has been unveiled on the Beijing Auto Show, looking sleek and somewhat sporty in white. The T90 is the new flagship of the Venucia brand, it will be launched on the Chinese car market in Q3, sporting a coupe-SUV shape in BMW X6 style with mean looking headlights and a big grille. It is the production version of the 2015 Venucia Vow concept.
Venucia is a sub-brand of the Dongfeng-Nissan joint venture, making various cars based on Nissan platforms. Up until recently these platforms were oldies that Nissan didn't want anymore. But this trend changed with the Venucia Chenfeng E30 which is based on the Nissan Leaf, and this new Venucia T90 will be based on the current generation (2015) Nissan Murano.
Power will come from a 186hp 2.5 and a 245hp 2.5 hybrid, which will make the T90 the strongest Venucia on sale, by far. Both engines will be mated to a CVT 'box.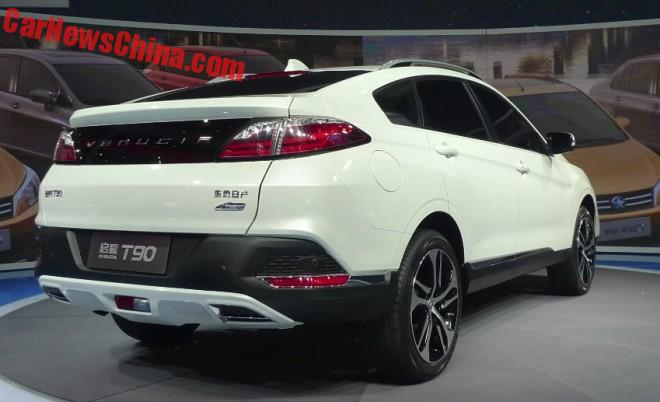 A very tall behind, large lights, and a white lower bumper section with the pipe tips almost under the bumper. Sadly Venucia did not reveal the interior and I couldn't get close enough to fire some photos through the window. But that might have been useless anyway. The windows were so black it was impossible to say there was an interior at all in that car. Roof rails are usable, but you got to tie up your stuff tight, otherwise it will roll down that sloping roof and onto the road.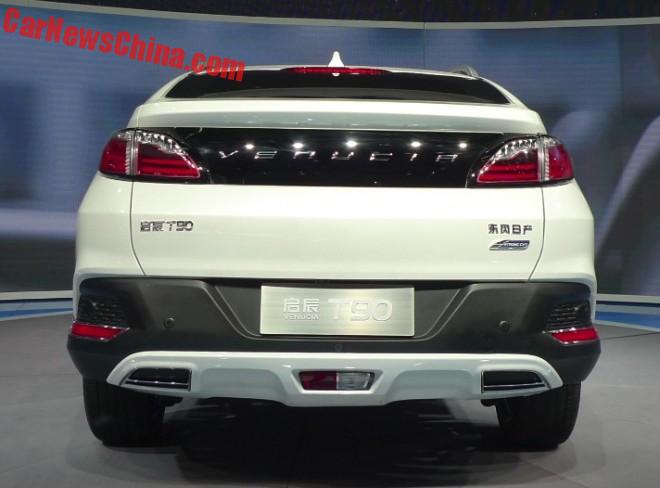 Venucia T90 badge on the left. Dongfeng Nissan badge on the right.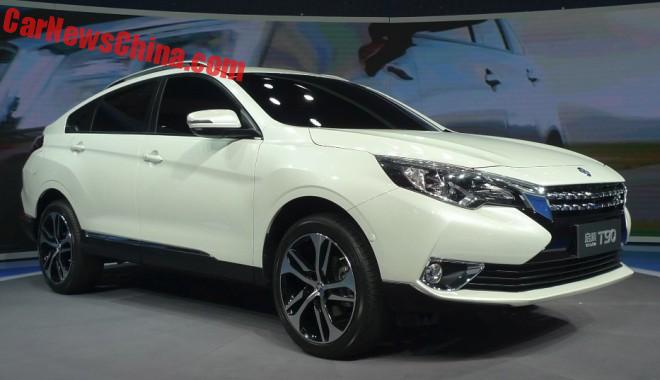 Huge bumper parts under the far-too large lights are the weakest point of the design. Otherwise; very interesting.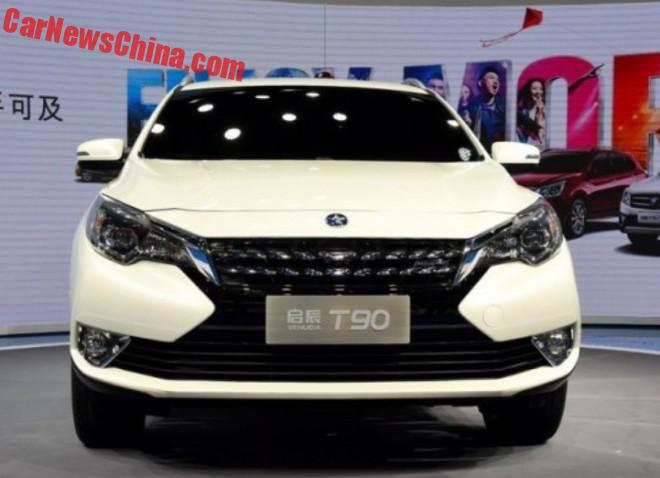 A rather modest badge on the bonnet. Long time ago we saw such a small one. Most Chinese automakers fit mega badges.