On October 22, SAIC Volkswagen officially launched its new electric model ID.3 on the Chinese market. SAIC is an old legacy automaker from Shanghai. Because foreign automakers couldn't enter the Chinese market alone, VW established a joint venture, and SAIC will manufacture ID.3 in their factories.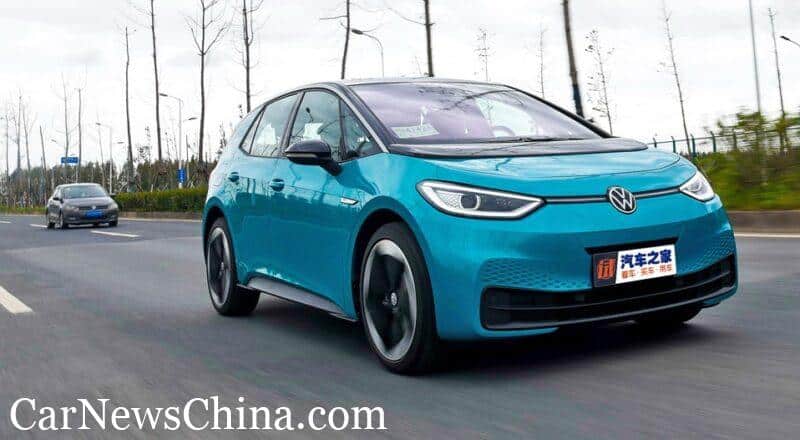 VW also has a joint venture with another Chinese legacy automaker, FAW. VW manufactured the previous EV model ID.4 with both JVs (SAIC-made was called ID.4 X and FAW-made ID.4 BUZZ), so both Chinese manufactures got their share from ID.4 sales. For ID.3, VW chose only SAIC. I guess FAW was not happy. FAW ID.4 BUZZ sales were consistently lower than SAIC ID.4 X.
However, even SAIC is not happy with their German partner. Last year VW purchased a 75% share in a joint venture with JAC (another state-owned maker famous for manufacturing all of Nio's cars), so VW could secure more control and profit from their JAC-VW sales. Analysts are unsure about VW's future in China as their cars lack connectivity and are not stuffed with technology as much as Chinese buyers demand. Still, I like how confident they move on the market, where they can't afford any mistake.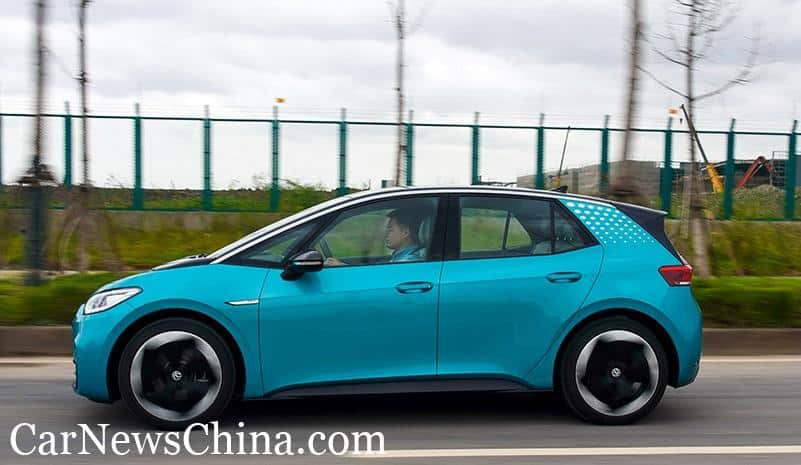 The new SAIC-VW ID.3 is positioned as a compact pure electric vehicle. A total of 3 models have been launched this time, with a subsidized price range of 159,888 to 173,888 yuan (25,000 – 27,400 USD).
Therefore, ID.3 is the third ID series model of SAIC-VW in China after ID.4X and ID.6X, and it also has the lowest price of the three ID. series.
In terms of appearance, the interior of the ID.3 in the Chinese market is precisely the same as the ID.3 sold in Europe; the new car uses a short front and rear suspension design, which makes the front windshield more inclined.
The Chinese ID.3 has a length, width, and height of 4261/1778/1568mm, and a wheelbase of 2765mm, the same as the European version.
In terms of power, ID.3 will be equipped with a rear-mounted electric motor with a maximum power of 170Ps (125kW) and a peak torque of 310N·m. The capacity of the ternary lithium-ion battery pack is 57.3kWh, and the NEDC comprehensive cruising range is 430km.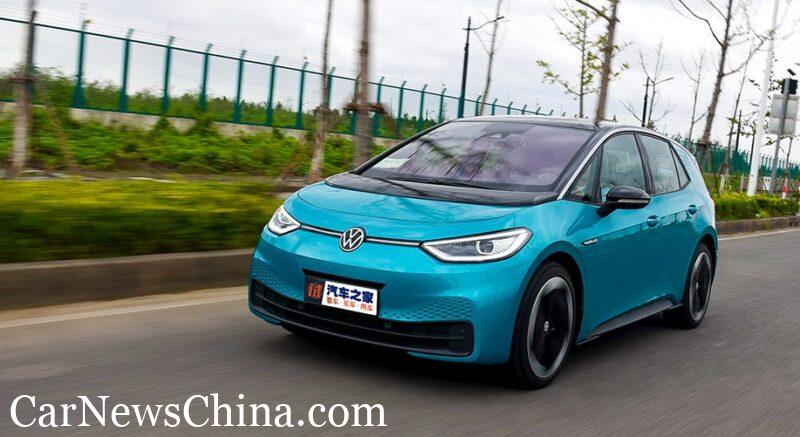 ID.3 provides two driving gears, D gear, and B gear. The B gear is the more common mandatory kinetic energy recovery gear in electric vehicles. As long as the driver's right foot leaves the accelerator pedal, the kinetic energy recovery system will immediately intervene in the drag. Drag the car to slow down, and the driving method is similar to the "single-pedal mode" used on other brands of electric vehicles.
The kinetic energy recovery system does not stop the vehicle in the B mode, so you still need to step on the brake when you stop and wait for the red light.
With the launch of ID.3 in the Chinese market this time, can it continue the good sales performance of this electric car in the European market?
It may not be easy.
According to The Economic Observer's report, ID.3 is a pure electric vehicle with "explosive" potential. ID.3 has beaten the Tesla Model 3 in the European market for several months in 2020 and has repeatedly become the best-selling electric car in Europe every month.
According to this report, Volkswagen recently announced that ID.3 had delivered about 70,000 vehicles worldwide, and the total number of orders has exceeded 144,000.
But in the Chinese market, ID.3 may face a more intense competitive environment than the European market. From the perspective of the 150,000 yuan (23,000 USD) EV market ID. 3's competitors will include competition from models such as Aion S and Xpeng P5.
Regarding cruising range, ID.3 has no advantage compared with the same level of Chinese independent brands and other competing models. The Aion S, priced at 159,600 yuan (25,000USD), has a cruising range of 602 kilometers, and the Xpeng P5, priced at 172,900 yuan (27,000USD), cruising range of 550 kilometers. (As mentioned earlier, ID.3 NEDC comprehensive cruising range is 430km)
However, ID.3 still has its advantages, such as unique controllability (ID.3 is currently the only pure electric vehicle with a rear-drive system in the same class), lower price, and so on.
The Economic Observer stated the monthly sales of the ID.4X and ID.6X models frequently fluctuated, which did not meet the expectations of SAIC Volkswagen.
The sales of ID.4X from March to September were 625 vehicles, 922 vehicles, 847 vehicles, 1100 vehicles, 2651 vehicles, 1686 vehicles, and 3189 vehicles; the sales of ID.6 X from June to September were respectively 1147 vehicles, 762 vehicles, 974 vehicles, 1579 vehicles.
This year, SAIC Volkswagen has set a sales target of 50,000 to 60,000 for the ID.4X, which means that this model's average monthly sales volume must reach at least 5,000. The cumulative sales of ID.4X from March to September are about 11,000, which is nearly 40,000 different from this year's sales target.
As for whether ID.3, which is listed on the Chinese market this time, can become SAIC Volkswagen's next hope, whether ID.3 can truly enable SAIC Volkswagen's electric vehicle business segment to enter the era of mass production, become an essential product supporting the development of this company?
CNC will keep an eye on that!