Today we bring you the first chapter of our new series, Automaker Profile. Every Sunday, we will bring you in-depth insight into the history of one Chinese automaker together with its full profile. I can already reveal you can look forward to stories of how giants as JAC, BYD, Dongfeng, or newcomers as Xpeng, Wuling were born. Today it will be about one of the JAC's customers – a fresh star EV startup, Nio.
For a long time, government committees and civil servants led the Chinese car industry. There was no room for Henry Fords or Enzo Ferraris, engineers or entrepreneurs excited about their own vision or inventions. That started to change around the turn of the century when the first privately owned car companies appeared. With the rise of New Energy Vehicle manufacturers, visionary entrepreneurs finally managed to take the spotlight. The most visible of the current generation is NIO's founder Li Bin.
Cows and computers
Li Bin (or William Li in English) comes from a modest background. He was born in 1974 as the son of a dairy farmer in Anhui province. In his younger years, Li helped out on the farm and got his first taste of business when he assisted his grandfather with selling some cows. Fortunately, his parents saved money for his education, so Li attended Peking University in Beijing. He graduated with a bachelor's degree in sociology and minored in both law and computer science.
After graduating, Li started his own internet enterprise in 1996. It was the precursor to Bitauto Holdings, an enterprise he founded in 2000. Bitauto is a platform for automotive services, marketing, and advertising, and, of course, a well-known car news portal. The company grew exponentially, making Li a wealthy man when he sold it in 2013. He stayed on the board for five more years.
Li invested in several startups like Mobike, a bicycle sharing service, and other green initiatives with the money gained from the sale. More importantly, he started to think about his own new venture. In November 2014, he incorporated NextEV Inc. in the Cayman Islands, an overseas holding company for his high-end electric car company to be founded in China. He called it Shanghai Weilai Automobile, where Weilai translates as "blue sky coming".
Li convinced an impressive group of Chinese tech moguls to invest in NextEV. Among them, Ma Huateng from Tencent, Lei Jun from Xiaomi, and Li Xiang from Chehejia would later create LI Auto. Tencent was the biggest of the earlier investors. Not much later, Baidu joined in as well.
High-speed development
The emergence of NextEV went largely unnoticed anywhere outside of China, but not for long. NextEV gained global prominence when it became the title sponsor for the Team China Racing Formula E team in de inaugural 2014/2015 season. Lead driver Nelson Piquet Jr. clinched the championship title for NextEV TCR. NextEV bought the team in 2016, developed its own powertrain, and set up its own operations in the United Kingdom. The first season, however, remains the most successful one. The team has been a midfield runner at best since.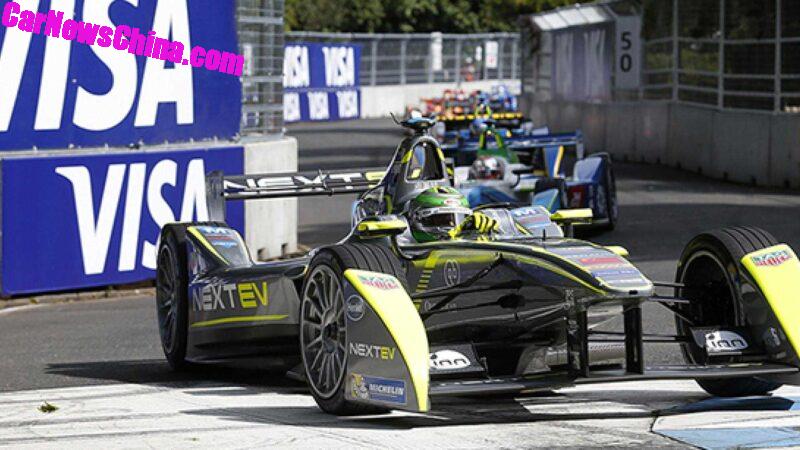 The race team also participated in the development of NextEV's first road car. The car was a spectacular piece of kit, based on a carbon fiber Lola sportscar monocoque, fitted with four electric motors for a total of 1000 kW power, torque vectoring, and exchangeable batteries. The car, called EP9, was revealed in London in November 2016 and set the production car lap record at Germany's Nurburgring not much later. At the unveiling event, NextEV also disclosed its commercial name: NIO. Subsequently, the NextEV name was dropped and replaced by NIO, and that included renaming several companies.
NIO developed at great speed. In 2015 NIO established subsidiaries in Germany (for car design) and the United States (for the development of autonomous systems and software), and it created XPT. That parallel company acts as a technology supplier to NIO by making electric motors, battery packs, and all kinds of auxiliary systems (like charging solutions and home storage). In May of 2016, NIO signed a deal with state-owned car manufacturer JAC to produce its road cars, thus circumventing the need to apply for its own production license.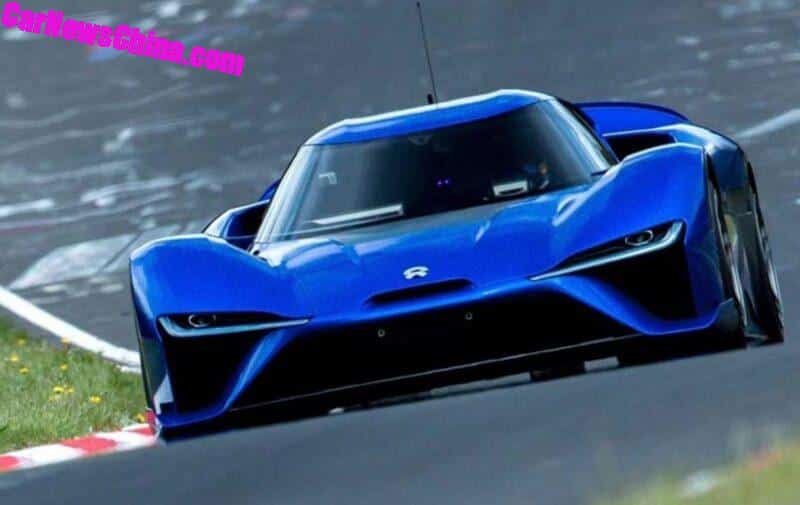 With all the basics in place, NIO's next step was to reveal itself to the public. In November 2017, it opened its first NIO House in Shanghai (more on that later), followed by its first production car's unveiling the next month. It also opened the order books. NIO built the entire infrastructure in less than three years to become a manufacturer and showed an almost production-ready car.
The ES8
On display in London was a large SUV over five meters long. The ES8, as it was called, was loaded with state-of-the-art technologies, propelling NIO firmly into the premium segment. The entire body structure, developed in conjunction with Tata Technologies, was made of lightweight aluminum and featured a skateboard design, like Tesla. The suspension consisted of double wishbones in front and multilink rear, riding on air suspension. The ES8 could be ordered either as 6 or 7-seater.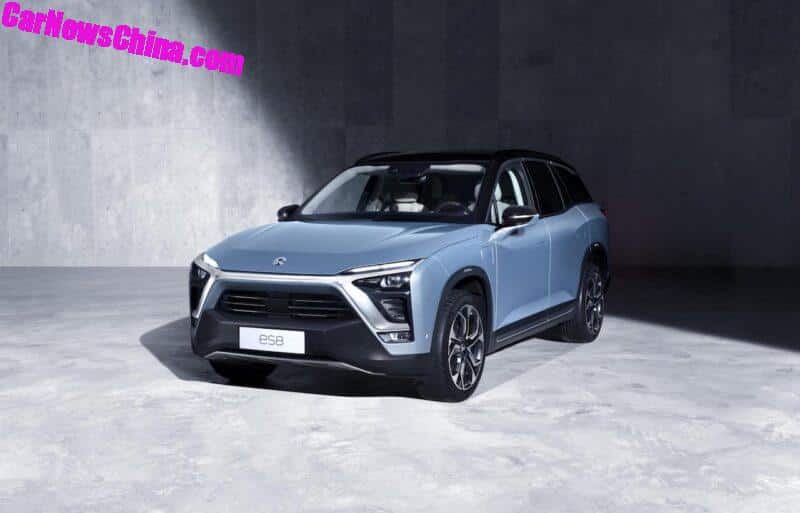 An induction motor powered the front axle, a permanent magnet motor the rear for a total power of 480 kW. Needless to say, ES8 is a fast car. The battery pack on the floor was supplied by CATL and consisted of prismatic cells for a total capacity of 70 kWh. As with all NIO's ever built, the battery pack was swappable.
The interior followed the trend set by Tesla, with large touch screens dominating the dashboard. On top of it sits NIO's own addition, the driver assistant called Nomi, which looks like a friendly emoticon. Nomi is also the access point for NIO Pilot, the level 2 autonomous driving system.
So far, so good, and deliveries start in the summer of 2018, followed by favorable reviews in several Chinese car magazines. The sweet honeymoon doesn't last, however. An all too familiar problem also hits NIO: fire. In late 2018 several ES8's burst into flames for no apparent reason. NIO's investigation ultimately leads to a faulty plug jacket that can cause a short circuit, and in early 2019 all cars the company has produced need to be recalled for repairs. The events are highly publicized and dent NIO's unblemished image.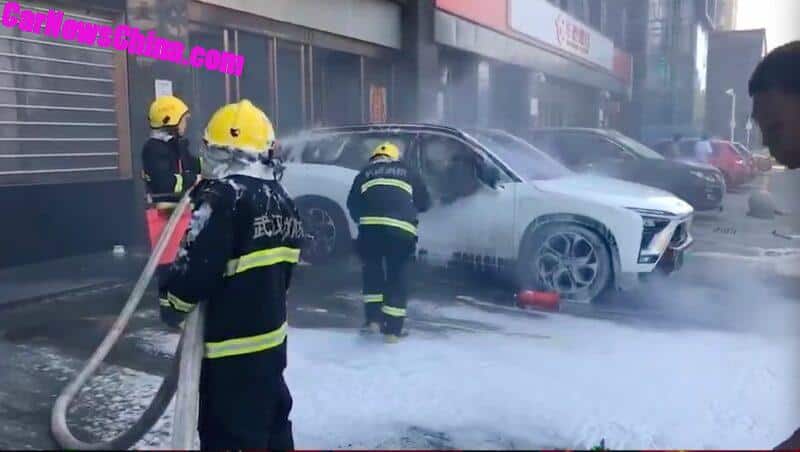 Corporate affairs
From the start, NIO is set up as a Variable Interest Enterprise (VIE). The VIE is a complicated corporate structure designed to get around China's restrictions on foreign investment for some industries. It relies on contractual agreements between the operating company in China and a holding company in Hong Kong, owned by an overseas entity, in NIO's case NIO Inc. in the Cayman Islands. There is no direct shareholding relationship between the overseas holding company and the domestic operating company. It's a reasonably well-known structure since Alibaba used it to go public on the New York Stock Exchange.
NIO's setup as VIE has, of course, the same objective. For a starting company in a cash-intensive business, there can never be enough investors to drive the company forward. In September 2018, Li Bin was in New York to ring the famous bell, and NIO collects over a billion dollars from its public offering.
By then, NIO had already entered into two joint ventures with state-owned car manufacturers in China. The first joint venture with Changan is set up to develop components and services relating to electric cars. The second joint venture with Guangzhou Automobile (GAC) is more ambitious. It is set up to combine GAC's production capabilities, and NIO's technology advances for a mainstream brand of electric cars.
The bottom of the treasure chest
Halfway through 2019, NIO started delivering its second model, the ES6. It was a much more conventional car than the ES8. A mid-size 5-seat SUV with a regular steel body, but still with air suspension and only available as a dual-motor 4WD model. The ES6 also debuted CATL's low-cobalt batteries ("NCM8111"), putting them on par with Tesla in the efficiency game. The ES6 moved NIO into a much more affordable segment, necessary to increase volume.
However, the car's launch came when NIO's fairy tale story seemed to be ending. The company had burned through enormous amounts of money to get it off the ground, and now cash started to run thin. At the same time, the Chinese government implemented a serious reduction in consumer benefits and subsidies on electric cars, causing the market to freefall. While NIO was still recovering from the negative publicity surrounding the ES8-recall and tried to push the ES6 into higher volumes, in Wuhan, a yet-unknown virus started to make people seriously ill.
All trouble seemed to come at once for NIO. It's hard to imagine now, but in early 2020 the company balanced on the brink of bankruptcy. While still spending lots of money, the Covid-pandemic and the drop off of the New Energy market had brought the cash injections into the sector to a screeching halt. Something had to happen and soon. Li Bin went on a desperate search for money. The media speculated on several stories.
Finally, the company was saved by the local government of Hefei, a prefecture-level city in Anhui province. Through several investment funds, the government injected over ten billion yuan into NIO. In return, it received a significant shareholding in NIO China, and the company promised to move its headquarters from Shanghai to Hefei. In this case, the government saved an independent company, but what happened next is what's really astounding.
Blue skies are here again
2020 will go down in history as a dramatic year for obvious reasons, but one of the more bewildering stories of the year is Tesla's stock price. Tesla's stock had been heavily speculated on for quite a while, both long and short. In 2020 however, the stock surged to unprecedented levels; at one point to the level, Tesla's market value alone was higher than the next 20 global carmakers combined.
At the same time, China's NEV market found a new equilibrium and then went into overdrive again for two reasons: Tesla started producing cars in its Shanghai factory, and Wuling introduced its incredibly cheap Hongguang Mini EV. Both cars dominated the sales charts all year. In the second half of the year, China's economy revived with the pandemic mostly under control.
In the wake of these developments, NIO quickly returned to health. Sales quickly rose to record numbers, and like Tesla, the stock value exploded. By the end of the year, NIO's market value exceeded SAIC's, the large conglomerate that sells a hundred times as many cars as NIO does. NIO weathered the storm and came out stronger. I cannot say the same for several others. Fellow startups like Bordrin and Byton collapsed or remained in dire straits. Even formerly very successful companies like Zotye and Brilliance faced bankruptcy.
The newfound success allowed NIO to buy back shares from Hefei's investment funds. In 2020 NIO was forced to give up 25% of its Chinese operations, but it already owns 90% again at the time of writing. At the same time, it started revamping its business relations. NIO withdrew mostly from its joint ventures with Changan (which had produced nothing at all) and GAC (which introduced the Hycan brand with moderate success), retaining only a very small shareholding. Instead, it set up a new joint venture with manufacturing partner JAC for a new production facility in Hefei and invested in Wuhan's new battery factory.
The social degree
As said, Li Bin graduated from university with a degree in sociology. Part of that knowledge is undoubtedly used in the brand's marketing because NIO takes a significantly different approach than mass-market brands. The brand does not have regular dealerships, and many of the commercial activities take place online.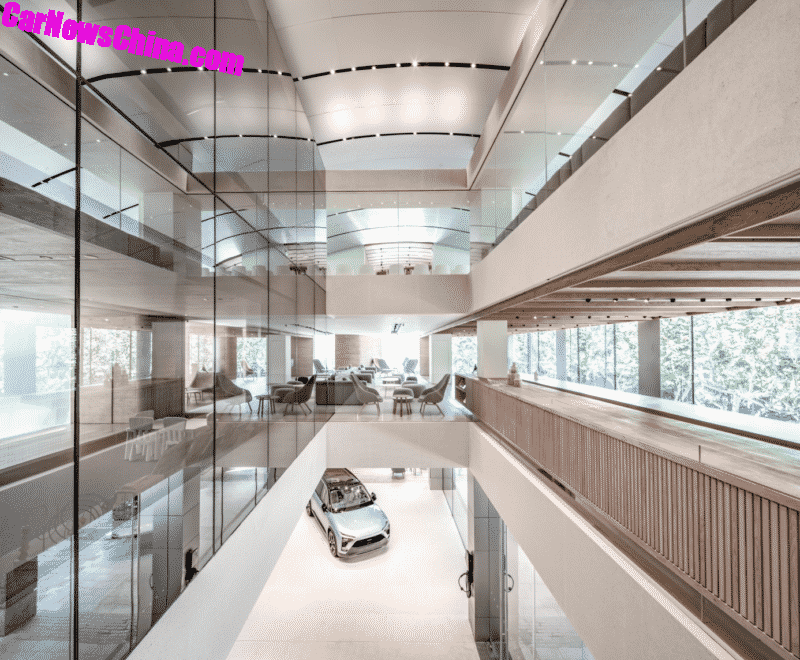 During the dark months where the brand faced collapse, it became clear that a powerful community supports NIO. The brand has launched a social media app, where owners stay in touch with each other, talk about their cars, purchase merchandise or enjoy all kinds of benefits associated with the brand. There's no question that the strategy works. Whenever Li Bin makes an appearance at an auto show, he is greeted by his fans and NIO owners as a full-blown rock star.
The same can be said about NIO's other marketing innovation, the NIO House. Although some cars may be on display, this is not a regular dealership but a clubhouse for NIO owners. NIO Houses have working spaces, a library, child care services, the ubiquitous hip coffee bar, and other facilities usually not associated with a car brand. The best recommendation about the NIO House comes from an NIO owner I read in an article. He said something like: "I get more business leads from a single visit to the NIO House than from a month of advertising on Weibo."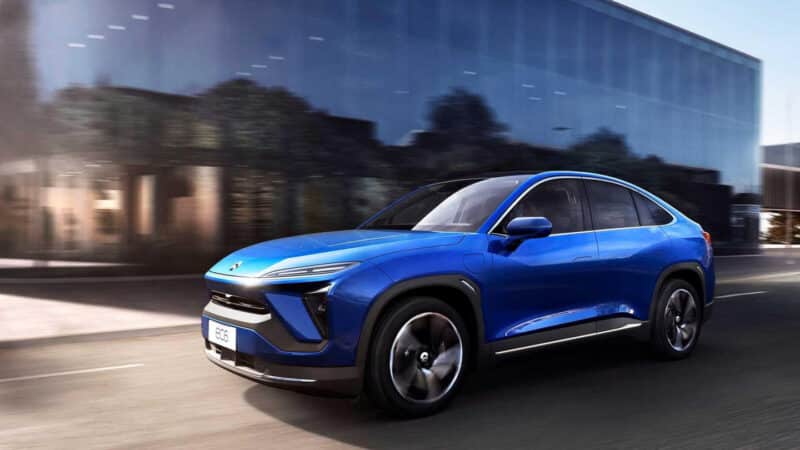 NIO's charging solutions follow the same user-centric approach. Of course, the cars allow fast charging, but NIO also supplies home charging solutions, valet charging, and its trademark battery-swapping option. I guess it must not be easy to run out of charge when you own an NIO.
Centre stage
NIO launched its third car in the summer of 2020. The EC6 is a sportier crossover version of the ES6 with mostly the same underpinnings. It is the last of the first-generation cars. Waiting in the wings is the ET7, NIO's new large sedan that should become the brand's signature car. NIO showed a preliminary version at its NIO day in January of 2021 and announced a long list of innovations, including an advanced self-driving package and semi-solid state batteries.

Together with Xpeng and LI Auto, the Chinese press has dubbed the startups the "three new forces" of car manufacturing. The nickname emphasizes the distinction between these companies and China's car industry giants. Li Bin took center stage for the presentation of the ET7 in a way Steve Jobs or Elon Musk did that before him, and he surely didn't look like the typical government official. The remarkable turnaround of his company gave him every right to face the future full of confidence.
That's all for Nio today. As this series is a new concept at CNC, let us know how you like it and, if yes, which automaker's history you would be interested in next!
Next chapter: