Li Auto has shown an interior image of their flagship full-size SUV called L9. The interior of this car looks very modern, minimalistic, and inventive. L9 got rid of the traditional instrument panel. Instead, there is a HUD. It is a coincidence that Li Auto suddenly released official images of their flagship's interior just when Nio got all the attention because of its ET7 test drives. Fight for attention is on. Li Auto also revealed the price range – L9 would cost 70k – 80k USD based on trim level.
Li Auto L9 Interior Images
The central console of the Li Auto L9 has got a large combined screen for the infotainment and the passenger. Li Auto said that the diameter of these touch screens is 15.7 inches. Both screens have 3K picture resolution. We have already mentioned that there is no traditional instrument panel. Instead, there is a huge HUD, which comes as standard. According to Li Auto, the Head-Up Display is safer than an instrument panel.
If we enlarge the first image, we can see some details of the L9. The first one is range. L9 can run up to 200 km in fully electric mode and overcome 1000 km with the range-extender. There also will be two wireless charging pads for the mobile phone. However, on the steering wheel, there is one more screen. Some Chinese media say this screen will only be used to control the voice control system and that it won't have any touch-screen capabilities.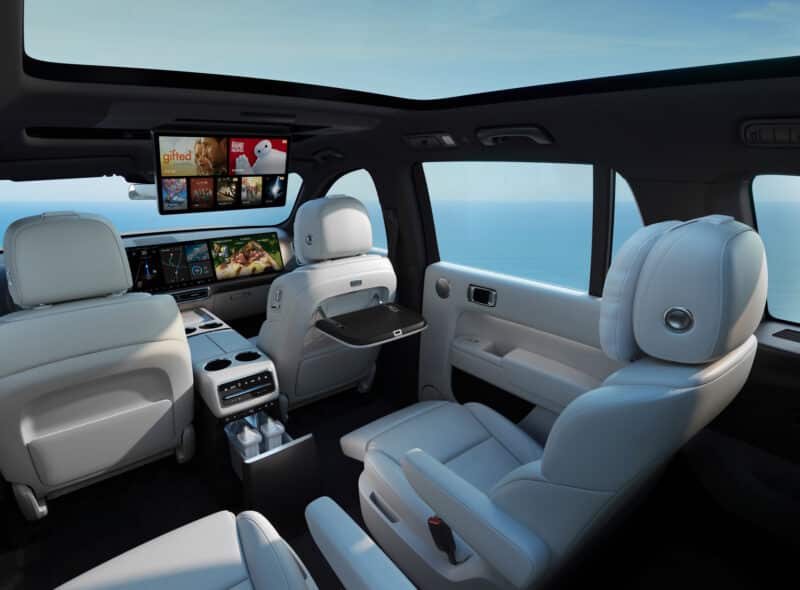 There is one more screen for the second row of seats. Its diameter also reaches 15.7 inches, and it has a 3K resolution. Speaking of the second row, there are two captain seats. They look comfy with a soft headrest and a footrest. Passengers in the second row have a touch screen for the climate control, two cup holders, and the cooler/heater for drinks. One more exciting feature of the Li Auto L9's interior is a large sunroof.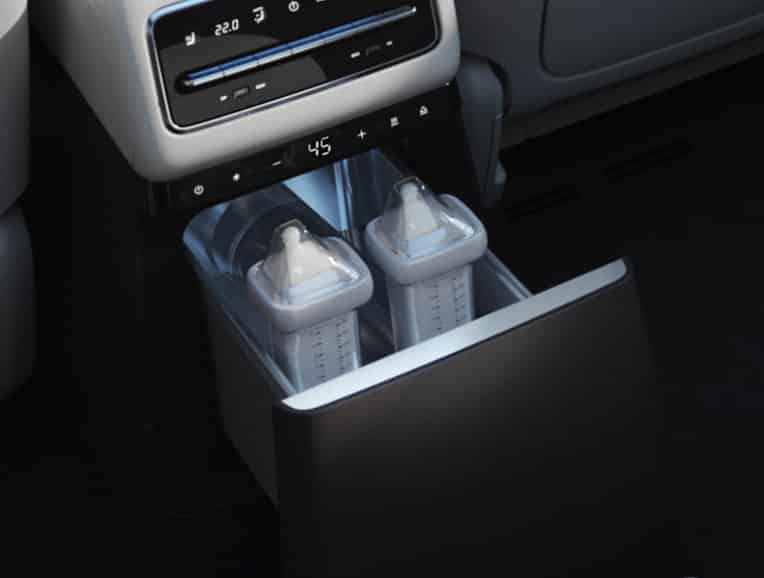 What Do We Know About the L9?
Not only Li Auto has posted interior images. They also shared some interesting information about it. At first, they told us about the interaction with this SUV. There are six microphones and 3 DTof sensors. This system is self-learning. Li Auto has stated that even children from kindergarten and older people above 80 years old can easily interact with the Li Auto L9.
The L9 also has a powerful computing system. Even the base version of this SUV has got two Qualcomm Snapdragon 8155 SoCs. They can offer 24 GB of memory and 256 GB of high-speed storage. The car is also connected to 5G.
Li Auto also shared the price of their flagship SUV. It will cost around 450,000–500,000 RMB (71,230–79,140 USD). The size of this vehicle is 5200/1998/1800 mm, with a 3105 mm wheelbase. It will be available with 6 and 7 seat configurations. The company is developing a full-electric version. Li Auto will officially unveil the L9 at the Beijing Auto Show 2022.
Source: Li Auto Weibo, Xcar