The Mengshi M-Terrain off-road SUV from Dongfeng with up to 1,000 hp spied on roads in China. Its exterior is highly similar to the concept's car design. Spies were also lucky to get acquainted with its interior. Let's get to know the Mengshi M-Terrain better.
What is Mengshi?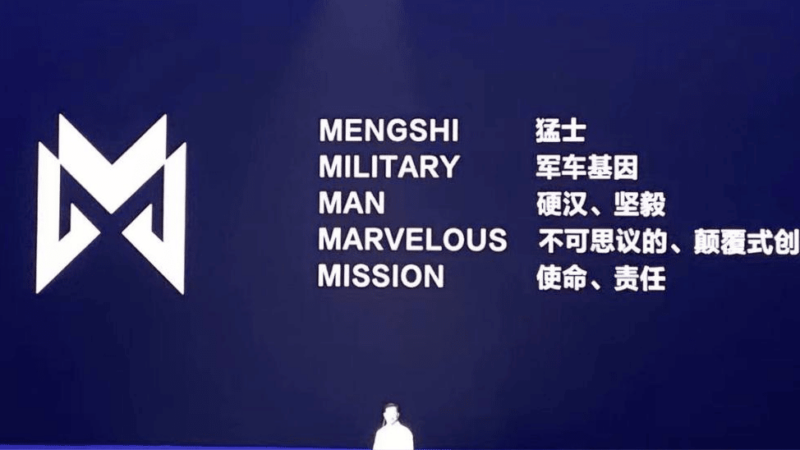 We will remind you that Mengshi (Warrior) is a new Chinese off-road brand launched by Dongfeng in August this year. We should also highlight that Dongfeng has a long-running petrol-powered series of military vehicles that is also called 'Warrior'.
During the launch event, they've unveiled two concept cars called M-Terrain (SUV) and M-Terrain S (pickup truck). The M-Terrain's production will start in 2023 in China. According to a local Chinese media report, it will have 80% restoration of the concept car. Recently, Dongfeng unveiled some official 'spy shots' of the M-Terrain SUV. And now spies managed to shoot this exciting SUV during road tests.
What Should You Know About M-Terrain?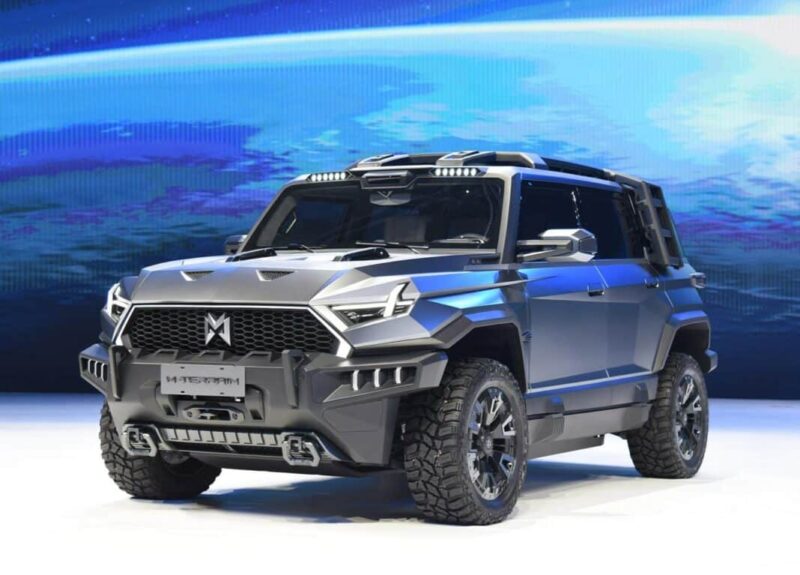 The M-Terrain is an all-electric off-road SUV that stands on a new MORA platform. It supports BEV and EREV (range-extender) systems. Moreover, the MORA platform adopts steer-by-wire technology with no physical connection between the steering wheel and the wheels of the car. The M-Terrain has an air suspension that can lift it up to 105 mm. Moreover, it has four electric motors with a total power output of 1,000 hp and three electronically controlled differential locks. With this impressive tech on board, it can speed up to 100 km/h in just 4.2 seconds.
Its dimensions aren't known yet, but its length is around 5.2 meters. The M-Terrain will have EV and EREV versions. The first one has a 140-kWh battery for 500 km of range. As for the second one (EREV), it adopts 65.88-kWh battery with 800 km with a range extender on.
Mengshi M-Terrain Spy Shots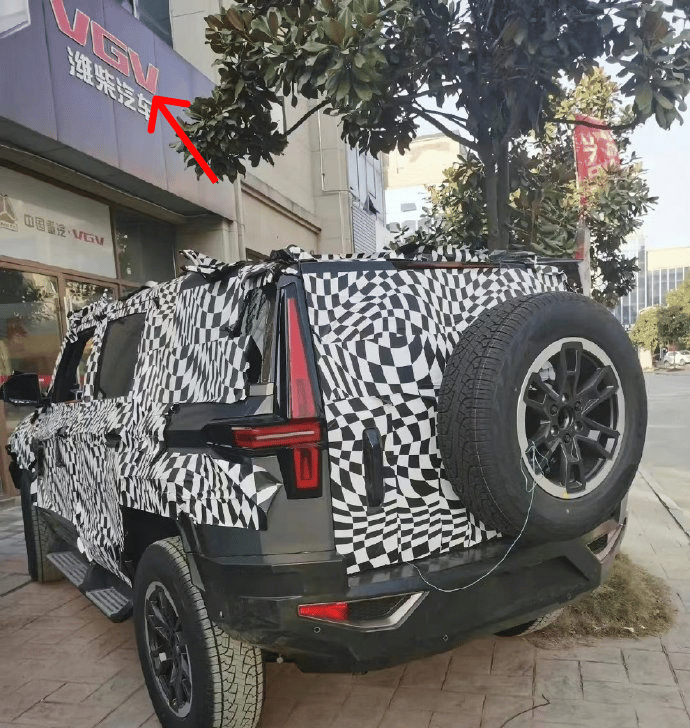 So we have finally got to the M-Terrain spy shots. First, we should mention one quirky coincidence. The M-Terrain was spied parked near the VGV center. VGV is a subsidiary of state-owned Sinotruck truck maker. It sells SUVs and pickup trucks. And now the M-Terrain has literally invaded their territory.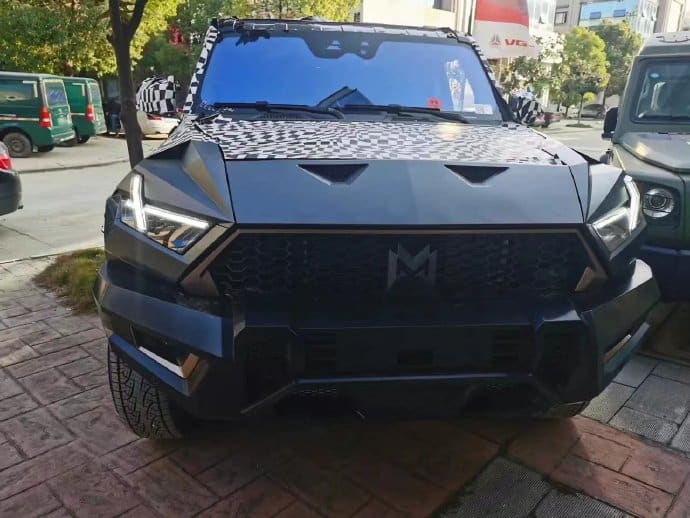 Now, let's take a look at these spy shots. Let's crack on with the front end of the M-Terrain. As we can see, its front design stays in line with the concept car. It has the same headlights, and a huge grille. But its front bumper is smaller than the concept car's one. Moreover, the testing version of the M-Terrain has got regular tires, but not concept's off-road ones.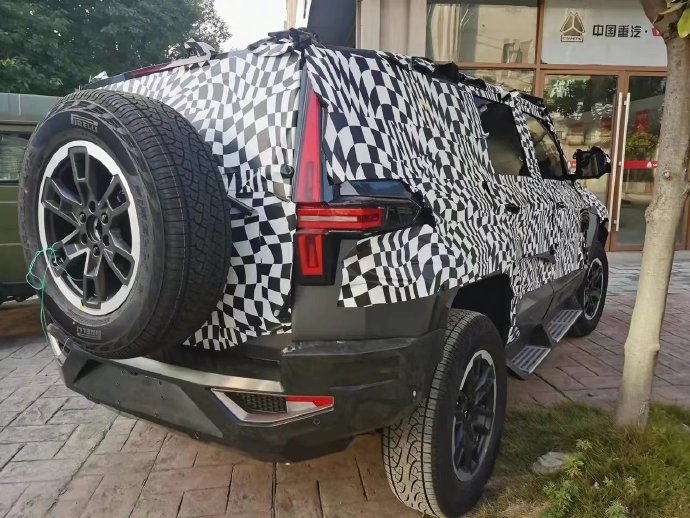 From the back, we can see changes again. Its rear bumper has a more modest design without those brawny tow hooks. And the test version of the M-Terrain has got a real spare wheel on the rear door. Speaking of the taillights, their shape hasn't changed at all.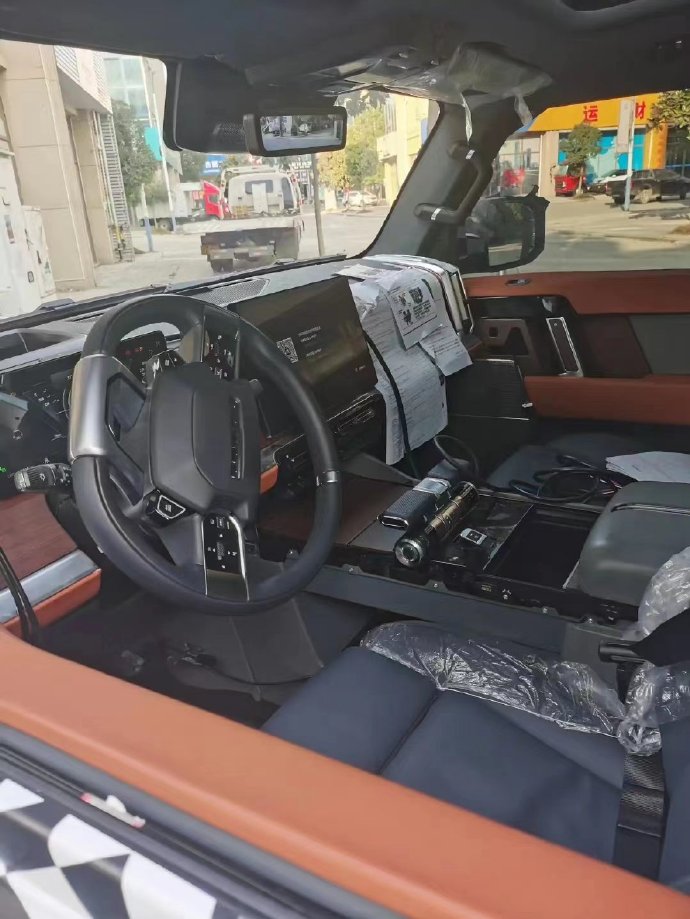 Now, let's get acquainted with the Mengshi M-Terrain interior. It is obviously unfinished, but we can highlight some of its features. First, we can see a D-shaped steering wheel, a digital instrument panel, and a huge floating screen. Behind the instrument panel, we can see the Head-up display. On the center tunnel of the M-Terrain, we can see a brawny gear selector. We can also mention that its rear-view mirror is actually a dashcam. It is pretty useful for the SUVs with a spare wheel mounted on the rear door.
More on the Mengshi M-Terrain as we get it!
Source: Weibo