Today, Dongfeng has officially launched a new off-road brand called Mengshi (Warrior). They have also unveiled two Mengshi concept cars called 'M-Terrain' and 'M-Terrain S'. These off-roaders stay on a new MORA platform and have up to 1,000 hp. They will hit the Chinese market in 2023. Let's get acquainted with the Mengshi beasts.
Briefly About Dongfeng Mengshi Brand
Our regular readers know that Mengshi (Warrior) is a long-running series of military vehicles. In 2021, Dongfeng launched the Warrior M50 civilian pickup truck with a 4.0-liter turbo-diesel engine and a price tag of 668,000 RMB (97,200 USD). Later, Dongfeng decided to launch an independent off-road brand codenamed 'M'. We have reported that the M letter here stays for the Chinese word 猛士 (Mengshi, Warrior). The new brand was said to comprise NEV high-end off-road vehicles. NEV is an acronym that stands for New-Energy Vehicles. This term is widely used in China. It comprises EVs, PHEVS and EREVs.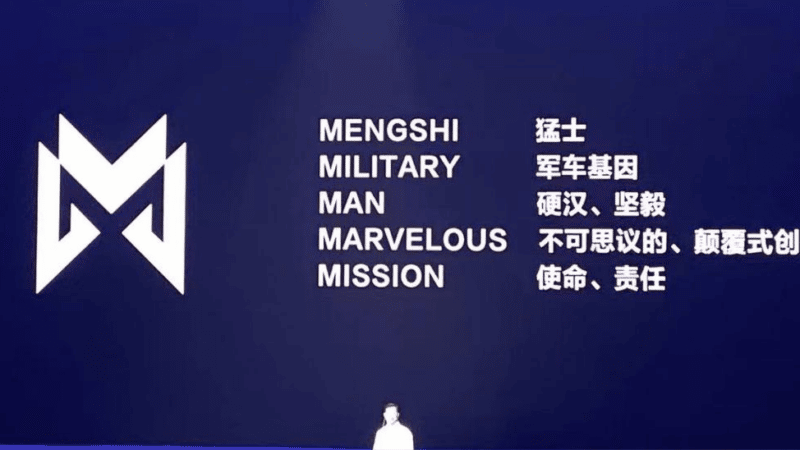 Today, Dongfeng held a presentation of their new brand. It appeared that we guessed right with its name. The new brand's name is Mengshi. There is a one strange thing with its name. During the official presentation, we saw that 'Mengshi' is also an international brand name since Dongfeng has written it in the English language as well. So, despite we previously called it 'Warrior', now we will stick to the 'Mengshi' name. Its logo looks like a bunch of 'M' letters. Each of them stays for a specific word. There we have 'Military', 'Man', 'Marvelous', 'Mission', and 'Mengshi'.
Dongfeng Mengshi Platform and Tech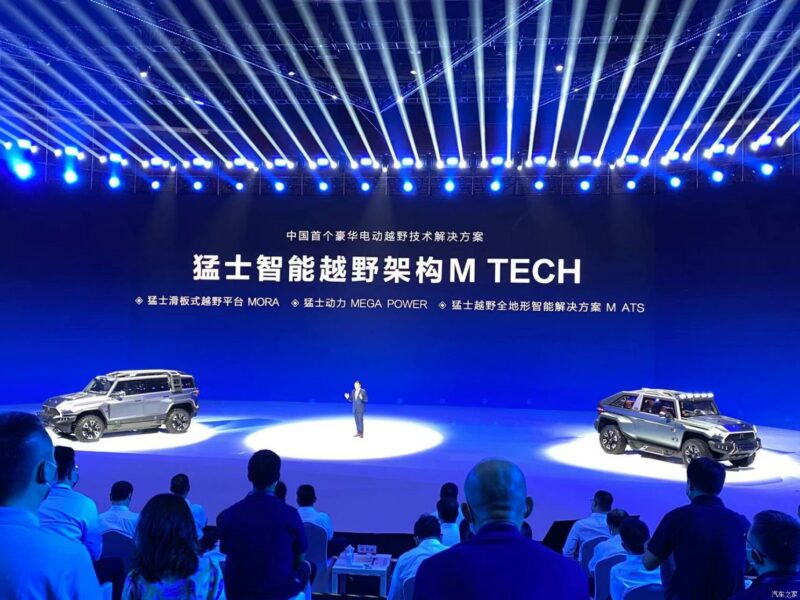 Before we crack on with exciting and cool Mengshi concepts, let's get to know their tech better. These cars stay on 'M Tech smart off-road architecture. It is a complex term that comprises 'MORA' platform, 'M ATS' smart off-roading system, and 'Mega Power' powertrain. This bunch of names looks messy, so we will try to sort it out.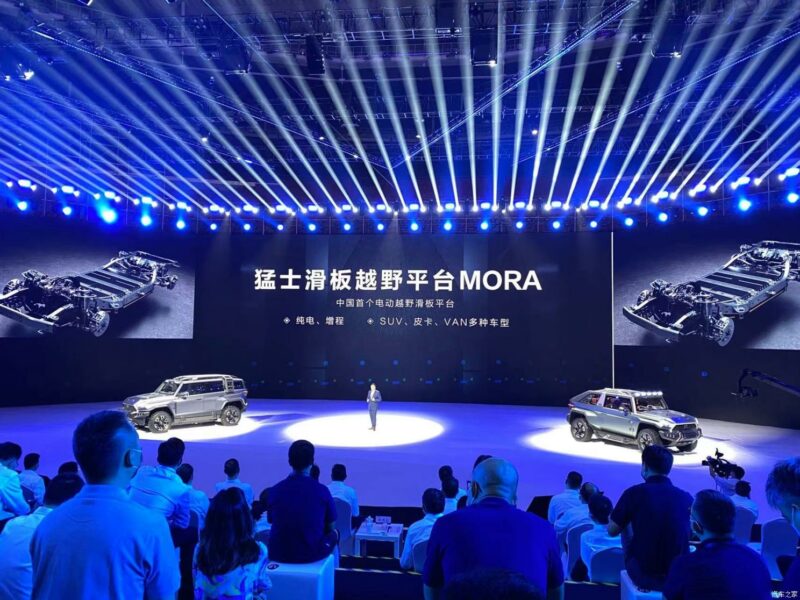 First, we will talk MORA platform. It's an NEV skateboard off-road platform. That type of platform has its own benefits. For example, a manufacturer can develop bodywork and chassis separately and quickly replace its elements. Worth mentioning that MORA platform supports various car body types like SUV, pickup truck, VAN, etc. Since MORA is an NEV platform, it also supports BEV and EREV (range-extender) systems. It also adopts steer-by-wire technology, when there is no physical connection between the steering wheel and the wheels of the car. With this tech on board, Mengshi cars' turning radius will be only 5.1 m. They will also adopt rear wheel steering and crab walk technologies.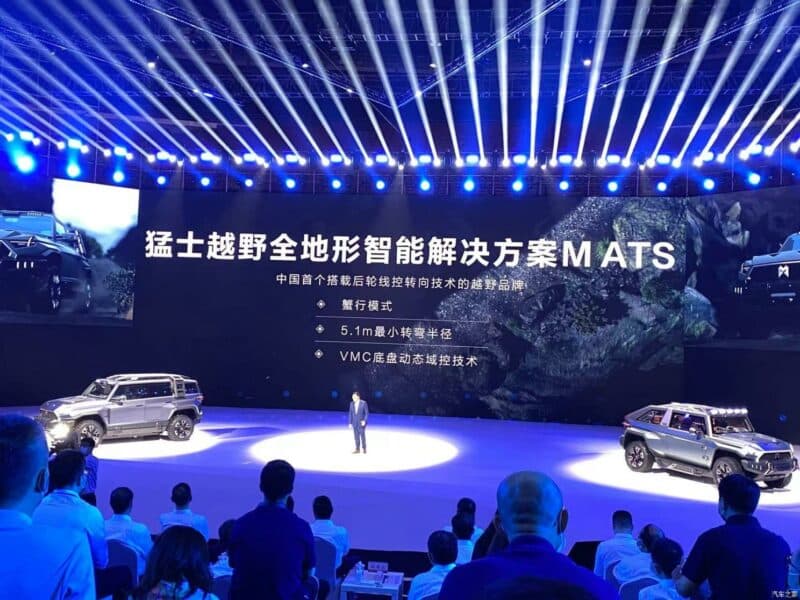 As for the M ATS intelligent off-road system, it comprises nine driving modes for different conditions. It also can adjust Mengshi vehicles' air suspension. You will be able to lift it up to 105 mm. The other M ATS feature is VMC chassis control. It controls front and rear steering, braking, suspension, power output, etc. Worth highlighting is that Mengshi cars will also have three electronically controlled differential locks. Two of them are placed on the front and rear axles, and the third one is central and it is virtual.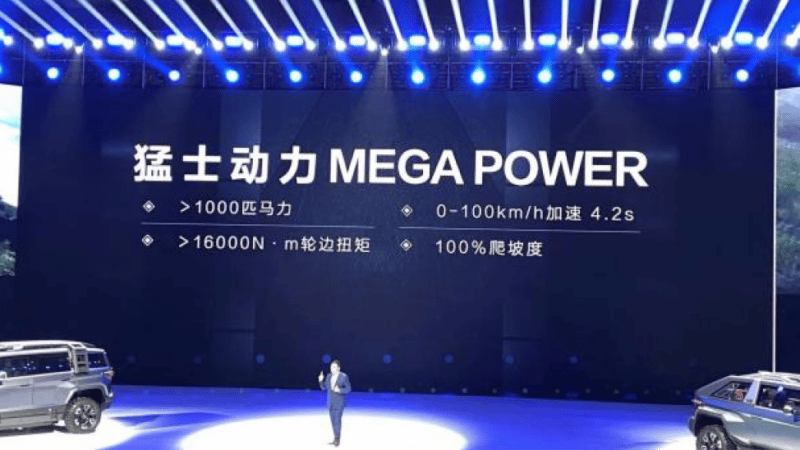 Now, let's speak about the Mega Power system. It comprises four electric motors with a total output of more than 1,000 horses. With them on board, Mengshi vehicles will speed up to 100 km/h in just 4.2 seconds.
Dongfeng Mengshi M-Terrain Vehicles

Finally, let's get to Mengshi vehicles. We have already seen one of them during road tests. Dongfeng showed us two concept cars with an appealing, aggressive, and cool design. They are called 'M-Terrain' (SUV) and 'M-Terrain S' (pickup truck).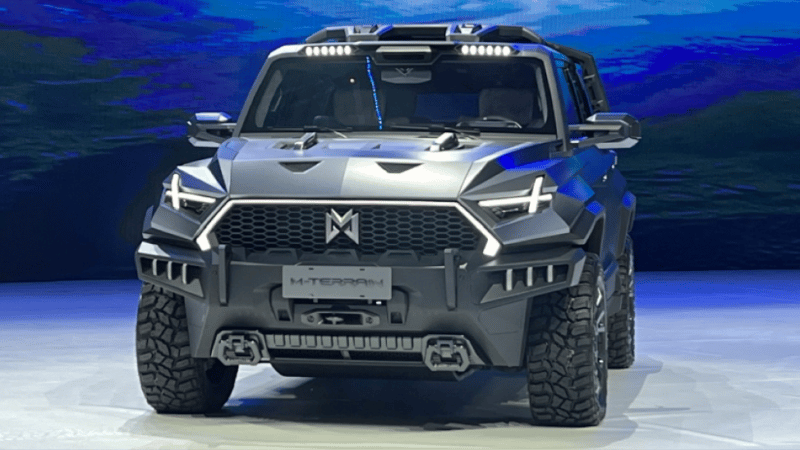 First, let's have a look at the more reasonable M-Terrain SUV. Its appearance is full of straight lines and sharp edges. The front end of the M-Terrain got small headlights, a huge bumper, a giant grille, and a big Mengshi logo. From the side, it has wide wheel arches, flush door handles, off-road wheels, and even a stair. The M-Terrain's taillights look like crosses. We can also highlight that it has a spare tire on the back door. We don't know the M-Terrain's exact dimensions. But its length should be around 5.2 meters.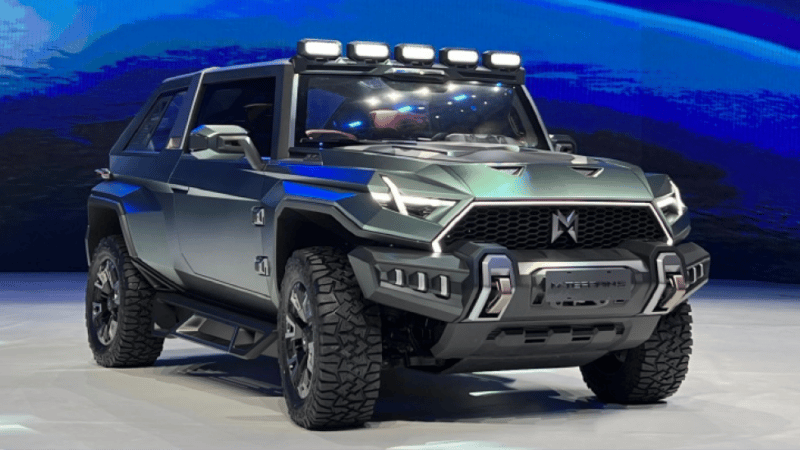 Now, let's switch to the mad M-Terrain S. At first glance, you may think that it is just a coupe-version of the M-Terrain SUV. But it is actually a pickup truck. It is obvious that its loading area is almost useless, but it looks cool. The M-Terrain S got only two doors. But we can notice that it has two rows of seats inside. And again: useless, but cool. Previously, we have covered the M-Terrain S's patent images.
Dongfeng Mengshi M-Terrain Specs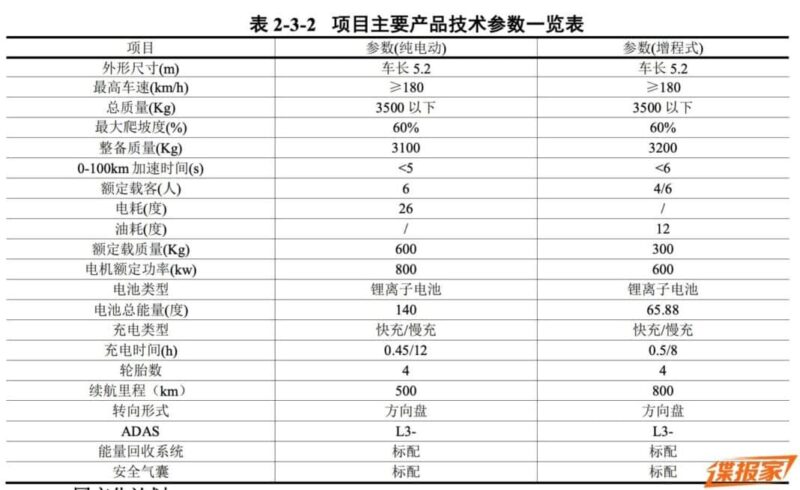 Dongfeng didn't detail specs for the M-Terrain series. But previously we have reported about companies leaked documents. According to them, this series will comprise EV and EREV versions. The first one features a power output of 800 kW (1,070 hp), a 140-kWh battery, and a 500-km range. Its zero-to-hundred acceleration will take less than 5 seconds. As for the EREV version, its peak power will reach 600 kW (816 hp). It will have a 65.88-kWh battery for 800 km of range (with a range extender on).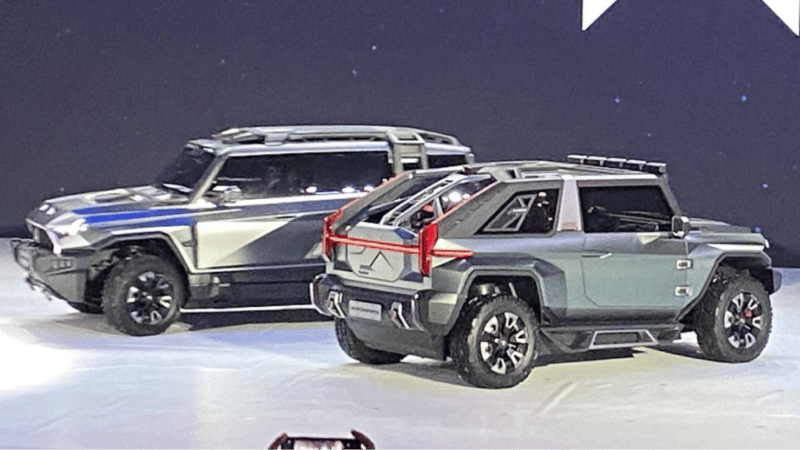 All in all, Mengshi M-Terrain vehicles are really exciting and cool. They will hit the Chinese market in 2023. Dongfeng expects to sell 4,000 of them every month in China. We will keep an eye on them, so stay tuned!
Source: Weibo, Autohome