JMC (Jianling Motors Corporation) launched a new pickup truck brand called Dadao (Avenue, 大道). Its first truck sits on a new platform and has a lot of high-end tech. Moreover, it has Ford's Ecoboost engine under the hood.

Before we will get to the Dadao brand, let's learn more about JMC. As mentioned, it is an abbreviation for the Jiangling Motors Corporation. It was launched in 1993 as a branch of the bigger Jiangling Motors Corporation Group (JMCG). Currently, JMCG runs partnerships with various manufacturers, including Isuzu, Ford and Changan. It is also responsible for the production of the Jenhoo NEV brand's first vehicle called EV48. Back to the JMC (without G), its model line comprises SUVs, vans and pickup trucks. And now, they decided to launch one more brand.
Basics about Dadao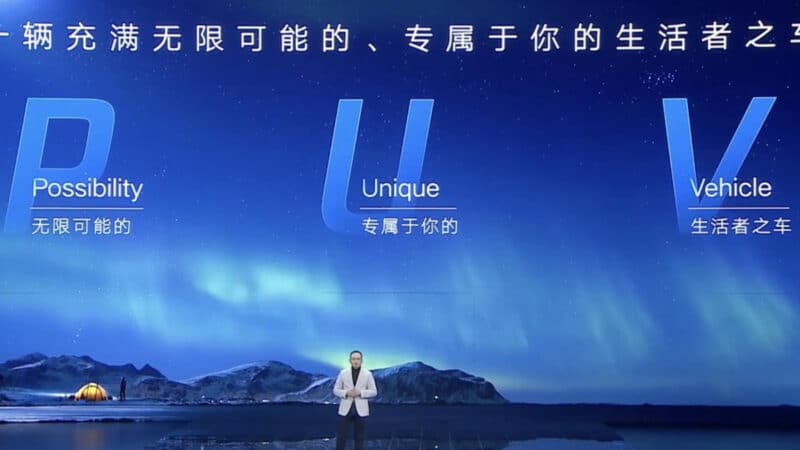 JMC positions the Dadao brand higher than its current model line. They have even tried to invent an independent category for it. They called it PUV that stand for Possibility Unique Vehicle. It sounds odd already, but JMC went even further. According to its representatives, this PUV thing shows that the Dadao trucks are no longer just utility vehicles. They are multifunctional. Moreover, they have decent performance, high-end features, and fit for daily drives.
Sounds great, but currently, most of pickup trucks aren't utility vehicles. They aimed at the relatively young audience who like to spend holidays in suburbs. Even in China, where pickup trucks were banned in cities for over 15 years (and still, in some cities), there are lots of pickup trucks like Great Wall Shanhai Poer (Shanhai Cannon), Radar RD6, Changan Lantazhe, etc. The thing is, only the JMC produced utility trucks only. So they lagged behind the industry. JMC didn't invent anything, but they have come up with an original name. Of course, it is just PR.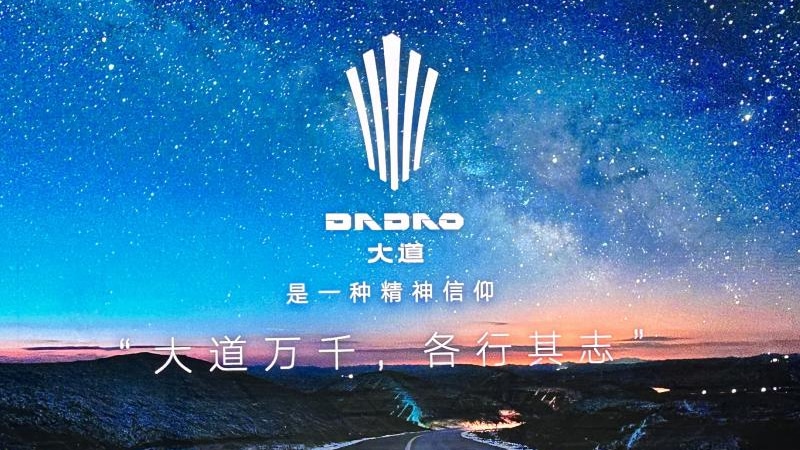 The Dadao brand has got a new logo that has five "avenues" (keep in mind the brand's name). It has appeared that each letter in Dadao name and each avenue in the logo represent specific brand's values. They include discover, active, diverse, acme and optimistic. All in all, the logo looks simple and nice.
Dadao trucks stand on the new platform, jointly developed by JMC and Ford. It supports vehicles with length of 4800 – 5700 mm and a wheelbase of 2700 – 3500 mm. Initially, Dadao will comprise only trucks, but its platform can also underpin SUVs. As for the powertrains, a new platform supports ICE models, EREVs (range extender), PHEVs, BEVs and FCEVs (hydrogen). Dadao has also presented its first truck, let's get to it.
Dadao pickup truck explained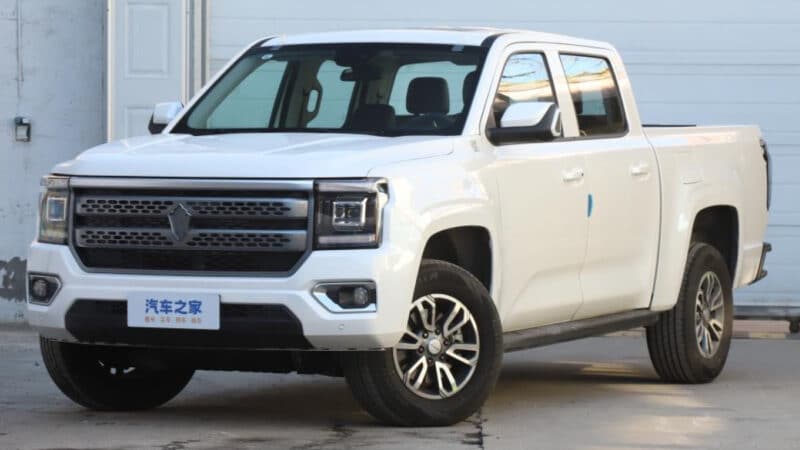 Let's start with the exterior design of the Dadao. It was clearly inspired by American pickup trucks such as Ford F-150. It has blocky shape with a high bonnet line, wide fenders, large headlights and a giant chrome-plated grille. The standard version of Dadao hasn't got any plastic trim in the lower part of the body, but the off-road version does. Even with a blocky exterior. The Dadao's drag coefficient is relatively low at 0.38 cd.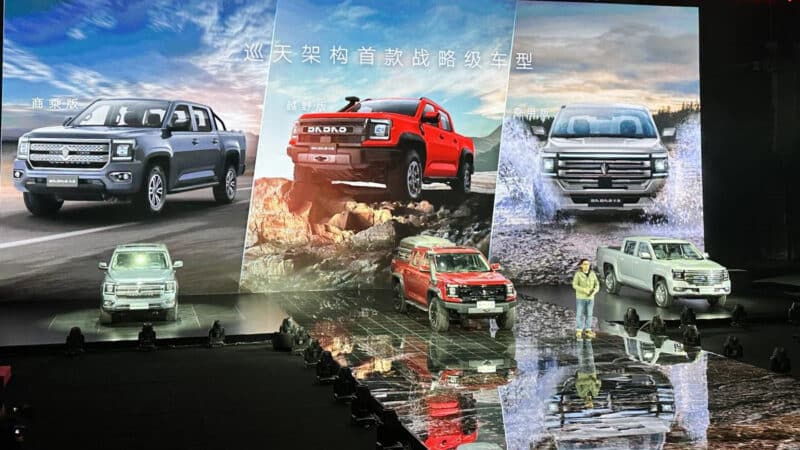 As we have mentioned, the Dadao truck it available in different versions. The first one is a commercial variant, the second is for the private customers, and the third is an off-road version. The Dadao truck's dimensions are 5450 (5685/5706)/1935/1872 mm with a wheelbase of 3270 (3470) mm. Its road clearance is 220 mm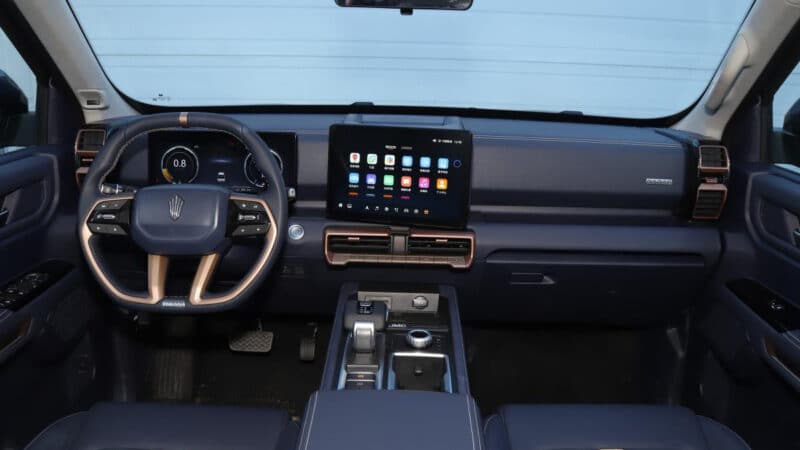 The interior of the Dadao truck has the large 12-inch floating main screen that can turn to the driver. Under the screen, there is a block of climate control physical buttons. Its instrument panel is digital but its exact diameter is yet to be known. The steering wheel has an odd blocky shape with a double-D design. As for the center tunnel, it has got a monostable gear selector, a wireless charging pad, a rotary drive mode selector and two cup holders. The commercial version of the Dadao is way more modest. Worth mentioning that there is a JMC badge right in the canter tunnel so you won't forget who built this truck.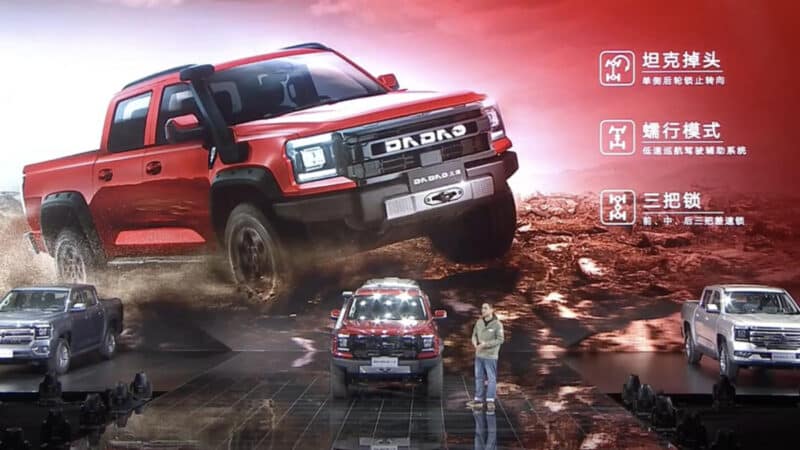 Under the hood of the Dadao, we can find the 2.3-liter petrol-powered Ecoboost engine from Ford that generates 190 kW (258 hp) and 450 Nm. It will be also available for purchase with a 2.3-liter diesel engine for 130 kW (177 hp) and 450 Nm. These engines can work in pair with manual or automatic transmissions. The Dadao will also have 4WD. It seems like it has got too weak engines.
The Dadao will hit the market in April with first deliveries in May. Its price range will be unveiled later.
Editor's comment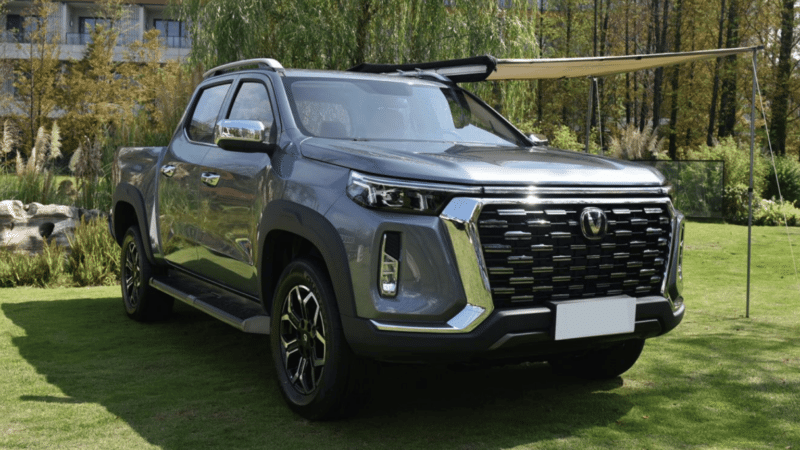 Nowadays, Chinese pickup truck market is growing rapidly due to the lifting of bans in big cities. As a result, most of the market leaders have already launched their trucks aimed at city residents. Meanwhile, JMC lagged behind, making utility trucks. In 2023, they have finally come up with a new high-end pickup brand, but it seems to be too late. Moreover, it has several drawbacks, including weak powertrains and absence of PHEV or EV versions. OF course, JMC stated that NEV (New Energy Vehicle) versions of the Dadao truck will hit the market later. But for now, they have too tough competition ahead.