Edit April 6, 12:28 – Article updated with new spy shots gallery
Recently, Mengshi M-Hero 917 off-road electric SUV started production in China in Dongfeng's new plant in Hubei. It is a 4WD with 800 kW (1,088 hp) and 140 kWh NMC Qilin battery from CATL suitable for a 505 km range. Aside from pure EV, it will also offer an EREV version. M-Hero 917 will debut publicly at Shanghai Auto Show in April and launch in the second half of the year.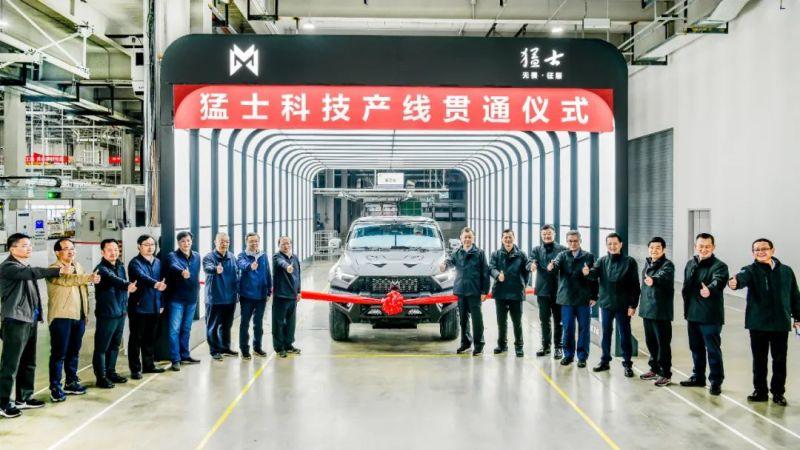 Mengshi M-Hero 917 is based on the M-Terrain concept car unveiled in 2022. As CarNewsChina reported earlier, the specs were revealed by MIIT during the homologation process in January.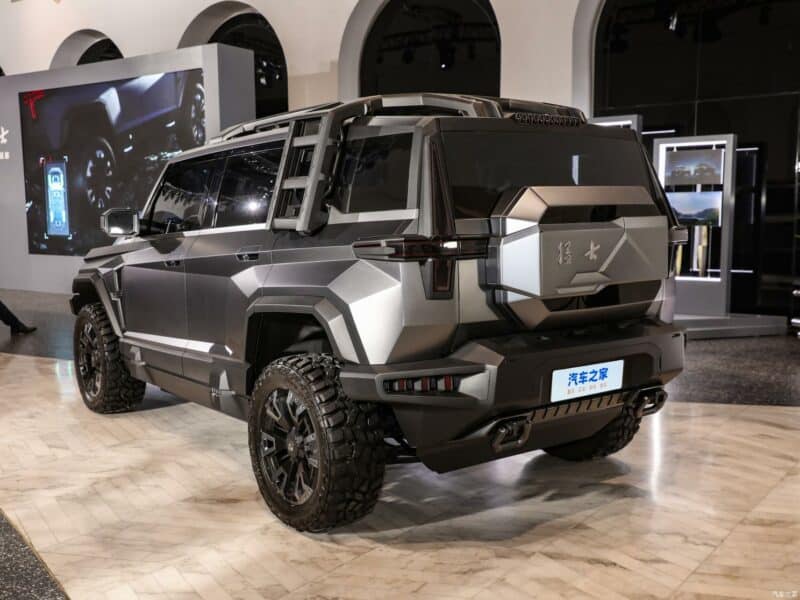 Its dimensions are 4987/2080/1935 mm with a wheelbase of 2950 mm. Despite its smaller size, the 917 might give the impression of being a larger vehicle due to its relatively small wheels, which measure 275/65 R20. According to the MIIT, this SUV has a five-seat capacity and boasts approach and departure angles of 31 degrees. However, it's worth noting that the M-Hero 917 is a hefty vehicle, with a curb weight ranging from 3,130 to 3,293 kg, depending on the powertrain type. Its gross weight can reach as high as 3,740 to 3,800 kg.
The pure EV version has four electric motors, one for each wheel, and can do a crab walk, according to Dongfeng. The combined power is 1,088 hp and 1,400 Nm.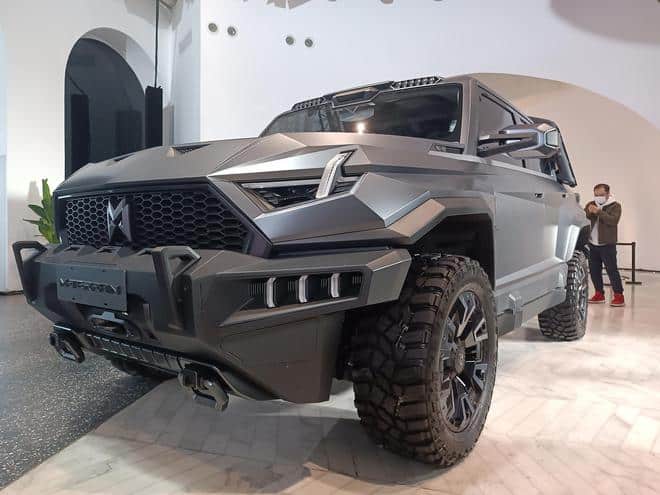 The 917's EREV version has an electric motor with 600 kW (816 hp) and 1,050 Nm. Under the hood lies also a 1.5-liter four-cylinder turbocharged petrol-powered engine capable of generating 145 kW (197 hp). However, it's important to note that as an EREV – this ICE only powers the vehicle's battery and is not connected to the wheels. Speaking of the battery, it's also produced by CATL and boasts a capacity of 66 kWh. The 917 EREV has a combined range of 800 km.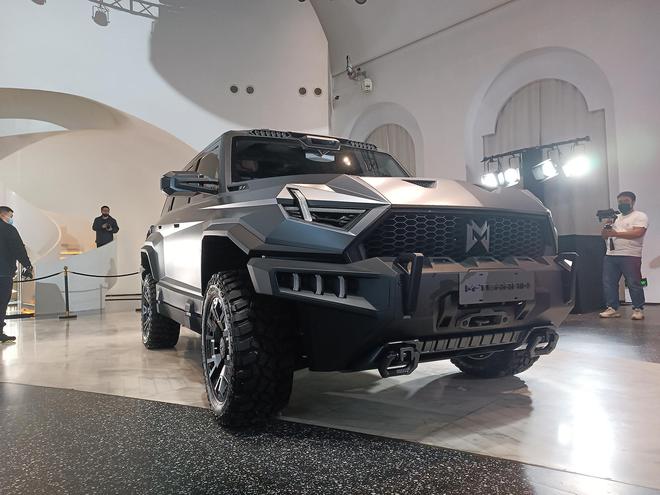 Mengshi – Warrior – M-Hero story
If you wonder about M-Hero 917's background, the vehicle originates from Dongfeng's well-established military vehicle line known as 猛士 (Mengshi or Warrior). In 2021, Dongfeng unveiled a civilian version of this series named the Warrior M50. This massive pickup truck ran on a diesel engine has garnered considerable attention from Chinese consumers. As a result, Dongfeng expanded its lineup to include a range of petrol-powered beasts, one of which is the recently spotted M20 in China.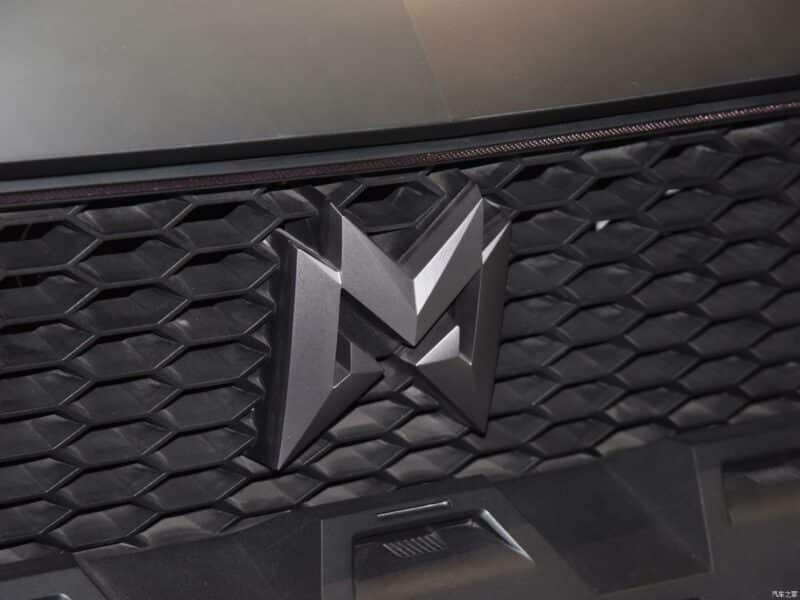 In addition to developing ICE vehicles product line, Dongfeng has also established a separate brand dedicated to NEVs. This new brand, called 'M-Hero' internationally, was launched in 2022. M-Hero has already revealed two concept cars, the M-Terrain SUV and the M-Terrain Pickup truck, which are built on the MORA platform and can be equipped with four electric motors. 917 is based on the M-Terrain concept.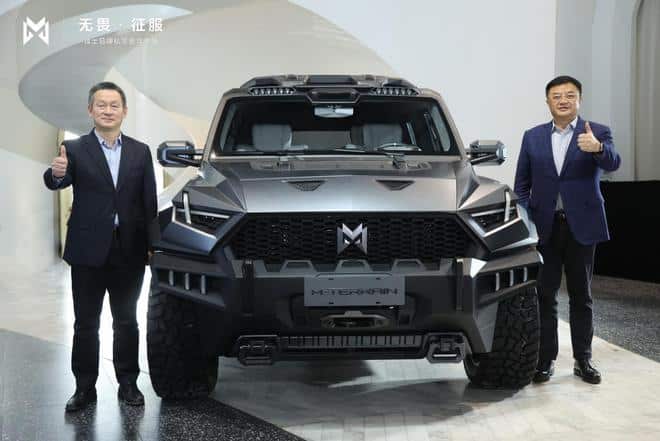 The M-Hero 917 is set to launch in the Chinese market with a starting price of 700,000 yuan (equivalent to $102,000) in the second half of the year. Dongfeng plans to sell 1,500 units of M-Hero 917 annually.
Editor's comment
Just recently, 1000 units of GM's Hummer EVs were shipped to Tianjin port. And it won't be easy for this hard-core electric SUV in China as it will meet fierce competition. In January, BYD unveiled its off-road YangWang U8 with a price over $100,000; Dongfeng comes with its M-Hero 917. I also believe that folks in Stuttgart watch these two brands closely as Mercedes-Benz EQG (electric G wagon) is about to launch soon. It will be interesting to see how well Mercedes will defend its position n China head-to-head with the unexpected rivals.